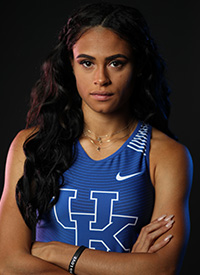 Sydney

McLaughlin
position

Hurdles, Sprints

class

Freshman

Hometown

Dunellen, N.J.

High school

Union Catholic
Personal bests
60H: 8.17 | 100H: 13.34 | 400m: 50.07 | LJ: 20'0.75″/6.29m | 400H: 52.75
The Bowerman Semifinalist
NCAA Champion – 2018 400H
Three-time SEC Champion – 2018 400m (indoor), 400H and 4x400m relay
Five-time All-America (2018 indoor 200m, 400m, 4x400m | oudoor 400H, 4x400m)
Collegiate record: 400H – 52.75
UK record – Indoor 400m (50.36), Outdoor 400m (50.07)
2016 Olympian – Team USA (400H)
World U20 Record – 400H (52.75), 400m (50.07)
National HS Record – 300H (38.90)
National HS Indoor Record – 400H
World Record – DMR (10:40.31)
2015 IAAF World Youth Champion – 400H
2016 USATF U20 Champion – 400H
10-Time HS National Champion
2017-18 (Freshman)
Outdoor – Won the NCAA 400-meter hurdles gold by nearly two seconds in a hail storm … Broke the 400H collegiate record by nearly a second running 52.75 to win the Southeastern Conference title in May … Collegiate-record performance was also the 13th-fastest 400m hurdles time ever recorded and smashed her world junior record … Became the ninth fastest 400m hurdler on the world all-time list (a few runners have multiple times on the list) … Also First-Team All-America on UK's NCAA fourth-place 4x400m relay … Also ran a sub-50-second split on UK's SEC gold 4x400m relay, which ran 3:25.99, No. 11 on the all-time collegiate list … Lowered her 400H PR by more than a second as a freshman, in fact after opening up with a 53.60 400m hurdles time to win at National Relays, two weeks later lowered her PR again by .85 seconds … Opened her outdoor season with the No. 3 collegiate all-time 400m time, 50.07 in the rain at the Florida Relays … Ran a 200m PR 22.39 to win the 200m at Florida Relays … Ran a windy 11.07 100m time at Tennessee Relays.
Indoor – Won the SEC indoor 400m title … Claimed NCAA silver in the quarter mile, running second fastest collegiate indoor time ever, 50.36 … Tied with teammate Jasmine Camacho-Quinn for a nation-leading three All-America honors indoors … Won the McCravy 400m in 51.44 … Ran the collegiate record 300m time, 36.12 (also a world junior record) in her collegiate debut Dec. 8, 2017 at the Hoosier Open.
Prior to UK
One of the most decorated high-school athletes ever … 2016 Team USA Olympian, becoming the youngest American Olympian since 1976 … Olympic semifinalist placing 17th in the 400H … Broke the world record in the distance medley relay in 2017 alongside Emma Coburn, Brenda Martinez and Jenny Simpson in winter 2017 … Gatorade National High School Athlete of the Year in 2016 and 2017 … Broke her World U20 record in the 400m hurdles at 2017 USATF Championships placing sixth in the fastest 400H race in history in 53.82 … Ran a 49.85 400m split in the Swedish Relay at New Balance Outdoor Nationals … Set the New Jersey State Record with 11 individual career gold medals at the Meet of Champions … Set a junior world record (that she broke the next year) in the 400-meter hurdles at the 2016 U.S. Olympic Team Trials, breaking the previous mark set by Leslie Maxie in 1984 … Did not lose a high school race – indoor or outdoor – from June 14, 2014 through the end of her prep career … Won four-straight HS 400m hurdles titles at New Balance Outdoor Nationals
Personal
Daughter of Willie and Mary McLaughlin … Has two brothers, Ryan and Taylor, and one sister, Morgan …Youngest U.S. Olympian to compete in track and field since 1972 … Volunteered for the Central Jersey Chapter of Hope Worldwide, distributing fire safety and disaster relief information to residents on behalf of the American Red Cross and assisting with the Hurricane Sandy recovery efforts.
Read more