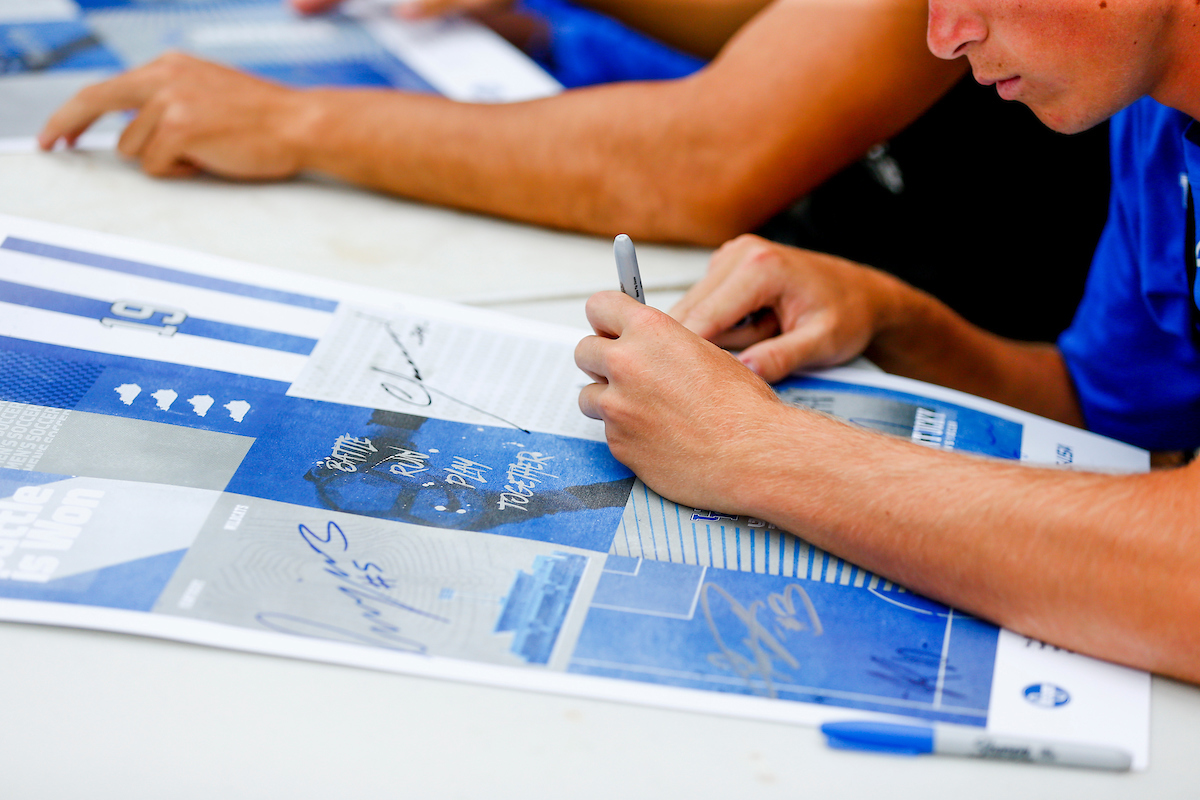 Autograph & Donation Requests
Autographed Ball Request
We are currently unable to provide autographed basketballs & footballs and not accepting applications at this time. 
 UK Athletics head coaches are pleased to sign autographs for the Big Blue Nation. However, due to several factors, including NCAA legislation and compliance issues, the increased unauthorized use, sale of autographed items and the volume of requests, the athletics department has followed the lead of many universities across the country and instituted guidelines for obtaining autographs to be used for charitable organizations and fundraisers. This process is for obtaining head coach's signatures only. UK Athletics is unable to provide student-athlete signatures.
Pre-purchased items may NOT be mailed in/dropped off for autographing or signature within UK Athletics.  Requests to individual coaches' offices, Marketing Department, Media Relations or Ticket Office will not be accepted, as all requests must be made via the formal process listed on this webpage.
Based on availability and compliance approval, autographed balls are sold at $50 per ball (limited to one ball per sport for each household/organization request per fiscal year) on a first-come-first-serve basis. The cost of the item(s) includes a ball provided and signed by UK and covers the cost of shipping via UPS.

All charitable requests are for a good cause and UK Athletics is not in a position to determine is the worthiness of one cause over another. Because items from UK Athletics are in such high demand, with the numerous requests we receive each year for donations/autographs, we are unable to accommodate every request.




 
Autographed Photo Request
If you wish to request items from the women's basketball office, please contact (859) 257-6046. 

If you wish to receive an autographed picture by our men's basketball or football Head Coach, please send your request in writing indicating whom the photo will benefit (i.e. name, age, and what grade of school, etc.) with an 8.5 x 11 prepaid self-addressed envelope to:

UK Men's Basketball Autographed Photo Requests: 338 Lexington Avenue, Joe Craft Center, Lexington, KY 40506
UK Football Autographed Photo Requests: 3295 Alumni Drive Joe Craft Football Training Center, Lexington, KY 40506


 
Ticket Donation Request
UK Athletics is unable to provide complimentary tickets as a donation item. In an effort to assist individuals and/or groups with acquiring tickets for fundraising/charitable purposes, we are happy to assist non-profit, charitable organizations within the state of Kentucky with the purchase of up to four (4) tickets at a group rate, when available. Tickets and/or group rates may not be available for all events. For more information, please contact the UK Ticket Office at (800) 928-2287 or 

uktickets@uky.edu

 with your 501(c)3 tax ID number.
Please note, requests are NOT guaranteed to be fulfilled.