UK Athletics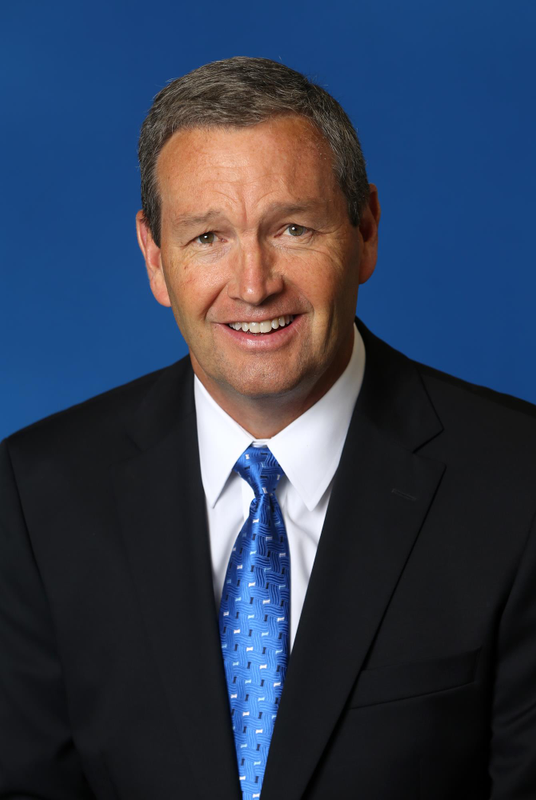 Hometown: Kansas City, Kansas
Year Hired: 2002
Alma Mater: B.A. from Ottawa University (Kansas) and an M.S. in sports administration from Ohio University
History: Barnhart was hired by the university in 2002 succeeding Larry Ivy. Barnhart served in the same capacity at Oregon State University from 1998-2002. He is the university's 10th athletics director. In April 2018, Barnhart signed an extension on his contract which will keep him at Kentucky until at least 2023.
Twitter: @ukmitchbarnhart
(Updated July 14, 2023)
Now in his 22nd year as Director of Athletics at the University of Kentucky, Mitch Barnhart continues to expand his impact on national and regional levels, all while leading his Wildcats to consistent achievement in the arenas of competition, the classroom and in the community.
Having the second-longest term of service among current ADs at schools in the Power 5 conferences, Barnhart's experience, knowledge and synthesis of athletic and academic success have made him a highly respected and sought-after presence across the scope of collegiate sports.
Currently on the Selection Committee for the College Football Playoff, Barnhart has a long history of national service, highlighted by a five-year stint of the NCAA Men's Basketball Tournament Committee that included a historic year as Chair of the first Covid-era event. He is one of only four people who have served on the football playoff committee and as chair of the men's basketball tournament.
Dedicated to the advancement of those whom he guides, Barnhart's national influence has grown through his "AD tree" – administrators and coaches who have worked for him and become Division I athletics directors – which now numbers seven.
On the regional stage, in June 2023, Barnhart was tabbed No. 1 on a list of the "12 Most Important People in the Southeastern Conference," written by longtime columnist and league observer Pat Dooley. The fact that Barnhart has been chair of the SEC athletics directors since 2017 indicates the respect he has earned among his colleagues, including three SEC ADs whom he helped develop.
At Kentucky, the Wildcat athletic program has placed in the top 20 of the NACDA Directors' Cup national all-sports standings for the last six years, one of only 10 schools that have earned that distinction. The Directors' Cup was established in 1993-94 and the best nine finishes in school history have been under Barnhart, all of which have come in the last 10 years.
UK Athletics hit a peak in the Directors' Cup in the 2021-22 school year. Sparked by a national championship in rifle, an NCAA Tournament runner-up slot by men's tennis, and third-place national finishes by women's indoor and outdoor track and field, UK ascended to a school-record ninth place among the 363 Division I schools.
Barnhart's legacy at Kentucky includes success in a wide array of sports.  All counted, UK has earned six NCAA championship rings during Barnhart's term, including men's basketball in 2012, volleyball in '20 and rifle in 2011, '18, '21 and '22. UK also has totaled 54 regular-season and tournament conference championships under his leadership, including first-time titles in baseball, women's tennis, men's golf and women's swimming and diving.
The competitive success has been followed by personal recognition. In 2022, he was inducted into the (state of) Kentucky Sports Hall of Fame and he received the John L. Toner Award for excellence in athletics administration from the National Football Foundation and College Hall of Fame.
Those honors added to a growing list of accolades for Barnhart, who was selected the 2019 AD of the Year by the SportsBusiness Journal.  Following that honor, Barnhart's acumen was put to its strongest test in 2020-21. As if it were not enough to guide UK through the severe challenges in health care, competition and finances caused by Covid-19, Barnhart also was Chair of the NCAA Men's Basketball Committee, a task which required him to take a lead role in re-creating and executing the organization's most prominent event in the midst of a pandemic.
Working alongside the NCAA staff, in the span of only two months, Barnhart and the tournament committee scrapped the time-tested format and invented a new procedure by bringing all 68 teams to one location and supporting them with numerous health and safety protocols. As a result, all but one of the scheduled games was played and the mission was completed when Barnhart handed the championship trophy to the Baylor Bears.
Meanwhile in Lexington, with assistance from the Southeastern Conference, UK HealthCare, and state and local officials, Barnhart kept the Wildcats on the prowl as 2020-21 was one of the most successful years in UK Athletics history.
The Kentucky football team was able to play all of its scheduled games and topped the campaign with a win over No. 23 North Carolina State in the TaxSlayer Gator Bowl. UK now has an active school-record streak of seven-straight bowl appearances, which has been highlighted by a four-year bowl win streak.
In February of '21, the women's swimming and diving team won its first SEC championship. A month later, UK rifle claimed an NCAA championship.  That was followed by another national crown, as the volleyball squad earned the NCAA title, the first by an SEC school in that sport.
The accomplishments are a result of Barnhart's work since his arrival in the summer of 2002.  He has steadily invested in the growth of all UK teams while maintaining a singular commitment to the holistic development of Wildcat student-athletes. Matching resources to expectations has been a hallmark of his tenure, with the proof coming in the form of student-athlete support, staff enhancements and hundreds of millions of dollars in facility improvements. At the heart of everything are the core values Barnhart has instilled in the department he leads: character, integrity, knowledge, stewardship and competitiveness.
A department-wide 3.0 grade-point average among student-athletes and increased community service have been long-standing goals for Barnhart.  The GPA benchmark was first met in the spring semester of 2010 and has now reached a streak of 22 consecutive semesters.  In spring 2020, UK achieved a cumulative GPA of 3.534, the best in school history.
UK athletes have set records for graduation rates and maintained a perfect mark in the 19-year history of the NCAA Academic Progress Rate, making UK one of just two SEC schools never to incur an APR penalty.
Community service has risen to more than 4,000 hours annually and includes outreach to the Lexington area, the Commonwealth of Kentucky and as far away as Ethiopia, the Dominican Republic and Panama. In December of 2021 and August 2022, when natural disasters devastated western and eastern Kentucky, a pair of telethons sponsored by UK Athletics raised more than $8 million and numerous student-athletes and staff took part in other fundraising projects, supply assistance, cleanup and the rebuilding process.
Since Barnhart's arrival, the Directors' Cup standings have reflected the progress in the fields and arenas of competition. Barnhart inherited a department that finished 50th nationally in 2002-03, his first year in Lexington.  By 2012-13, UK climbed to No. 25 in the country, UK's first top-25 finish.
Kentucky cracked the top 10 for the first time by coming in at No. 10 for the 2016-17 school year, now surpassed by the No. 9 finish in 2021-22.  Pleased, but never satisfied by success, Barnhart's next goal for the Wildcats is a top-five showing.
The growth of UK Athletics began earning national recognition for Barnhart in 2015, when he was named one of four Division I Athletics Directors of the Year by NACDA. He also was one of four finalists for 2015 Athletics Director of the Year as chosen by the SportsBusiness Journal and he received the Sports Business Award from the Bluegrass Sports Commission that year.
Four years after his first nomination by the SportsBusiness Journal, Barnhart was named the publication's 2019 Athletic Director of the Year, but he has always been more interested in the achievements of UK student-athletes than his own. On that count, UK has had plenty to celebrate.
Over the last three years alone, five Wildcats have been named National Athlete of the Year in their sport.  In addition, Asia Seidt of swimming and diving was chosen for the highly prestigious NCAA Woman of the Year award, covering all female athletes in all divisions, for her combination of athletic success, academic excellence and dedication to community service.  Numerous additional Wildcats have won national awards for their performances on the field, in the classroom and in the community.
A school-record total of 20 Wildcat athletes and coaches participated in the Tokyo Olympics, bringing home a school-record 10 medals, including seven gold.
On the conference level, during Barnhart's term, Wildcats have been named the SEC Male and Female Athlete of the Year, the SEC Female Scholar-Athlete of the Year, and the SEC Male and Female Community Service Leader of the Year.
While UK athletes have achieved remarkable success, Barnhart is always seeking improvement. One example is UK's Student-Athlete Experience Division. Through the division's work – known as "The Kentucky Road" — UK has enhanced its commitment to prepare student-athletes to enter life after UK by equipping them with requisite professional skills and helping them identify and pursue internship and work opportunities while continuing to provide the academic support that has made UK Athletics a trendsetter in college athletics for the last four decades.
An example of cutting-edge performance has been in the area of personal branding. A current hot topic among athletes, UK was at the forefront as the first school in the nation to implement the INFLCR platform, which provides student-athletes access to photos and highlights to enhance their social media presence. Additional assistance comes in the form of educational seminars, such as financial literacy, and the extension of scholarships as needed to complete bachelor's degrees.
Numerous student-athletes are prospering in the field of name-image-likeness, as the high profile of UK Athletics and the personal branding and education provided to the athletes have enabled them to capitalize in the new era.
Investment in the success of UK student-athletes in all facets has been a theme of the Barnhart era, beginning with the provision of funds for full coaching staffs and scholarship allotments for every UK sport. Barnhart also has invested strategically in UK Athletics' facilities with construction that began with the Joe Craft Center; new stadiums for track and field, softball and soccer; the UK Golf House; and the Wildcat Coal Lodge dormitory. The home of Kentucky football, Kroger Field, underwent a $126 million renovation completed in 2015 and the $45 million Joe Craft Football Training Facility opened a year later. New scoreboards were added for the 2022 season. A new $49 million baseball stadium – Kentucky Proud Park – opened in fall of 2018.
More facilities improvements in 2023 include construction of a new $20 million indoor track, renovation of the Nutter Field House and an $80 million renovation of Memorial Coliseum.
Even with the department's growth and the increasingly competitive nature of college sports, UK Athletics has remained financially self-sufficient under Barnhart's management, operating with a balanced budget and with the help of no state or University funds. Seeing pressing facility needs on campus as well, Barnhart is fulfilling a $65 million commitment for athletics to fund nearly two-thirds of the Don & Cathy Jacobs Science Building on campus. He also directs an $1 million-plus annual contribution to the University's scholarship program. Millions more dollars from the athletics budget stay on campus each year through athletic scholarship payments, administrative support payments, merchandise royalties and other avenues. Additionally, UK also has phased out the athletics fee previously paid by students as part of their tuition.
A steadfast believer in the transformational power of college athletics, Barnhart's national influence – in addition to that mentioned earlier – includes numerous committees and boards for the NCAA and the National Association of Collegiate Directors of Athletics (NACDA).
With his extensive previous experience on the NCAA Division I Council, as chair of the NCAA Competition Oversight Committee and as a member of the NCAA Division I Baseball Committee, in addition to several other groups, Barnhart has proven himself well suited for the leadership roles.
In the Southeastern Conference, in addition to his current role as chair of the athletics directors, Barnhart's work includes terms on the SEC Compliance Committee and the SEC Network Content Committee, which helped the highly successful launch of the largest new cable channel in television history.
Barnhart's AD tree of seven people who have gone on to become athletics directors at Division I universities includes Greg Byrne of Alabama, Mark Coyle at Minnesota, Rob Mullens at Oregon, Scott Stricklin at Florida, John Cohen at Auburn, DeWayne Peevy at DePaul and Kevin Saal at Wichita State.
Barnhart arrived at UK from Oregon State, where he served four successful years (1998-2002) as athletics director. Before OSU, he worked in athletics administration posts at Tennessee (1986-98), Southern Methodist University (1983-86), Oregon (1983) and San Diego State (1982-83).
Barnhart is a native of Kansas City, Kansas. He earned his bachelor's degree from Ottawa University (Kansas) in 1981 and a master's in sports administration from Ohio University.
In addition to the extraordinary achievements of his work world, reaching new heights is also a theme of his personal life. An avid mountain climber, Barnhart has scaled Mount Kilimanjaro, the highest mountain in Africa, along with two of the most challenging peaks in the United States, Mount Rainier in Washington and the Grand Tetons in Wyoming. He also has performed two tandem parachute jumps with the Army Golden Knights. Impactful in community service, Barnhart has taken part in mission trips and is on the national advisory board of K-Love Radio.
Barnhart and his wife, Connie, also actively serve and support the Christian Student Fellowship and the Fellowship of Christian Athletes on campus in an effort to minister to young people. Connie serves on the board of Easter Seals, using her background in physical therapy to assist others in rehabilitation services.
The Barnharts have three children, Kirby Willoughby, Blaire Jansen and Scott; Kirby's husband, McKenzie, and their sons Cooper, Reece and Gunner; Blaire's husband, Andrew, and son Teddy; and Scott's wife, Cassie, and their daughter Rylee and son Brooks. The family's dedication to the campus, the commonwealth of Kentucky and the Big Blue Nation led University leaders to name the stadium area of baseball/soccer/softball as the Barnhart Family Complex in 2020.
Read more