COMMUNITY OUTREACH – CATS IN THE COMMUNITY PRESENTED BY PASSPORT HEALTH PLAN
CATS offers student-athletes the opportunity to volunteer their time to help those in the community. The Outreach area has shown a significant increase in the number of student-athletes volunteering and the number of activities organized. During the 2016-17 academic year student-athletes volunteered over 4,000 hours of their time to community service in addition to going to class, attending practice, studying, and traveling to tournaments.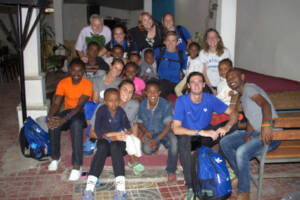 How to request a student-athlete volunteer or group
Please contact Steph Simmons (steph.simmons@uky.edu) if you would like to request a student-athlete volunteer for all sports other than men's basketball. You will be required to complete and sign an electronic promotional activity form detailing your request.
The CATS Outreach Policy requires at least one week advanced notice to schedule a student-athlete for any volunteer activity due to the large number of requests we receive weekly. Please note that we will never guarantee an appearance can or will be scheduled.  Furthermore, in order to request a UK student-athlete volunteer, an organization or event site must be within 30 miles of our Lexington campus. Student-athletes cannot afford to travel long distances due to the intense nature of their academic and athletic commitments (NCAA rules prohibit student-athletes from missing class to attend an event).
If making a request for the University of Kentucky Men's Basketball team, please call the UK Men's Basketball office at (859) 257-1916.
FEATURED PROGRAMS
UK Athletics/God's Pantry Backpack Program
In 2010, UK Athletics Director Mitch Barnhart created an athletics department-wide community service partnership with God's Pantry, a Lexington food bank. Once a week, UK student-athletes, coaches and  staff volunteer their time to package food-filled "back packs" and hand deliver them to local elementary schools. The meals are donated to children who come from underprivileged families in the Lexington  community.
Breakfast with Santa
Each December, a group of UK student-athletes attend this annual UK Children's Hospital event. Volunteers spend their time visiting (and eating breakfast)  with children and their families and help Santa Clause distribute presents. Afterwards, volunteers spend time visiting with patients at the hospital whose  physical condition makes it impossible for them to attend the breakfast.
Salvation Army
During the holiday season, student-athletes volunteer their time ringing bells for the "Red Kettle Campaign" to help raise money for the Lexington Salvation Army. UK Athletics has won the Fayette County trophy for "most time given" 7 of the last 9 years.
School Speakers
Student-athletes visit a number of local schools speaking to children on a variety of topics, including the importance of an education, good decision-making skills and setting goals. Student-athletes also spend countless hours volunteering for after school mentor/reading programs, including the annual Fayette County Read Across America celebration.
DOCUMENTATION PROCEDURES FOR UK STUDENT-ATHLETES
To document your community service activity, please check your Teamworks app.
Passport Health Plan is a provider-sponsored, non-profit, community-based health plan administering Medicaid benefits to more than 250,000 people around Kentucky. Named the top Medicaid plan in Kentucky by the National Committee for Quality Assurance (NCQA) for 2015-16, Passport has been contracted with Kentucky's Cabinet for Health and Family Services to administer Medicaid benefits since 1997 and has been serving the entire Commonwealth since January 1, 2014. For more information, go online to passporthealthplan.com.