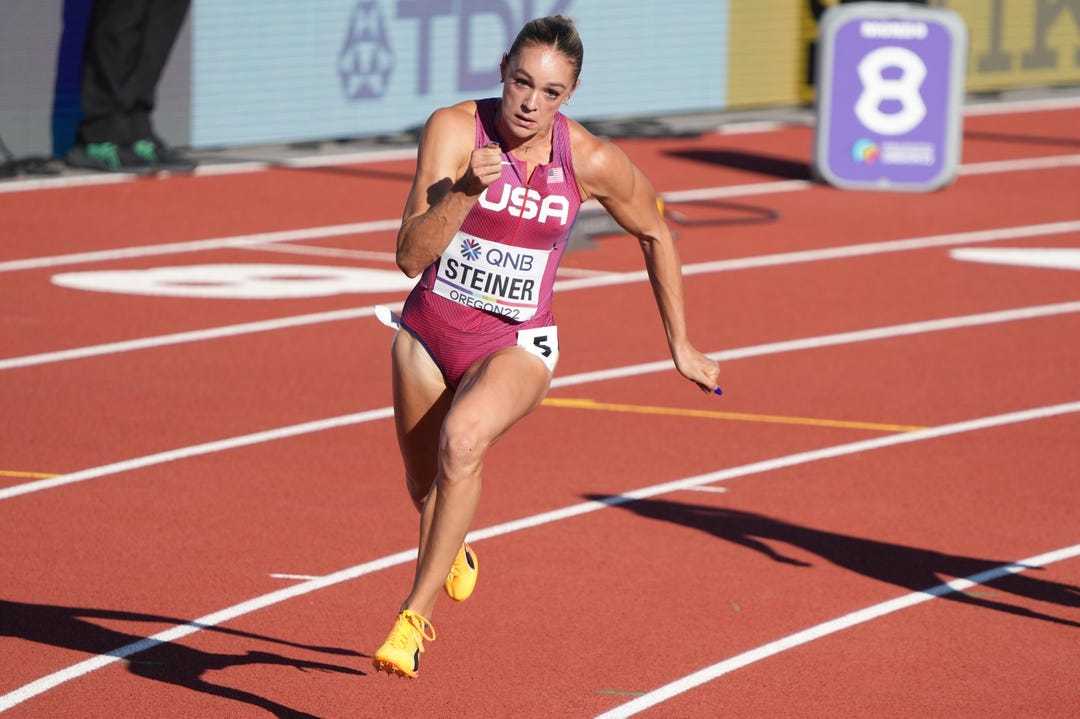 Abby Steiner Finishes Fifth in 200-Meter Final at World Championships
EUGENE, Ore. — Kentucky track & field alumna Abby Steiner finishes fifth in the 200-meter dash in her first World Athletics Championships on Thursday evening at Hayward Field.
Steiner earned fifth with a time of 22.26, concluding a long season of over 50 races.
The reigning Olympic gold medalist, reigning world champion and several other Olympic and world medalists joined Steiner in the talent-packed final that was ultimately won by Jamaica's Shericka Jackson in near world record time.
Steiner remains the second fastest runner in the world this season with her 21.77 to win the United States 200m title in June.
Still to compete are UKTF alumnae Keni Harrison and Jasmine Camacho-Quinn, along with volunteer coach Devynne Charlton in the 100m hurdles.
Megan Moss and Dwight St. Hillaire, competing for The Bahamas and Trinidad & Tobago respectively, will return to the track on July 23 for the 4x400m heats.
Day 6
Sydney McLaughlin qualified for the 400m hurdles final with the top time of semifinals, making 52.17 look easy.
Three years ago, 52.17 would have been a world record, and McLaughlin showed signs of easing up towards the end of the race. She will chase her own world record of 51.41 in the 400H final at 10:50 p.m. ET on July 22.
Day 5
Steiner qualified for the 200-meter final while Sydney McLaughlin punched her ticket to 400m hurdles semifinals at World Athletics Championships on Tuesday evening.
The reigning U.S. 200m champion ran 22.15 in semifinals and placed second in her heat to receive an automatic bid to the final in her first World Championships.
McLaughlin, who broke her own world record to win the U.S. title in June, unsurprisingly qualified for semifinals in the 400m hurdles, cruising with a time of 53.95.
Days 1-4
Kentucky track & field's Coach Tim Hall coached volunteer coach Chrisitan Coleman to sixth in the World Athletics Championships 100-meter final while Steiner qualified for 200m semifinals in the first four days of competition.
Coleman finished sixth in the 100m with a time of 10.01 as one of four Americans in the event. Indoors, Coleman won the silver medal in the 60m at World Athletics Championships in Serbia during March.
#SteinerSpeed made its World Athletics debut with Steiner running 22.26 in the 200m heats, the third fastest time of the field going into Tuesday's semifinal. She will compete in the semifinal at 9:50 p.m. ET.
Rising senior for UKTF Moss ran in the 4x400m mixed relay for The Bahamas on the first day of World Athletics Championships while All-American and recent graduate St. Hillaire competed in the 400m for Trinidad & Tobago. Both will compete again on July 23 in the 4x400m relay for their respective countries.
Andrew Evans, UK Class of '14 and 2022 U.S. champion, competed in the discus qualifying rounds but was unable to make it through to the final.
Daniel Roberts, the recent U.S. champion in the 110m hurdles, was disqualified after suffering a fall in the 110m hurdles heats.
Meet Information
Below is a list of UKTF-affiliated athletes who are competing, the country they represent and their events.
Men 
Christian Coleman, volunteer coach – Team USA – 100m 

 

Andrew Evans '14 – Team USA – Discus

 

Daniel Roberts '19 – Team USA – 110m hurdles

 

Dwight St. Hillaire '22 – Team Trinidad & Tobago – 400m, 4x400m

 
Women 
Celera Barnes '21 – Team USA – 4x100m

 

Jasmine Camacho-Quinn (2015-2018) – Team Puerto Rico – 100m hurdles

 

Devynne Charlton, volunteer coach – Team Bahamas – 100m hurdles

 

Keni Harrison '15 – Team USA – 100m hurdles

 

Sydney McLaughlin (2017, 2018) – Team USA – 400m hurdles

 

Megan Moss '23 – Team Bahamas – mixed 4x400m, 4x400m

 

Abby Steiner '22 – Team USA – 200m

 
The meet schedule, start lists and live results can be found here.
The meet will be broadcast on NBCUniversal's television networks and digital platforms.
NBC Sports will broadcast 43 hours from Eugene, with live afternoon and primetime shows both weekends, highlighted by the men's and women's 100m finals (July 16-17) and 4x100m and 4x400m relays (July 23-24). Additional television coverage will air on USA Network and CNBC.
All network and cable TV windows will be simul-streamed via NBCSports.com/live and the NBC Sports app, with NBC's programming also available on Peacock. In addition, world-feed coverage of all competition sessions will stream live on Peacock.
The full TV/broadcast schedule is available here.
Tickets can be bought on ticketmaster.com.
UKTF-affiliated athletes will be competing on each of the 10 days of competition in Eugene, highlighted by recent U.S. champions Sydney McLaughlin, Keni Harrison, Daniel Roberts, Abby Steiner and Andrew Evans.
Harrison, the 2019 world silver medalist and Tokyo 2020 silver medalist over 100m hurdles, will face off against fellow UKTF alumna Camacho-Quinn, the Tokyo 2020 gold medalist. Harrison is the world record-holder (12.20) while Camacho-Quinn is the Olympic record-holder (12.37). Volunteer coach Charlton is also primed to be a medal contender. She finished sixth in the Tokyo 2020 100m hurdles final and earned silver at 2022 World Indoor Championships in the 60m hurdles.
McLaughlin, the two-time Olympic gold medalist, is the front-runner in the 400m hurdles after breaking her own world record for the U.S. title in late June.
Steiner currently has the second fastest 200m time in the world this year (21.77) behind Jamaica's Shericka Jackson (21.55) and will contend for a medal in her first world championships.
USATF Outdoor Championships
In late June, Steiner found success in her first USATF Outdoor Championships by winning the 200m with a personal best time of 21.77, a new all-dates collegiate best, sixth fastest in American history and 17th fastest in world history.
"(This means) Everything. Coming off a collegiate season, a lot of people want to put limitations on you, that you're going to be burnt out, but me and my coach just trusted the process and I couldn't be more excited," Steiner said right after the race.
McLaughlin clocked 51.41 to become the U.S. Champion once again in the 400m hurdles, breaking her own world record by .05 seconds.
Olympic silver medalist Harrison won her fifth U.S. title in a row in the 100m hurdles, running a world-leading and season best 12.34. She will face another UK alumna, Camacho-Quinn at the World Athletics Championships.
Roberts, a 2020 Tokyo Olympian, won the 110m hurdles title with a season best 13.03 to officially qualify for Team USA. It was his second U.S. title in the event after winning in 2019.
Evans, a Rio 2016 Olympian and UK Class of 2014 graduate, placed first in the discus and will compete for Team USA at the World Athletics Championships.
Coleman did not start in the 200m semifinal or final. He is already qualified for World Athletics Championships in the 100m due to being the 2019 world champion in the event.
St. Hillaire was crowned the champion of the 400m with a time of 45.46 at the Trinidad & Tobago National Championships on Saturday afternoon, setting a commonwealth record and automatically qualifying for World Championships in July.
Internationally, Charlton ran a new personal best and Bahamian national record of 12.60.
In total, six Wildcats won U.S. Championships this weekend: Evans (discus), Harrison (100m hurdles), McLaughlin (400m hurdles), Jordan Anthony (U20 200m), Steiner (200m) and Roberts (110m hurdles). St. Hillaire won the 400m at the Trinidad & Tobago Championships and Charlton won the 100m hurdles at the Bahamas National Championships.
Masai Russell placed sixth in the 400m hurdles final with a time of 55.66 after running a personal best 55.02 in semifinals. It was her first USATF Outdoor Championships final and she was only .004 away from making a second final in the 100m hurdles. At NCAA Championships, Russell placed third in the 100m hurdles and fourth in the 400m hurdles.
Javianne Oliver, Olympic silver medalist in the 4x100m, placed seventh in the 100m final with a season best 10.94 after running 10.95 in the semifinal a couple hours earlier.
Keaton Daniel placed 10th in pole vault with a height of 18'0.5"/5.50m.
Olivia Gruver placed sixth in pole vault with a height of 14'9"/4.50m and Celera Barnes finished sixth in the 100m final (10.86w).
Josh Sobota competed in his first USATF Outdoor Championships and finished 13th in shot put (64'6"/19.66m).
Sha'Keela Saunders placed sixth in the long jump with a season best 21'4.25"/6.51m jump.
Jade Gates was not able to record a mark in the hammer throw.
Alexis Holmes ran the 400m in 52.68 in prelims.
Follow Kentucky Track and Field and Cross Country on Facebook, Instagram, Twitter and at UKathletics.com.
All times below are in Eastern Daylight Time. Competitors are in Pacific Daylight Time. 
July 15

 

Time

 

Round

 

Status

 

Mixed 4x400m Relay

 

2:45 p.m. ET

 

Heats

 

15. Megan Moss (UK Class of '23), Dormeus, Russell, Anderson – 3:19.74-3

 

Men's 100m

 

9:50 p.m. ET

 

Heats

 

15. Christian Coleman – 10.08Q

 
July 16

 

Time

 

Round

 

Status

 

Men's 110m Hurdles

 

2:25 p.m. 

 

Heats

 

Daniel Roberts – DQ

 

Men's 100m

 

9 p.m. 

 

Semifinal

 

6. Christian Coleman – 10.05Q

 

Men's 100m

 

10:50 p.m.

 

Final

 

6. Christian Coleman – 10.01

 
July 17

 

Time

 

Round

 

Status

 

Men's 400m

 

2:05 p.m. 

 

Heats

 

33. Dwight St. Hillaire – 46.60

 

Men's Discus

 

8:05 p.m. 

 

Qualification

 

18. Andrew Evans – 62.20m

 
July 18

 

Time

 

Round

 

Status

 

Women's 200m

 

9 p.m. 

 

Heats

 

3. Abby Steiner – 22.26Q

 
July 19

 

Time

 

Round

 

Status

 

Women's 400m Hurdles

 

8:15 p.m. 

 

Heats

 

1. Sydney McLaughlin – 53.95Q

 

Women's 200m

 

9:05 p.m. 

 

Semifinal

 

9. Abby Steiner – 22.15Q

 
July 20

 

Time

 

Round

 

Status

 

Women's 400m Hurdles

 

9:15 p.m. 

 

Semifinal

 

1. Sydney McLaughlin – 52.17Q

 
July 21

 

Time

 

Round

 

Status

 

Women's 200m

 

10:35 p.m. 

 

Final

 

5. Abby Steiner – 22.26

 
July 22

 

Time

 

Round

 

Status

 

Women's 4x100m

 

8:40 p.m.

 

Heats

 

Celera Barnes – Team USA

 

Women's 400m Hurdles

 

10:50 p.m.

 

Final

 

Sydney McLaughlin

 
July 23

 

Time

 

Round

 

Status

 

Women's 4x100m

 

7:30 p.m.

 

Final

 

Celera Barnes

 

Women's 4x400m

 

8:10 p.m.

 

Heats

 

Megan Moss

 

Men's 4x400m

 

8:40 p.m.

 

Heats

 

Dwight St. Hillaire

 

Women's 100m Hurdles

 

2:20 p.m.

 

Heats

 

Keni Harrison – Team USA

 

Jasmine Camacho-Quinn – Team Puerto Rico 

Devynne Charlton – Team Bahamas 
July 24

 

Time

 

Round

 

Status

 

Women's 100m Hurdles

 

8:10 p.m. 

 

Semifinal

 

Keni Harrison

 

Jasmine Camacho-Quinn 

Devynne Charlton 

Women's 100m Hurdles

 

10 p.m. 

 

Final

 

Keni Harrison

 

Jasmine Camacho-Quinn 

Devynne Charlton