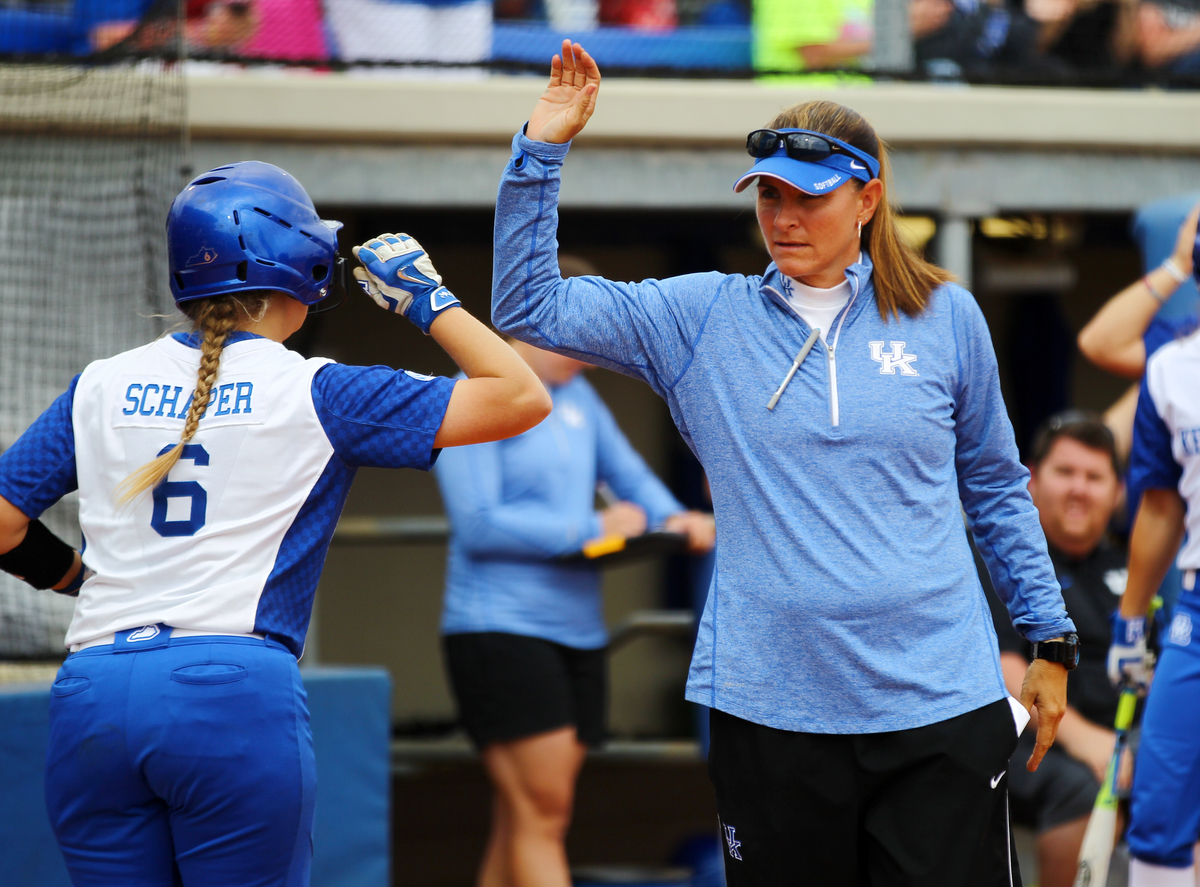 Kentucky softball has had the best regular season in its history in 2016.
The Wildcats closed it out with a sweep on Sunday.
No. 12 UK took the third of three games against Mississippi State on Mother's Day by a 4-0 margin, capping a regular season that saw the Cats post both their best overall record (43-11) and best SEC record (17-7) in school history. 
The win came in familiar fashion, as UK once again found itself locked in a low-scoring pitcher's duel with the Bulldogs after extra-inning games on Friday and Saturday. This time, the Cats broke a scoreless tie in regulation with a four-run sixth. Christian Stokes provided the first run with a go-ahead fielder's choice RBI and Kelsey Nunley knocked in two more with a single to follow. 
Nunley was in the lineup for all three of UK's wins this weekend and totaled three hits and three RBI. Expect to see her with the bat in her hands pretty much every time out from this point forward.
"As far as a competitor and an athlete in the box, you can't have anybody any mentally tougher than Kelsey," Lawson said.
UK would add another run on a Mississippi State error, which was more than enough support for Nunley. She tossed a shutout in the circle, allowing five hits and striking out eight.
"She was awesome today," Lawson said. "She was awesome on the mound; she was awesome when she came up to bat. So it was a fitting day for her last regular-season game on her field."
With the win, UK locked up its first-ever bye in next week's SEC Tournament and at worst a three seed. And pending the result of Alabama's game against Georgia, the Cats could finish as high as second in final SEC standings behind only top-ranked Florida. At last check, the Crimson Tide trailed 9-2 in the sixth inning.
"This is by far top to bottom the toughest league in the country," Lawson said. "There are certainly very, very good teams in other leagues, but as far as the depth of our league there's nobody even close to us. And the fact that we were able to win so many series and so many games against awesome opponents at their field, it just says how far this program has come. Because when this staff got here nine years ago, we were lucky to sneak a game here and there."
Lawson wasn't particularly interested in reflecting on a successful regular season and the progress of her program though. There's too much work ahead.
"We have goals and we want to get to the Women's College World Series," Lawson said.
With the postseason set to begin on Thursday and the spring semester over, the Cats' routine changes slightly. They will take advantage of a couple extra practices to focus on fundamentals and travel to Starkville, Miss., for the SEC Tournament on Monday, but things aren't changing a whole lot with the stakes raised.
"Other than that, we're going to relax, rely on the people that have gotten us here," Lawson said. "And we've gotten a lot of production from a lot of different people, so I feel pretty good about that."
Why mess with a good thing?