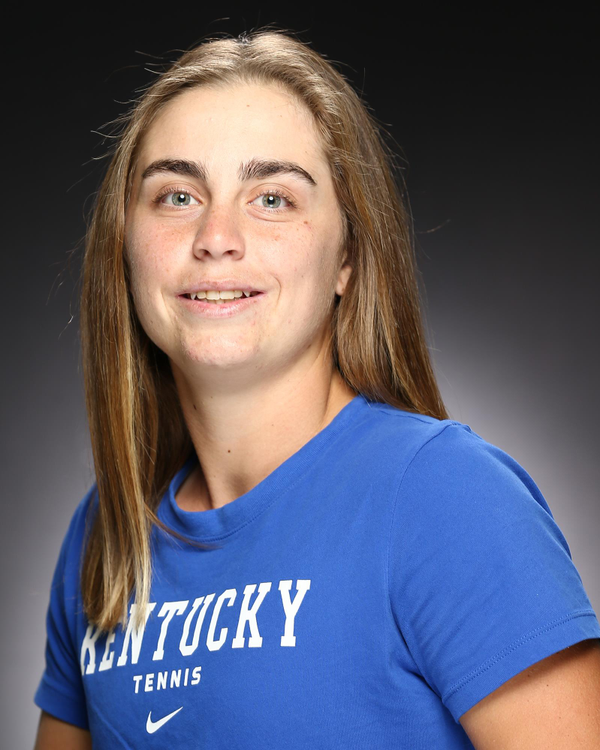 Florencia

Urrutia
height

5-4

class

Junior

Hometown

Santa Fe, Argentina

Previous School

University of Miami

Major

Undecided

High school

Escuela Normal Superior y Normal de Comercio N46
Junior (2021-22)
Recorded a 14-10 win in singles competition during her first season with the Wildcats, which was a team-high number of individual victories … Began the season playing in the fourth position, posting a 9-1 record on that court in addition to a 4-1 mark on court three before ending the year in the first spot … Had a big 7-6(3), 6-3 ranked win over No. 104 Safiya Carrington of LSU in the first round of the SEC Tournament to help UK advance to the second round … Posted a 6-7(2), 6-4, 6-3 comeback victory over Arkansas' Indianna Spink … Topped Missouri's Emelie Schwarte and Auburn's Adeline Flach … Had a team-leading four clinching points as an individual … Earned the decisive point against West Virginia's Momoko Nagato, Indiana's Mila Mejic, Austin Peay's Aleks Topalovic and Southeast Missouri State's Myroslava Zelenchuk … Also had singles wins against Penn State's Alexandra Nielsen, Western Kentucky's Rachel Hermanova, Southeast Missouri State's Ksenia Shikanova, Miami Ohio's Catherine Denysiewicz-Slowek and twice defeated East Tennessee State's Emilia Alfaro … Began the season paired with Fiona Arrese, tallying a 7-3 mark together … Notched ranked wins with Arrese over No. 27 Laura Masic/Lara Sschneider of Indiana and No. 43 Brindtha Ramasamy/Laura Rico of Miami Ohio … Clinched the doubles point with Arrese on two occasions versus Miami Ohio and Southeast Missouri State … Partnered with Carlota Molina for SEC doubles victories versus South Carolina's Gracie Mulville/Misa Malkin and Missouri's Valentina Vasquez/Elys Ventura … Had the clinching doubles point with Molina against Texas A&M's Jeanette Mireles/Gianna Pielet as well as Florida's Emma Shelton/Carly Briggs … During the fall season, posted four wins at the Tennessee Invitational, including three in singles action and one in doubles with Carlota Molina … Partnered with Molina for another doubles victory at the June Stewart Invitational … Had a pair of singles wins at the Miami Invitational.
| | |
| --- | --- |
| Singles | Doubles |
| Overall: 14-10 | Overall: 11-8 |
| Conference: 3-8 | Conference: 4-5 |
Sophomore (2020-21 at Miami)
Finished 12-9 in singles and 14-8 in doubles … Paced Miami in doubles wins and doubles winning percentage (.636), as well as co-led the team in ACC doubles victories (seven) and winning percentage (.636) … Placed third on the team in combined singles/doubles wins (26) … Played as high as No. 3 in singles, but mainly held the No. 4 position … Tallied a 6-7 ledger in ACC competition … Went to a third set or super-tiebreaker 11 times, logging a 7-4 record … Clinched Miami's victory over No. 8 Virginia by defeating Hibah Shaikh, 6-2, 4-6, 6-3 … Defeated Notre Dame's Julia Lilien by a 6-4, 6-2 margin in the second round of the ACC Championship … Won 6-4, 6-3 against No. 16 Georgia Tech's Carol Lee in the ACC Championship semifinals … Recorded a 7-4 ledger in ACC doubles play … Topped Basak Akbas/Kristina Miletic of No. 41 FIU in the NCAA Team Championship Round of 64 … Posted a 6-1 decision versus Nandini Sharma/Rebeka Stolmar at No. 9 UCF in the NCAA Team Championship second round.
Freshman (2019-20 at Miami)
Named an ITA Scholar Athlete … Enrolled at Miami during the spring semester, which was cut short due to COVID-19 … Posted a 9-2 ledger in singles and an 8-4 mark in doubles … Led the Hurricanes in doubles winning percentage (.667), while placing second in both singles winning percentage (.818) and combined singles/doubles winning percentage (.739) … Listed by UTR as the third-best Argentinian collegiate women's tennis player, including first among freshmen … Went 6-2 in singles dual match action, mainly at the No. 4 spot, including 4-1 in ACC affairs with both losses coming against top-100 foes … Placed second on Miami's roster in spring singles victories and tied for first in ACC singles triumphs.
Prior to UK
Peaked at No. 242 in the ITF Juniors singles rankings in March 2019 … Ranked as high as second in Argentina in her age group in singles and first in doubles, both at the U16 level … Two-time G3 Junior singles semifinalist … Advanced to the championship of a G2 doubles tournament … Logged her first WTA point in 2018 … Won the Argentinian National Tournament at both the U16 and U12 levels … Started playing ITF Juniors tournaments at age 15, making the doubles final of a G2 tournament in Argentina in 2018 and reaching the semifinals of a $15K doubles tournament in Argentina in 2017.
Personal
Full name is Maria Florencia Urrutia … Parents are Marcos Ruben Urrutia and Maria Laura Fornillo … Served as the national flag bearer at her high school.
Read more