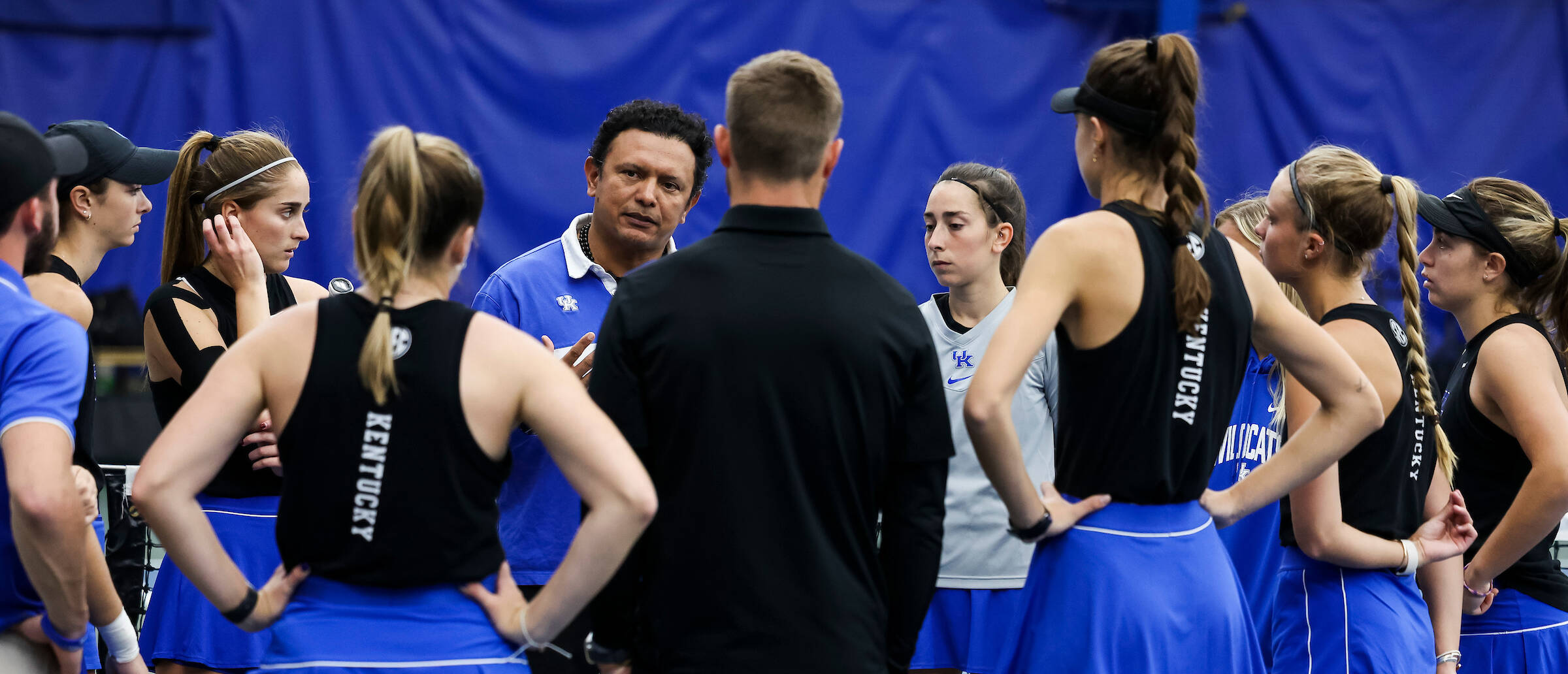 March 31, 2023 - 06:58 PM
Urrutia Notches Fourth-Straight Ranked Win, Cats Fall Short to No. 13 Auburn
LEXINGTON, Ky. – For the first time in two weeks, No. 51 Kentucky (12-8, 4-5 SEC) dropped a match, falling to No. 13 Auburn (15-5, 5-3 SEC) by a final score of 5-2.
Despite ranked wins from No. 48 Florencia Urrutia and the doubles pair of Ellie Eades and Zoe Hammond, Kentucky fell short in the deciding doubles match and two three-set singles matches.
The Cats found themselves in foreign waters to open the match, dropping the doubles point for just the fourth time this season. No. 63 Carlota Molina and Elizabeth Stevens lost their first match as a pair since January, falling to Auburn's 20th -ranked pair of Carolyn Ansari and Ariana Arsenault. Kentucky rebounded as Eades and Hammond picked up their first ranked victory of the season, knocking off No. 80 Adeline Flach and Angella Okutoyi. With the doubles point coming down to the third and final court, the Tigers buckled down to halt the Kentucky doubles momentum.
Playing from behind for the first time since March 12, Kentucky was able to respond quickly, thanks to Lidia Gonzalez. The sophomore from Madrid, Spain raced through her No. 4 singles match, knocking off Kaitlyn Carnicella, 6-1, 6-1. Today's win marked the third in a row for Gonzalez.
With the match tied at one, the Tigers bounced back to reclaim the lead, as Molina fell in straight sets on Court No. 3. Auburn would increase its advantage with a win at No. 2 singles, as Eades fought hard against No. 50 Arseneault, but fell in two close sets, including one tiebreak.
With their backs against the wall, a fierce Kentucky comeback attempt was ignited on the top singles court. Despite leading 6-2, 5-1, having a match point, and serving for the match three different times, Urrutia found herself in a third set against No. 32 Ansari. After Ansari broke the Wildcat star twice in the first three games, the senior from Santa Fe, Argentina buckled down and fought back. She was able to immediately recover one of the two fallen breaks but could not even the deciding set. After not converting consecutive 40-15 leads on Ansari service games, Urrutia saved a match point on her serve and forced the top Auburn player to serve out the match. Leading 40-15 again, Ansari fought back to deuce, but double faulted, tying the set at 5-5. The Wildcat held serve and then jumped out to an early lead in the ensuing return game, ultimately sealing the deal for a 6-2, 6-7 (5), 7-5 win. The win marks the fifth in a row for Urrutia, who has won four straight SEC matches, all over ranked opponents.
Playing with new life, the Wildcats found themselves in three set matches at both No. 5 and No. 6 singles. Hammond won her opening set but dropped the final three games of the second to find herself in a third on No. 5. Senior Maialen Morante came back from a set down to force a third set at No. 6.
Needing both remaining singles points, Hammond was able to put the Cats in a good position, claiming an early break. However, Okutoyi went on a four-game run in the middle of the set to flip momentum and allow her team to escape the upset.
Morante's match played out, but she was unable to recover from early deciding point losses, falling 3-6, 6-3, 3-6.
The Wildcats will close out their penultimate home weekend with a Sunday matinee against the No. 53 Alabama Crimson Tide. First serve at the Hilary J. Boone Varsity Tennis Center will take place at Noon EST. Admission to all home regular season matches is free to the public, and fans who cannot make it to the Boone can follow along via live stats and watch live on Track Tennis.
RESULTS
Kentucky vs. Auburn
Doubles
No. 20 Ansari/Areseneault (AU) def. No. 63 Stevens/Molina (UK) 6-1
Hammond/Eades (UK) def. No. 80 Flach/Okutoyi (AU) 6-3
Bennett/Carnicella (AU) def. Gonzalez/Urrutia (UK) 6-4
Singles
No. 48 Florencia Urrutia (UK) def. No. 32 Ansari (AU) 6-2, 6-7 (5), 7-5
No. 50 Arseneault (AU) def. Ellie Eades (UK) 7-5, 7-6 (3)
Bennett (AU) def. Carlota Molina (UK) 6-1, 6-3
Lidia Gonzalez (UK) def. Carnicella (AU) 6-1, 6-1
Okutoyi (AU) def. Zoe Hammond (UK)  4-6, 6-3, 6-4
Flach (AU) def. Maialen Morante (UK) 6-3, 3-6, 6-3
Order of Finish:
Doubles—1, 2, 3
Singles— 4, 3, 2, 1, 5, 6
For the latest on UK Women's Tennis, follow the Wildcats on Twitter and Instagram at @UKWomensTennis.