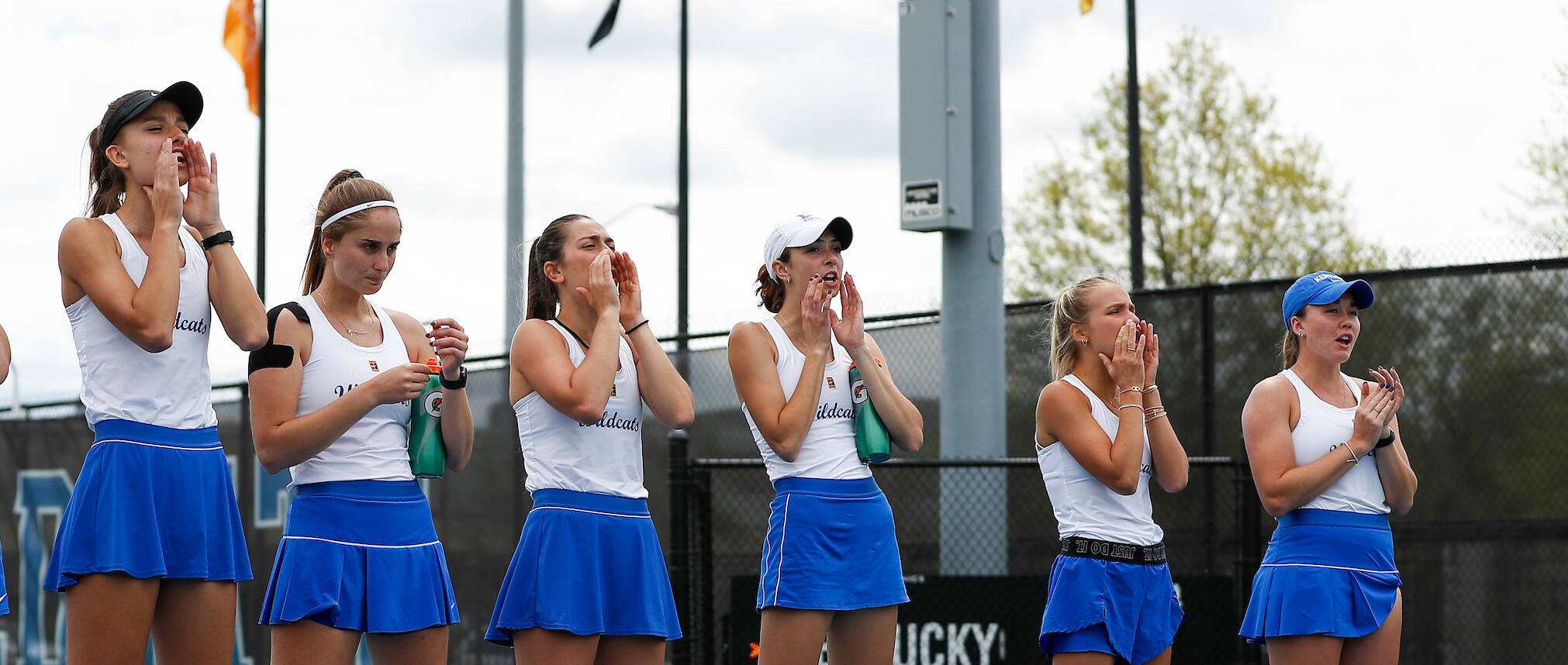 April 15, 2023 - 01:31 PM
Kentucky to Honor Three Seniors on Sunday
LEXINGTON, Ky. – No. 57 Kentucky women's tennis (12-12, 4-8 SEC) will host No. 52 LSU (11-9, 4-8 SEC) on Sunday for an 11 a.m. EST Senior Day match at the Hilary J. Boone Tennis Center.
The Wildcats will honor its three seniors, Carlota Molina, Maialen Morante and Florencia Urrutia. The match will be the final contest of the regular season before looking to the Southeastern Conference tournament next week.
Carlota Molina
Originally from Gran Canaria, Spain, Molina and has been a big part of Kentucky women's tennis since she first stepped on campus. She is a two-time SEC Academic Honor Roll honoree and was named an SEC Newcomer of the Week in 2021. The senior was awarded SEC Co-Player of the Week last season as well. She and doubles partner Lizzy Stevens are currently ranked 29th in the nation for their impressive 14-5 efforts in doubles play this season.
Molina plans to graduate with a Business and Management degree with a minor in International Business.
Maialen Morante
A senior from Bilbao, Spain, Morante has been an impressive player for the Wildcats during her time at UK both on the court and in the classroom. The senior is a two-time SEC Academic Honor Roll honoree and was named an ITA Scholar Athlete in 2021. She has come in clutch for the Cats, especially against tough conference opponents such as Florida and Arkansas.
Upon graduation, she will serve as a student coach for Kentucky next year as she finishes up her master's in business administration with plans to pursue a career in engineering.
Florencia Urrutia
A loud and proud Wildcat from Santa Fe, Argentina, Urrutia has been a force to reckon with. The No. 41-nationally ranked singles player has had a stellar senior season going 22-10 in singles play. She has defeated numerous ranked opponents throughout the season as well. Urrutia has produced winning records in both singles and doubles competition during her time as a Wildcat. She was also recognized as an ITA Scholar Athlete in 2020.
Urrutia plans to pursue a professional tennis career and wants to remain in the tennis world in some capacity following her senior season.
Match Facts
The Tigers hold a 23-22 all-time series record against the Wildcats.
The last regular season match between Kentucky and LSU resulted in a 4-1 Tiger victory.
The last postseason match between the Tigers and Cats resulted in a 4-2 Kentucky win, advancing UK to the second round of the SEC Tournament last season.
57-ranked Kentucky is 12-12 this year and dropped its most recent match to No. 2 Texas A&M, 2-5 at home.
52-ranked LSU is 11-9 this year and dropped its most recent match to No. 32 Vanderbilt, 2-4 at home.
In the most recent ITA rankings, senior Florencia Urrutia found herself in the ranks with a singles placement of No. 41.
The ranked pair of Elizabeth Stevens and Carlota Molina also found themselves trending upwards with their doubles ranking improving to No. 29.
Fans can follow along with live stats as well as watch live by clicking here.
For the latest on UK Women's Tennis, follow the Wildcats on Twitter and Instagram at @UKWomensTennis.