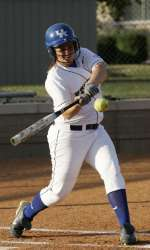 25
Erika

Silence
class

Senior

High school

Decatur Central High School
Senior (2012): Saw action in 17 games and made one start … Registered a walk in a pinch-hitting situation in the third game of the UCLA series … Earned a walk in a win over North Florida … Hit first homer of the season vs. UAB … Logged a pinch-hit at-bat at No. 10 Tennessee … Hit the game-winning walk-off three-run homer to down Arkansas in extra innings … Made her first career NCAA Tournament appearance with an at-bat vs. Valpo.
Junior (2011): Appeared in 16 games on the season … Finished the season with a 1.000 fielding clip with four putouts recorded … Combined with Sam DeMartine for the year's first back-to-back home runs with a solo shot in the upset win over No. 22 Ohio State … Registered a pair of put outs in right field in the loss to Florida State … Made two game-saving catches in left field in helping UK fend off No. 7 Tennessee for the series win … Drove in a career-high two runs with a bases-clearing single in the route of Austin Peay … Would also come around to score in that contest.
Sophomore (2010): Earned All-SEC Academic team honors … Appeared in 12 games as a sophomore and registered a pair of hits … Saw action in right field in a loss to Louisville … Singled in a loss to No. 7 Georgia … Recorded her first hit of the season in a pinch-hitting role in a loss at Tennessee … Had her first at-bat of the season against San Diego State.
Freshman (2009): Appeared in 15 games, earning five starts … Registered a pair of hits and three RBI in her first season with the Wildcats … Reached base on a fielder's choice and rounded home to score in her first collegiate action against Oregon … Her first career hit was a solo home run over the left field wall to help secure a win over UConn … Posted an RBI walk in the win over Centenary … Notched an RBI double in a victory over Miami (Ohio).
High School: A four-year letterwinner for Decatur Central … Team won three county championships in her career … Decatur Central was also Sectional Champions in her freshman season … Batted .414 with 37 RBI, 19 doubles, three triples and three homeruns as a senior … The 19 doubles was the most in the state … Earned second-team All-State honors as a senior, while being named All-County in her freshman, sophomore and senior seasons … A three-year All-Conference team member … Named as an Indiana Softball All-Star, while also representing the All-West Softball Honor team all four years … A three-year letterwinner in volleyball … Active in her community, volunteering at the Fletcher Place Community Center and as a coach teaching young girls softball skills … Graduated with academic honors from Decatur Central.
Read more