UK Athletics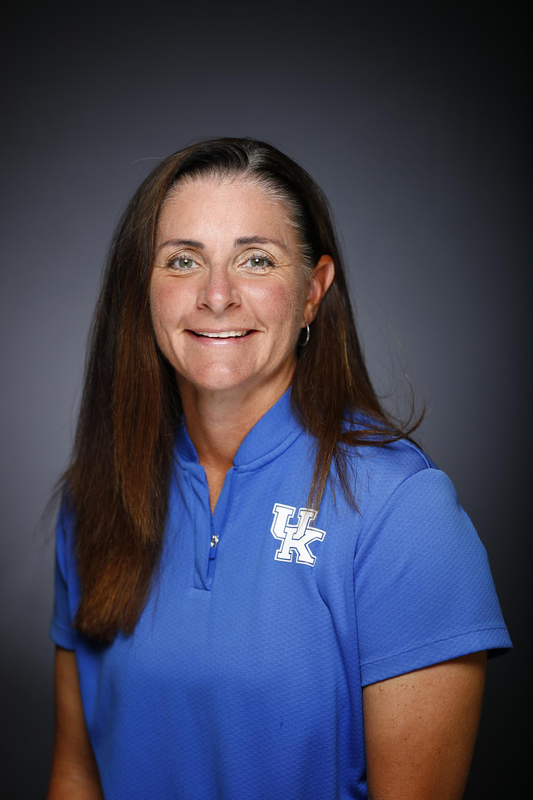 When Rachel Lawson was named head coach of the University of Kentucky softball team in July 2007 she saw a program poised for success. She knew athletics director Mitch Barnhart and the rest of UK's administration would give her unwavering support, and most importantly she knew the Big Blue Nation would provide the home-field advantage necessary for her team to compete in the Southeastern Conference.
Entering her 16th season as UK's head coach in 2023, Lawson's vision for the UK softball program has become a realization. The winningest head coach in program history has not only lead UK to its first-ever appearance in the Women's College World Series, eight NCAA Super Regionals the last 11 seasons, including a program-best 50 wins in 2014, but UK's administration come through on their promise and commitment to softball by providing Lawson with one of the nation's greatest collegiate softball facilities in the $9.5 million John Cropp Stadium.
She became the first coach in program history to eclipse 400 wins at Kentucky against Utah on Feb. 15 in a 13-2 win over Utah at the inaugural ESPN St. Pete/Clearwater Elite Invitational Presented by Wilson.
In 2014, Lawson guided Kentucky to the Women's College World Series behind 50 wins. The Wildcats also set single-season records in at-bats, runs scored, doubles, home runs, RBI, total bases, walks, fielding percentage, putouts, lowest ERA and strikeouts. UK, which advanced to the program's first SEC Tournament Championship, started the season with a program-best 12 straight wins.
Seven of the last nine full seasons, Lawson has led the Wildcats to a national seed in the NCAA Tournament. The school's first-ever national seed was in 2013 – and UK hosted an NCAA Regional for the first time ever. Kentucky, which has made the NCAA Tournament each of the last 13 seasons, is one of just 16 schools nationally to claim that honor.
In 2019, Kentucky had one of its best offensive seasons ever – setting the school record for runs scored, batting average, on-base percentage, slugging and trying the program best with 71 home runs. Abbey Cheek was named the 2019 SEC Player of the Year, becoming the first player under Lawson to win a conference Player of the Year honor. Additionally, UK made its third-straight NCAA Super Regional and swept its way through the Lexington Regional for a third-straight season.
She guided the Wildcats to a run-rule sweep of the 2018 NCAA Lexington Regional, as the Wildcats became just the third team in NCAA history to run rule all three games of a regional. Kentucky beat Illinois-Chicago 10-1 in the opening round, shutout Notre Dame 10-0 in the 1-0 game and then ended the weekend with a 9-1 win over the Fighting Irish to book UK's sixth ticket to the NCAA Super Regionals.
Lawson helped guide Kentucky to its best regular season in program history in 2016, winning 43 games in the regular season, ending with a No. 9 national seed in the NCAA Tournament, a new program best. The Wildcats earned the right to host the NCAA Tournament for the third time in the last four seasons at John Cropp Stadium in Lexington. Lawson was named the 2016 SEC Coach of the Year, and joined Kelsey Nunley (SEC Pitcher of the Year) as the first two Kentucky winners of those awards.
The 2016 team finished with some of the best pitching numbers in program history, setting school records in the circle for lowest team ERA (1.71), lowest opponent batting average (.191), fewest runs allowed (130), fewest earned runs allowed (98), fewest hits allowed (280) and fewest doubles allowed (44)
Lawson has won 587 career games at the head of the dugout and has coached four National Fastpitch Coaches Association All-Americans in the last 10 years. Abbey Cheek became the first unanimous All-American in program history in 2019 after the most prolific offensive season in Kentucky annals. In 2016, senior pitcher Kelsey Nunley became the second All-American in program history (Molly Johnson, 2nd Team), and the first to be named to the First Team. That was followed by Katie Reed in the 2018 season, who was named to the third team.
Now sitting at 495-295 in her 14 seasons at Kentucky, Lawson is the winningest head coach in school history and already has more wins in SEC play than UK had all told as a program when she took over in 2007. UK finished the 2014 season ranked sixth in both national listings for its best final ranking ever. In 2013, Kentucky was ranked in the top 14 of both collegiate softball rankings for the second time in school history with nine wins over ranked teams. In her 14 seasons at Kentucky, Lawson has defeated over 113 ranked foes, including 57 wins vs. top-10 teams and 32 against top-five teams.
Before Rachel Lawson

Team

Since Rachel Lawson

11

Seasons

15
1

Winning Seasons

14
242 (.373)

Wins (Pct.)

532 (.659)
64

SEC Wins

168
0

Wins vs. Top 25

123
0

NCAA Tournaments

13
0

Super Regionals

9
0

WCWS

1
4

All-SEC Honors

62
0

NFCA All-Americans

6
0

Professional Draft Picks

 

7
0

USA National Team Members

 

3
94

SEC Academic Honor Roll Honorees

 

186
Lawson's 2013 squad set the stage for the 2014 run to the Women's College World Series, setting several school records, including a then-program record 41 wins. All told, Lawson has directed the Wildcats to 30 or more victories in 11-straight seasons, which also resonates as a program record. In her 12 years with Kentucky, Lawson has helped UK players earn 50 All-SEC honors and 29 SEC Player of the Week honors.
Lawson's impact on the UK program is obvious, but her ability to develop players sometimes gets overshadowed by her impressive credentials in handling the day-to-day running of a program. Lawson, who serves as the pitching coach for the Wildcats, has guided three different pitchers to throw no-hitters against top-25 teams in just the last seven seasons alone. In all, UK has 17 career no-hitters – all of which have come under Lawson's tenure – including two perfect games.
Kentucky's 2012 season was highlighted by an impressive second-half surge with upsets of 12 ranked opponents, a then Lawson-best fifth place finish in SEC action, a program-record six captured conference series and a senior class who became the first class in school history to tally a .500 record or better in each of their four seasons of play.
In 2011, Lawson directed the Wildcats to their first NCAA Super Regional appearance and finished the season ranked No.12 in the country. The 2011 team earned a 40-16 overall record to set a new single-season standard for wins in a season before Lawson's 2013 team posted 41. UK appeared in the national rankings for a school-record 14 consecutive weeks, defeated 12 top-25 ranked opponents, captured five SEC series and became a national story with a dramatic postseason run which included a seventh-inning rally to knock off the nation's No. 2 team in Michigan in Ann Arbor to advance to Super Regionals.
The 2011 Wildcats shattered 12 single-season UK records, including home runs (65), RBI (275) and batting average (.275). Individually, the Wildcats had a school-record five players earn National Fastpitch Coaches Association All-Region honors in Meagan Aull, Cervantes, Kara Dill, Riley and Megan Yocke. Following the end of the impressive 2011 season, Lawson was rewarded with a five-year contract extension keeping her at the helm of the Wildcat program through 2016. That contract has been extended several times since, including June of 2014, which keeps Lawson in UK blue through the 2020 season.
In 2010, the Wildcats charted a 32-27 record and entered into the national rankings for the first time in program history, while also knocking off five top-seven ranked opponents on the year. Behind the pitching tandem of sophomores Riley and Bell, the Wildcats broke school records in nearly every pitching category. Kentucky's offense continued to make strides as well with improvements in batting average, home runs, RBI and sacrifice hits for the third consecutive season under the direction of Lawson.
Lawson led the Wildcats to their first NCAA Tournament appearance and charted the school's first postseason victories in 2009, just her second season leading Kentucky. UK notched a 34-23 record and the first winning season in UK history in nearly 10 seasons. Kentucky upset three ranked opponents on the year, including No. 7 Georgia in a 2-0 victory in the SEC Tournament. Molly Johnson became the school's first All-America selection when she was voted to the second team in 2009. Kentucky earned 13 victories in conference play, and finished sixth overall in league action.
During the season the head coach also charted her 100th career victory in a 5-1 UK triumph over Eastern Illinois on March 1. Lawson became the winningest head coach in program history on April 10, 2013 with win No. 182 against Eastern Kentucky in Richmond, Ky.
Lawson became just the third head coach in the history of the Kentucky softball program after spending three seasons at Western Kentucky. She also served as an assistant coach at Maryland from 1996-2002 and was the associate head coach of the Philadelphia Force professional team in 2006.
Lawson tallied a record of 92-84 (.523) during her tenure with the Hilltoppers. In her first season at WKU, she led the Toppers to a spot in the Sun Belt Conference Tournament championship game. Picked to finish last in the preseason poll, WKU tied for second in the conference standings after setting a school record with 12 Sun Belt victories. The Billings, Mont., native led WKU to a 33-24 record in 2005 and reached the 30-win plateau again in 2007.
Lawson and the Hilltoppers battled nine NCAA Regional participants in 2006, including four teams ranked in the top 25, while finishing third in the Sun Belt regular-season play. She guided the squad to wins over perennial powers Long Beach State, South Florida, Mississippi Valley, as well as No. 13 Louisiana-Lafayette and No. 21 Louisville. In fact, then-freshman pitcher Ryan Rogge tossed the school's third no hitter against the Ragin' Cajuns in WKU's 8-0 victory.
The win handed UL its first run-rule defeat in an SBC contest. Three Hilltoppers – Lathrop, Rolfs and Rogge – each earned SBC Player- and Pitcher-of-the-Week honors throughout the season, as Rolfs and outfielder Alana Towns notched all-conference honors.
Lawson was a two-time all-conference player at Massachusetts, where she was part of a program that advanced to the 1992 Women's College World Series, and has seven years experience as an assistant coach at Maryland.
During her four-year career at UMass, Lawson helped the Minutewomen post a combined record of 142-68 (67.6 percent) including a 39-3 (92.9 percent) Atlantic 10 mark. In addition to the 1992 WCWS appearance, she was a part of squads that also advanced to the NCAA Tournament her freshman season, won three A-10 Tournament titles and claimed the league regular-season championship four straight years.
Lawson was honored individually for her accomplishments on and off the field. She was both an All-Conference and All-Atlantic 10 Tournament performer in 1992 and 1994, and was also named to the A-10 Academic all-conference squad following each of her final two seasons.
Lawson joined the Maryland staff in 1996 and helped the Terrapins post six winning seasons in her seven years in College Park. Her responsibilities included recruiting, scheduling, organizing practice and travel, as well as running camps and clinics. In 1999, Lawson and company were selected the National Fastpitch Coaches Association Mid-Atlantic Coaching Staff of the Year after leading the Terrapins to a 51-23 record, their first ACC regular-season title and the championship game of the NCAA Region II Tournament.
During her time at Maryland, Lawson helped eight individuals earn NFCA all-region accolades — with an All-America honoree in 1999 — and nine players collected all-conference honors.
A 1994 graduate of Massachusetts with a degree in exercise science, Lawson also earned her master's degree in sports management from UMass in 1998. She is the daughter of Elaine and Gerald Lawson and has 11 siblings.
Lawson Year-by-Year As Head Coach
| Year | Team | Position | Record | Conf. Record | Postseason |
| --- | --- | --- | --- | --- | --- |
| 2021 | Kentucky | Head Coach | 43-16 | 13-11 | NCAA Super Regional |
| 2020 | Kentucky | Head Coach | 20-4 | 2-1 | No Tourney – COVID-19 |
| 2019 | Kentucky | Head Coach | 36-24 | 14-10 | NCAA Super Regional |
| 2018 | Kentucky | Head Coach | 35-21 | 8-15 | NCAA Super Regional |
| 2017 | Kentucky | Head Coach | 39-19 | 12-12 | NCAA Super Regional |
| 2016 | Kentucky | Head Coach | 46-14 | 17-7 | NCAA Regional |
| 2015 | Kentucky | Head Coach | 32-26 | 5-19 | NCAA Super Regional |
| 2014 | Kentucky | Head Coach | 50-19 | 13-11 | WCWS |
| 2013 | Kentucky | Head Coach | 41-21 | 13-11 | NCAA Super Regional |
| 2012 | Kentucky | Head Coach | 30-30 | 11-8 | NCAA Regional |
| 2011 | Kentucky | Head Coach | 40-16 | 8-7 | NCAA Super Regional |
| 2010 | Kentucky | Head Coach | 32-27 | 11-13 | NCAA Regional |
| 2009 | Kentucky | Head Coach | 34-23 | 3-25 | NCAA Regional |
| 2008 | Kentucky | Head Coach | 17-37 | 13-14 | – |
| 2007 | WKU | Head Coach | 30-32 | 13-15 | – |
| 2006 | WKU | Head Coach | 29-28 | 14-9 | – |
| 2005 | WKU | Head Coach | 33-24 | 15-13 | – |
| Totals | | 19 Seasons | 624-430 | 237-212 | – |
| | | at Kentucky | 532-314 | 168-184 | |
| | | at WKU | 92-84 | 30-28 | |
Read more