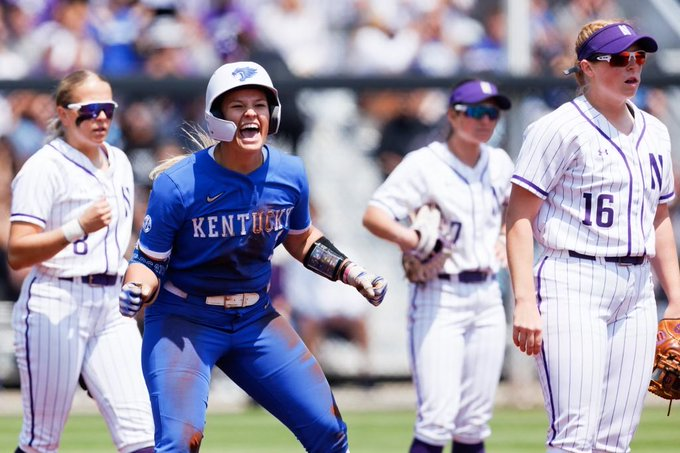 EVANSTON, Ill. – The No. 12 Northwestern Wildcats beat Kentucky 10-8, coming back from 6-2 down by using an eight-run third inning to knock off Kentucky and move into the Evanston Regional Final on Sunday afternoon.
Similar to 2021, Kentucky will turn around and play an elimination game against the winner of Eastern Illinois and Miami (OH) later tonight, with the winner needing to beat Northwestern twice on Sunday to advance to NCAA Super Regionals.
Erin Coffel and Kayla Kowalik both hit home runs in the game and the Wildcats led 6-2 after 2.5 innings, but an eight spot off of seven hits and a UK error spun out of control for the UK pitching staff and Northwestern never looked back.
All three games that Kentucky could play for the remainder of the weekend are elimination games.
Key Play 
The key play in the game was a three-run home run from Kansas Robinson to make a 6-5 Kentucky lead turn into an 8-6 NU lead.
Key Player  
Kentucky's key player was Kayla Kowalik, who went 1-for-4 with a three-run home run.
Key Stat 
The eight runs in the inning for Northwestern was the key stat in the game.
Run Recap 
Two runs scored for Kentucky in the top of the first inning on a Kennedy Sullivan bunt single and a third crossed on a Meeko Harrison RBI single through the left side. UK 3, NU 0
Jordyn Rudd hit a two-run homer in the bottom of the first. UK 3, NU 2
Kayla Kowalik hit a three-run blast to left in the second inning to give UK its four-run lead. UK 6, NU 2
Northwestern got two homers in the same inning from Kansas Robinson to leap ahead. NU 10, UK 6
Erin Coffel hit a solo HR in the top of the fourth inning and Kennedy Sullivan slammed one out in the top of the seventh. FINAL – Northwestern 10, Kentucky 8
For the latest on UK Softball, follow the Wildcats on Twitter and Instagram at @UKSoftball.