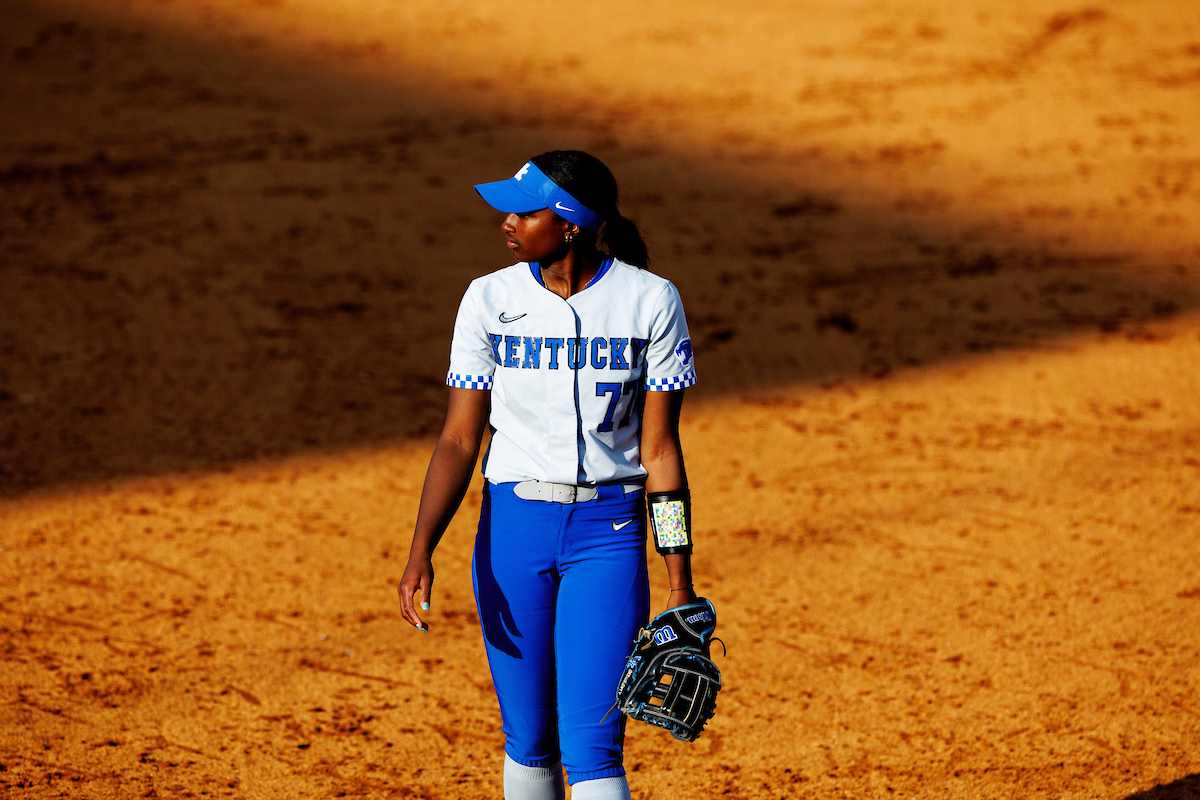 STARKVILLE, Miss. – The Kentucky Softball team saw a five-run lead evaporate in the final two innings as Mississippi State scored the final 10 runs of the game in its last two at bats to come from behind, secure the series, and beat No. 22 Kentucky, 12-6 on Saturday afternoon.
The game was called after six innings due to weather moving into the Starkville, Mississippi area with both teams agreeing to end the contest prematurely in conjunction with the league office in Birmingham.
The win for Mississippi State puts the Bulldogs just one win away from postseason eligibility after not having won an Southeastern Conference game since opening weekend in March. The Bulldogs improve to 26-22 overall, four games above the .500 mark and are now 5-14 in the SEC. Kentucky drops its seventh SEC game in its last nine and is 27-17-1 and 8-12 in the league.
Game three of the series will be Sunday at 1 p.m. ET/Noon CT live on the SEC Network+, ESPN3 and the ESPN app. It will be the final regular season road game for Kentucky.
Key Play 
A grand slam by Mississippi State's Shea Moreno, in her first-career home run, hit a grand slam in the bottom of the fifth inning to turn a UK 6-3 lead into a MSU 7-6 lead as the Wildcats trailed for the first time all game.
Key Player  
The key player in the game for Kentucky was Erin Coffel, who was not retired in the game with a 3-for-3 day at the plate.
Key Stat 
Kentucky pitching gave up four Bulldog homers in the fifth and sixth innings, accounting for seven of the runs as MSU completed the comeback.
Run Recap 
Meeko Harrison hit a three-RBI, two-out triple in the top of the first on top of a Taylor Ebbs RBI single to give the Wildcats a 4-0 lead after three outs. UK 4, UK 0
Kennedy Sullivan's RBI single up the middle scored Erin Coffel with one out in the second inning to give the Wildcats a 5-0 lead after 1.5 innings. UK 5, MSU 0
In the bottom of the second, a solo HR gave the Bulldogs their first run of the game. UK 5, MSU 1
In the bottom of the third inning, an RBI double cut into the Kentucky lead. UK 5, MSU 2
MSU scored for the third time in the last four innings on a grand slam in the bottom of the fifth inning. MSU 7, UK 6
Another five-run inning fueled by three homers gave MSU the 12-6 lead after six. FINAL – Mississippi State 12, Kentucky 6
For the latest on UK Softball, follow the Wildcats on Twitter and Instagram at @UKSoftball.