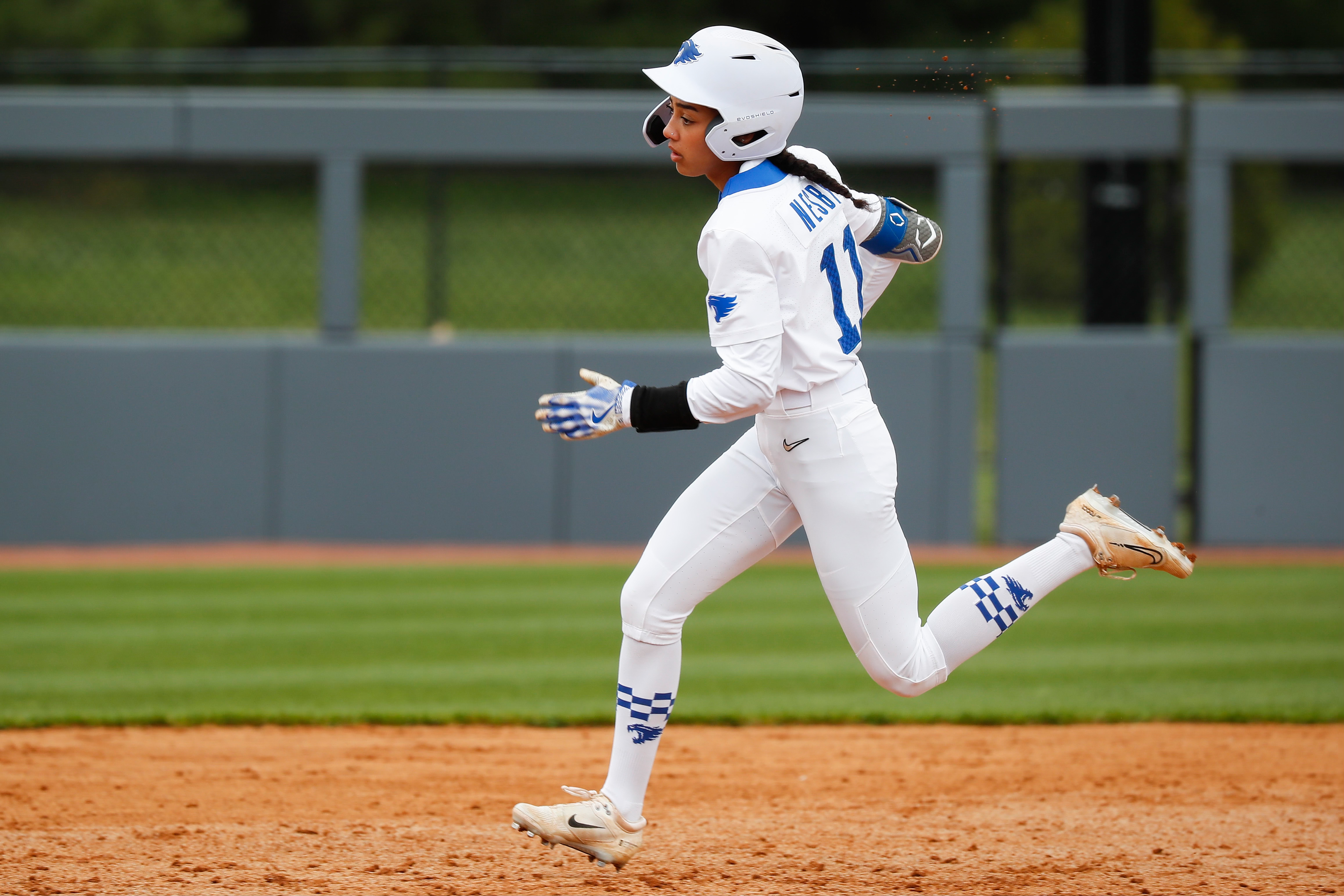 LEXINGTON, Ky. – The No. 6 Tennessee Softball team kept its foot on the gas petal Sunday afternoon as they completed a sweep of No. 17 Kentucky thanks to a 15-1 five-inning win over the Wildcats at John Cropp Stadium.
With the result, Kentucky dropped the final game of the series and was swept for the first time this season in a Southeastern Conference series. Tennessee maintains its lead on the SEC with a two-game cushion as the Lady Vols improve to 34-5 overall and are 13-2 in the SEC. Kentucky drops its third-straight game for the first time this season and now is 25-13 and is 7-8 in league play.
UK will play Tuesday afternoon at 5 p.m. ET at Northern Kentucky in Highland Heights, Kentucky. The match will be streamed on ESPN+.
The Lady Vols got 15 runs on 13 hits Sunday thanks to seven free passes issued by Kentucky pitching in addition to 10 two-strike RBI. Tennessee hit seven extra-base knocks in the game, and five of those were home runs with two each from Kiki Milloy and McKenna Gibson.
Kentucky's offense came from a lead-off triple off the bat of Vanessa Nesby in the fourth inning and scored on a Grace Lorsung sacrifice fly to plate the lone Wildcat run of the afternoon.
Key Play
A lead-off homer by Tennessee's KiKi Milloy was the key play in the game.
Key Player
Kentucky's key player was Vanessa Nesby, who led off the fourth inning with a triple, UK's lone hit of the afternoon, and later scored on a sac fly.
Key Stat
This is the first time all season that UK has lost three games in a row.
Run Recap
Tennessee scored three times in the first on a lead-off solo HR, RBI single through the left side and an RBI single up the middle. UT 3, UK 0
In the top of the second inning, McKenna Gibson hit a three-run home run. UT 6, UK 0
In the top of the fourth inning, Gibson hit her second three-run home run of the game, and a sacrifice fly in the later part of the frame brough the lead up to 10. UT 10, UK 0
Vanessa Nesby led off the bottom of the fourth with a triple into CF and then scored on a Grace Lorsung RBI sac fly to center. UT 10, UK 1
In the fifth, Tennessee scored five runs on five hits. FINAL – Tennessee 15, Kentucky 1
For the latest on UK Softball, follow the Wildcats on Twitter and Instagram at @UKSoftball.