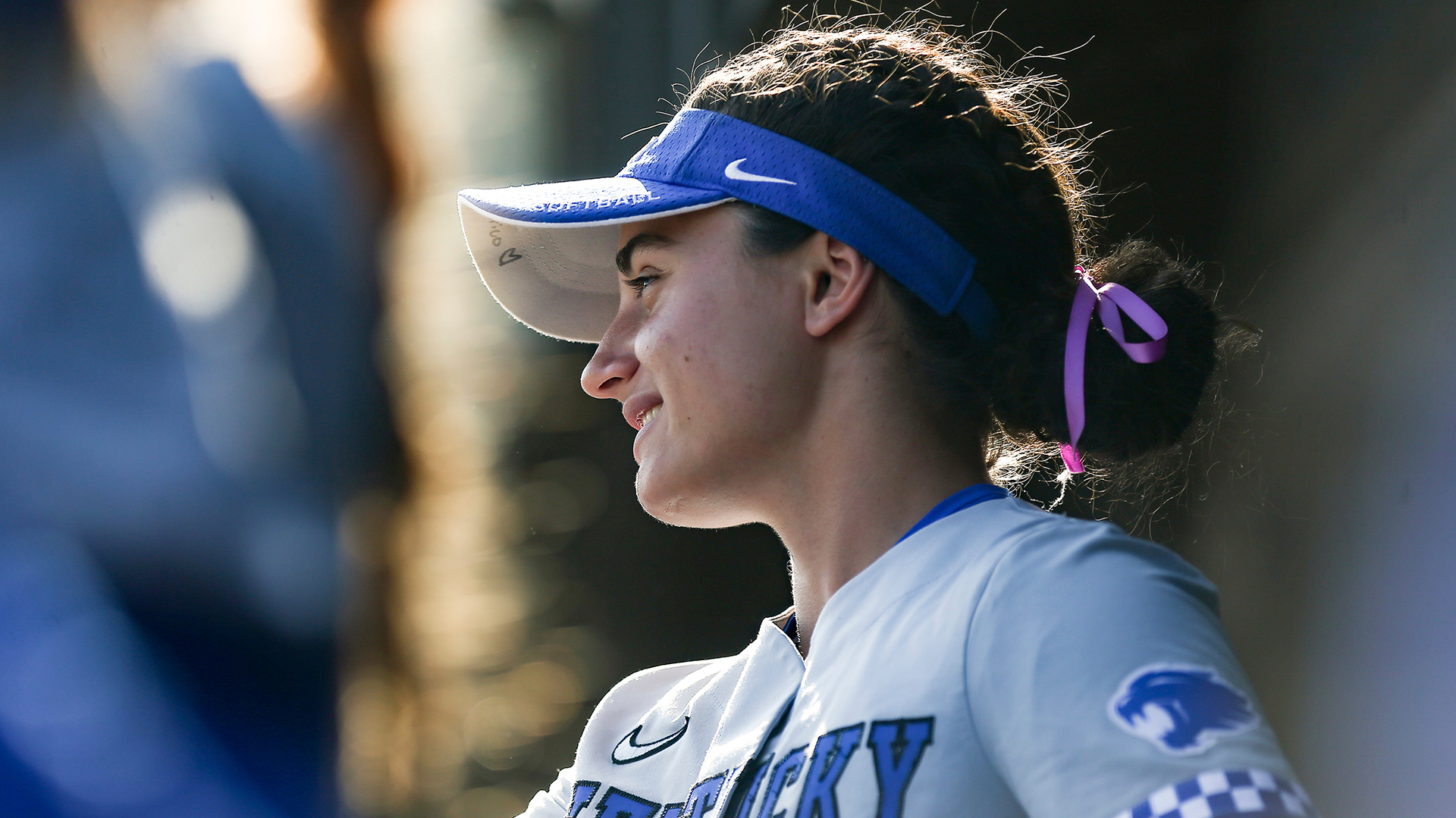 The first inning of Wednesday night's softball game did not go exactly as planned for Kentucky pitcher Alexia Lacatena. Facing archrival Louisville at John Cropp Stadium. Lacatena walked the Cards' Korbe Otis to start the game, then gave up a single to Sarah Gordon. Just two batters into the game, the Cardinals were threatening to score.
Lacatena fought back, striking out Hannah File before walking Louisville power hitter Taylor Roby to load the bases.
With the Cards threatening to have a big inning, Lacatena got Daisy Hess to fly out to left field. The sacrifice fly did score Otis to give U of L a 1-0 lead. The Cards still had two runners on with two out, but Lacatena struck out Easton Lotus to end the threat.
The Cats seemed to be inspired by escaping serious damage in the top of the first. That was evident as the first four UK batters in the bottom of the inning reached and UK plated three runs to take a 3-1 lead.
Lacatena felt better, and settled in, after her team scored those three runs.
"I know when my team has my back, it makes me feel a lot more comfortable," Lacatena said. "It just gives me the confidence to just pitch and I don't have to worry about anything, because I've got my team behind me."
Lacatena would pitch six plus innings, allowing seven hits and three earned runs, while walking three and striking out two as Kentucky beat Louisville 7-4. She earned her eighth win of the season against just two losses.
UK head coach Rachel Lawson liked what she saw from Lacatena on Wednesday.
"I was really proud of her because we've asked her to really step up her role and do a couple of different things today and she did everything we asked her to do," Lawson said. "She had a really good game, she spun the ball, she mixed speed, she did a great job. Louisville's a great hitting team, so the fact that she was able to do it tonight really says a lot about her growth this season."
And escaping the potential early threat by Louisville showed Lawson even more.
"It really spoke to her resiliency as a pitcher," Lawson said. "She's just been waiting for these opportunities. She was throwing good (velocity), probably harder than she's thrown all year. It just shows her growth and maturity as a pitcher."
From the second through the sixth innings, Lacatena was in control.
The sophomore gave up a pair of one-out singles in the second inning before getting Otis and Gordon to both fly out to right field.
Lacatena retired the Cards in order in the third and fourth innings. The Cards would get a leadoff single in both the fifth and sixth innings. In the latter, the Cards had two on with only one out, but Lacatena got Ally Alexander and Madison Winkler to both ground out, getting out of the jam.
For Lacatena, the plan was pretty simple.
"Just trusting my spin," she said. "If you've got a lot of spin, a lot of mishits will happen."
Her catcher, All-American Kayla Kowalik, was working with Lacatena on something that sounds simple but can prove to be difficult.
"Just kind of slowing (the game) down," Kowalik said. "Coach Lawson talks a lot about, a game is not 150 pitches, it's one pitch at a time, 150 times. Just getting her to be able to slow down and understand that and just throw the next pitch, not worry about the previous pitches she had thrown."
The New Jersey native came back out for the seventh inning but, having thrown over 110 pitches, she simply had nothing left. The Cards scored three times in the seventh before Sloan Gayan came in to get the final three outs and secure the victory.