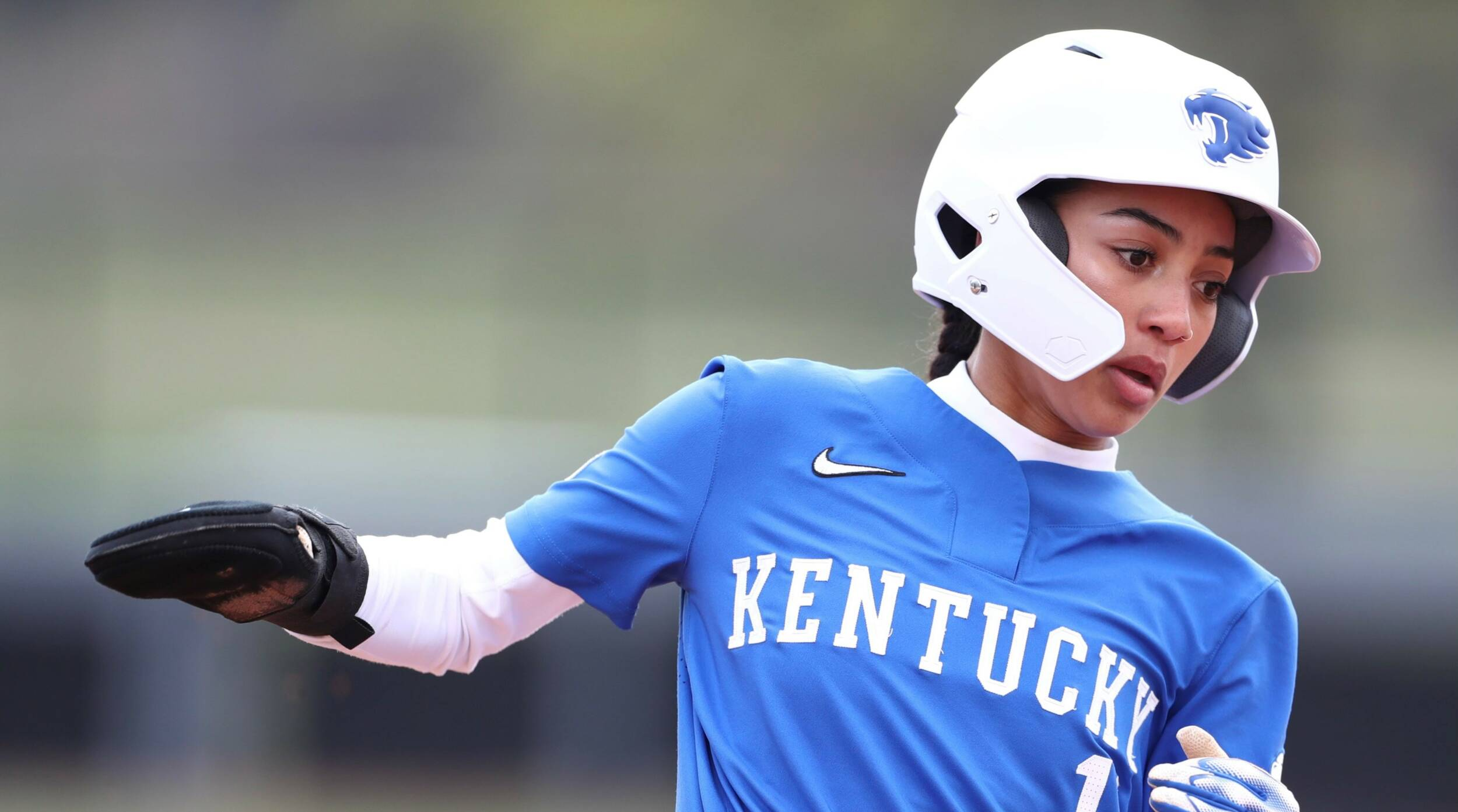 LEXINGTON, Ky. – No. 14 Kentucky kicked off the 2023 John Cropp Classic in style, earning a five-inning, walk-off win over the DePaul Blue Demons, 11-3. With the win, Kentucky now moves to 14-1 all time in their home tournament.
Kentucky took advantage of its speed, scoring 11 runs on 13 hits and forcing six DePaul errors. Kayla Kowalik, Vanessa Nesby, Rylea Smith, and Margaret Tobias all turned in multi-hit performances. Smith was 3-3 on the day, while Nesby also carded a three-hit performance. Nesby, Smith, and Grace Lorsung all recorded 2 RBI on the day. The Wildcats scored at least two runs in four of the five innings in which they batted, including a massive, five-run explosion in the fourth inning.
Sophomore Alexia Lacatena earned the win in the circle, improving her record on the year to 7-1. After two scoreless innings from starter Izzy Harrison, the Stanhope, New Jersey native pitched the final three innings of the game, allowing three runs, two earned, on four DePaul hits. Lacatena struck out four Blue Demons without giving up a walk.
The Wildcats are now 18-5-1, 3-0 (SEC), recording their seventh-straight win in the process. The seven-game win streak ties the longest of the season. DePaul falls to 8-12, 0-3 (Big East). The John Cropp Classic concludes on Sunday, with Kentucky scheduled for a doubleheader against Longwood and Michigan.
Key Play 
The first four batters of the Kentucky half of the fifth inning all reached safely on bunts, recording two hits and forcing three DePaul errors, allowing the Wildcats to walk off the game in five innings.
Key Player  
Vanessa Nesby went 3-4 with 2 RBI, reaching safely in all four of her at bats. Additionally, Nesby was responsible for two more runs scoring, despite not being credited with RBI due to DePaul errors.
Key Stat 
13. Kentucky used its speed to record thirteen hits to ignite its offense, turning in its fourth double-digit scoring performance of the season.
Run Recap 
After Kayla Kowalik opening the bottom of the first with a lead-off walk, a wild pitch, a perfect bunt single by Vanessa Nesby, and a Blue Demon Error and allowed Kowalik to score. An RBI single by Rylea Smith doubled the Kentucky advantage. UK 2, DEP 0
The Wildcats continued their hot start into the second inning. Meeko Harrison led off the inning with a single to left field. Pinch running for Harrison, Chelsea Mack stole second, advanced to third on a sac bunt by Jenna Blanton, and scored on an RBI single by Kowalik. After Kowalik moved herself into scoring position with a stolen base, Nesby lined a single to left to drive in Kowalik. UK 4, DEP 0
The Blue Demons scratched one back in the top of the third, finding their first hit of the game to take advantage of a Kentucky error and HBP. UK 4, DEP 1
Kentucky exploded for five runs in the bottom of the fourth inning. Nesby, Smith, Hallie Mitchell, and Grace Lorsung all recorded RBI singles as the Wildcats batted around the order. UK 9, DEP 1
Facing a run-rule defeat, DePaul hit a two-out, two-strike, two-run home run to extend the game. UK 9, DEP 3
Kentucky responded in a massive way, walking off the game with four straight bunts. Jenna Blanton reached safely on a three base error, followed by bunt singles from Margaret Tobias and Kayla Kowalik. The Wildcats scored their penultimate run on a throwing error on a stolen base, while Vanessa Nesby reached safely on a DePaul error that allowed Tobias to scratch across the walk-off run. FINAL- UK 11, DEP 3 (5)
For the latest on UK Softball, follow the Wildcats on Twitter and Instagram at @UKSoftball.