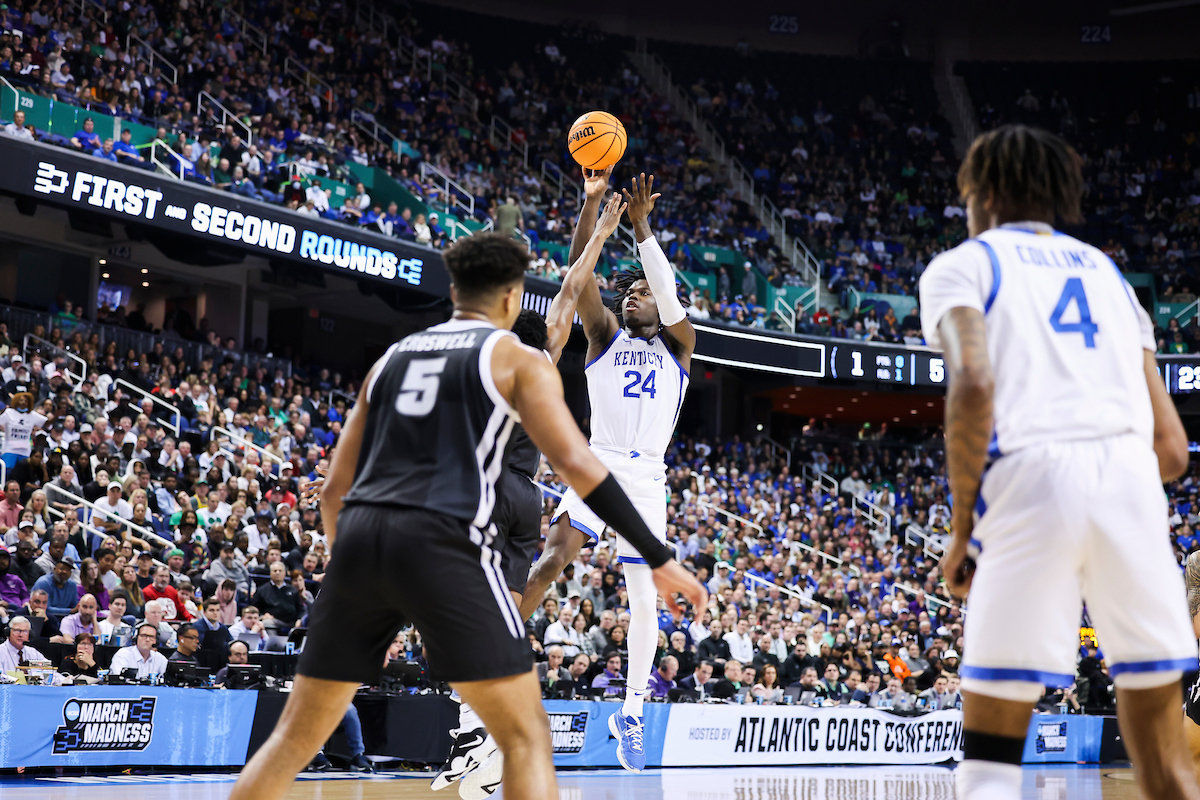 March 18, 2023 - 08:28 PM
Big Blue Preview: Kentucky vs. Kansas State (NCAA Tournament)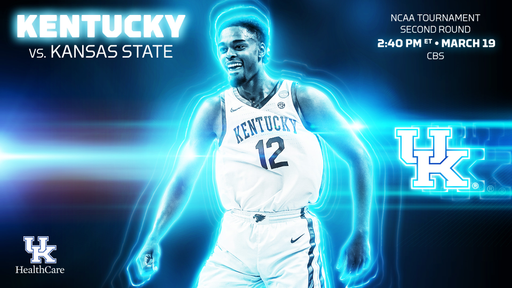 Kentucky head coach John Calipari likes for his team to be confident in itself. He said so in Saturday's NCAA Tournament press conference in Greensboro.
"You want them to have some swagger, no question," Calipari said.
But that confidence, or swagger, is not always created where most people think it is.
"A lot of it is you have more confidence when you are playing the right way," Calipari said. "I believe Antonio Reeves is shooting the ball better because he is a better defender now. You get clubbed seven times, you think you're going to go down and be confident and make a shot? The kid is defending better."
Kentucky (22-11) built more confidence on Friday night, defeating Providence 61-53 in the NCAA Tournament's first round. Now, UK will need to bring that confidence into Sunday's game against third-seeded Kansas State (2:40 ET, CBS).
The Wildcats from Manhattan are 24-9 on the season and are paced by a two-headed attack on offense. Keyontae Johnson, a transfer from Florida, leads K-State in scoring at 17.7 points per game. Markquis Nowell averages 16.8 points per outing and leads the Wildcats in assists.
The game will be a contrast in styles. Kentucky's strength is on the inside, with All-American Oscar Tshiebwe coming off a 25-rebound performance in Friday's win over Providence. Jacob Toppin has also developed into a consistent scorer at forward for UK.
Kansas State does not play with a traditional center and has a perimeter-oriented offense. Nae'Qwan Tomlin is 6-10 but would be considered more of a power forward than a center.
Tshiebwe has watched some film on the Wildcats and is prepared for whatever Kansas State throws at him.
"We're going to come in and be ready to play," Tshiebwe said. "Because to watch the film, what they are doing, like, it's a team that is really good. I'm just going to come in. We have a team plan how we're going to play them, so I'll be ready for tomorrow too."
As for Calipari, he knows that there will be adjustments for each team to make.
"You're going to have to go out and play these guys," Calipari said. "But the other side of it is that they've got to play us too. So, it's — okay, you know, we are coming at you, and they do a great job of trapping the post and creating opportunities to steal balls and be disruptive."
Calipari and the Cats hope that the confidence gained in Friday's win over Providence will carry over into Sunday's tough challenge against a talented Kansas State squad.
What's Trending over the Last Five Games
A snapshot of what has been trending with the Cats over their last five games played:
• UK is 3-2 with a win at Arkansas, as well as a dominating win at home against Auburn and the NCAA Tournament win over Providence. Both losses are to Vanderbilt, which had won 10 of its last 11 games
• Three Wildcats are averaging double-figure points: Antonio Reeves (23.2), Oscar Tshiebwe (16.4) and Jacob Toppin (16.0)
• Kentucky is plus-14.2 on the boards
• Tshiebwe is averaging 18.0 rebounds per game, while Toppin is hauling in 8.6 and Chris Livingston is accounting for 6.2 per game
• Kentucky is shooting 43.8% from the field and averaging 74.8 points per game
• UK's opponents are shooting 31.9% from 3-point range, while Kentucky has connected on 29.9% from 3
Similar Stories …
In 14 years as head coach of the Wildcats, John Calipari has won a national title, claimed six Southeastern Conference regular-season crowns, six league tournament titles and won more NCAA tournament games than any other coach during this span. He's also led teams plagued by slow starts to memorable late-season runs:
• The 2020 squad suffered a home loss to Evansville in November, lost back-to-back games in Las Vegas prior to Christmas and fell to 16-5 on Feb. 1 with a loss at Auburn. The Wildcats would then rattle off eight straight wins and nine of their last 10 to win the SEC regular-season by a comfortable margin of three games. COVID-19's rise in the United States canceled the SEC and NCAA Tournaments
• In 2018, the Wildcats lost four in a row from Feb. 3-14, marking the first four-game losing streak during Calipari's UK tenure. That team went on to win nine of its next 10 games and captured the SEC Tournament title
• The 2017 squad lost three of four games from Jan. 24-Feb. 4 before rattling off 14 straight victories. Within that run, the Wildcats won the SEC Tournament title and marched all the way to the Elite Eight before a buzzer-beater by eventual champion North Carolina ended their tournament run
• In 2014, the freshman class was heralded as the best ever and preseason expectations had fans dreaming of a 40-0 season. However, that team dropped nine regular-season games before putting together one of the most magical NCAA Tournament runs in program history. The Cats overcame double-digit deficits in all but one game and were led by late-game heroics from Aaron Harrison all the way to the NCAA Championship game