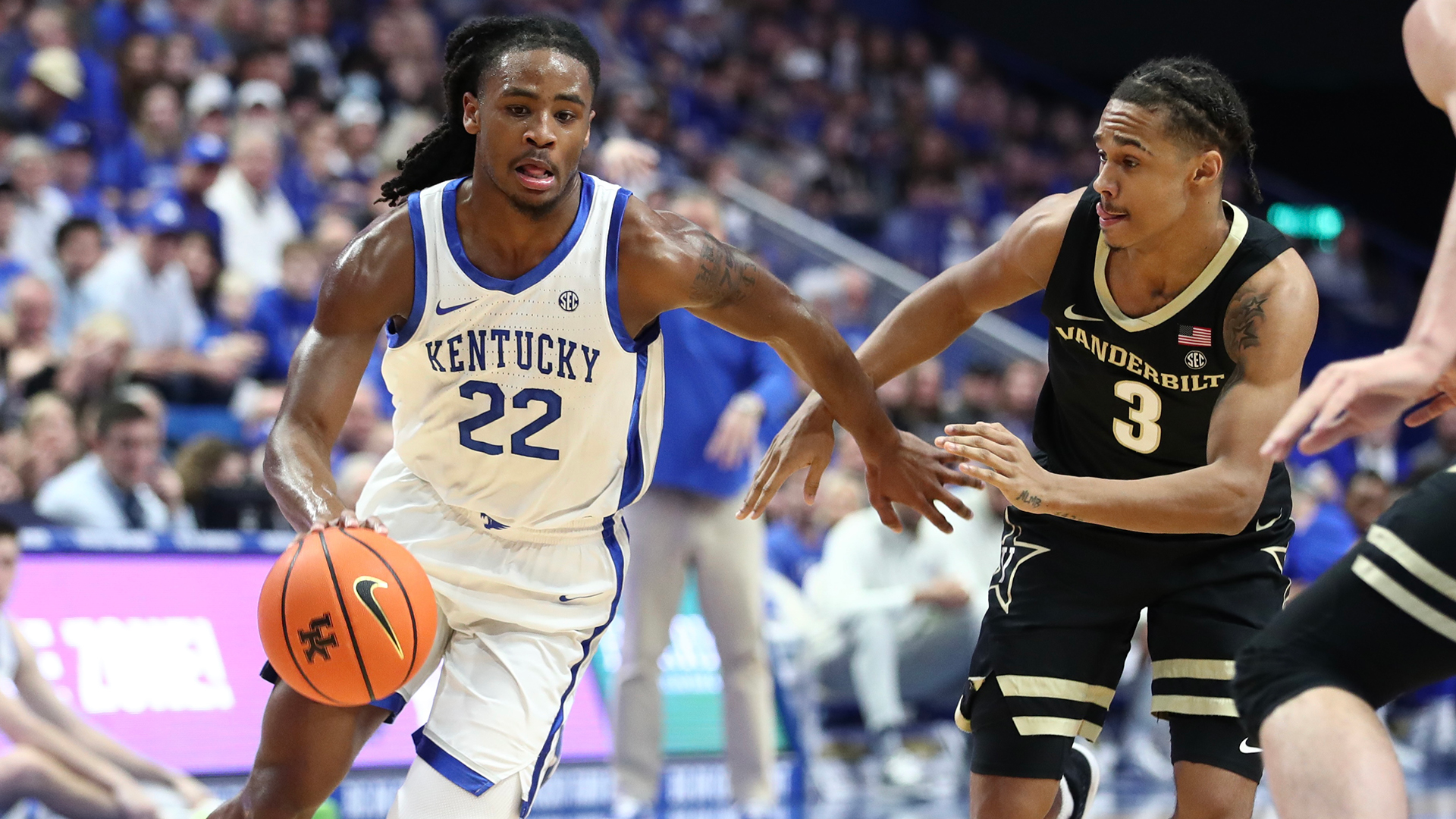 March 18, 2023 - 06:33 PM
Kentucky-Kansas State Pregame Quotes
March 18, 2023
John Calipari
Oscar Tshiebwe
Chris Livingston
Cason Wallace
Greensboro, North Carolina, USA
Greensboro Coliseum
Kentucky Wildcats
Media Conference
THE MODERATOR: We have student-athletes from Kentucky. We have Oscar Tshiebwe, Chris Livingston, and Cason Wallace. Questions.
Q. Chris and Cason, when you see Oscar start the game just rebounding like crazy, what's going through your mind? I mean, you see him in practice all the time, but to see him come up in a big game situation like that, what did that do to the mindset of the team?
CHRIS LIVINGSTON: It's definitely something we became accustomed to seeing from Oscar. We run the ball very well, coming out with a lot of energy, high intensity. We knew that Coach emphasized rebounding going against Providence, and he emphasized that the teams that really bother them, outrebounded them by a large margin.
We knew we had to do that in a game, and Oscar started off right, so we wanted to match that energy.
CASON WALLACE: Like Chris said, just brought a lot of energy to the team seeing Oscar be Oscar and get all those rebounds. Brought a little confidence to our shooting a little bit, knowing if we miss it we get a chance with Oscar down there cleaning it up.
Q. Oscar, last night Keyontae Johnson told us that he reached — or you reached out to him after his medical episode when he collapsed, and you two were friends. Can you tell us about your friendship.
OSCAR TSHIEBWE: Yes. He is my boy. I knew him since high school, so when he went through everything, so I just reached out to him, and I told him I'm keeping you in my prayers. Just keep praying. Let's just keep trusting in God. God is going to bring you better than you were before.
That's how our friendship is good. Reach out sometimes, check up on him once in a while to see how he is doing.
Q. This question is for Oscar. Kansas State doesn't have a traditional center. Their bigs are a little more agile, more of a stretch 4. You go up against guys like that that like to play in the perimeter and inside, how do you change your approach defensively?
OSCAR TSHIEBWE: They are really good. They are really good. They're big. He is doing a lot of things to help their team. We're going to come in and be ready to play. Because to watch the film, what they are doing, like, it's a team that is really good. I'm just going to come in. We have a team plan how we're going to play them, so I'll be ready for tomorrow too.
Q. Oscar, this one is for you. You're obviously a great rebounder. When you are in the air, how much do you try to use your body to create space against other players that are also going for rebounds? How much does that help you?
OSCAR TSHIEBWE: It helps a lot. First thing is I read the ball most of the time, and I position myself where the ball sometimes I don't need to jump, it's just going to come in my hands.
It needs a lot of effort and a lot of fights. I use my body a lot when I'm jumping to put in some people back so I can get the rebound. I use my body a lot.
Q. For all of you guys. Coach Cal has really emphasized the importance of just relaxing and enjoying the moment. How are you guys doing this during this tournament? Are you watching any of the games? What are you doing for relaxation?
CASON WALLACE: Coach tells us not to watch the games because we don't know who we'll play and we don't — we're playing our game. We've got to worry about ourselves. Just being loose and free out there once the ball goes for tip-off.
So I feel like we are well-prepared, and we'll be ready.
CHRIS LIVINGSTON: Yeah, like he said, Coach tried to emphasize not really watching any other games and worrying about what's going on elsewhere, and just worrying about what we've got to handle and what's in front of us.
I think we did a really good job of staying locked in, not being nervous and playing free. Now that we have that one game under our belt, I think it's going to be good for us to carry that into the next game.
OSCAR TSHIEBWE: He just make us to stay away from watching those games because sometimes by you watching a game, you start getting nervous. He just creates a fun game for ourselves. Make us stay away from phones. Just stay focused, not let what's happening outside affect us.
So we're going to come in and fight and get, like, a lot of sleep because our body needs to rest to be ready for the game.
Q. This is for Cason and Chris. I wanted to get your guys' impressions of Kansas State and what film study has told you about that team.
CASON WALLACE: They're a great team. They have a nice guard. He has the ball a lot. That's one of my matchups. So I know he is a great player. He can shoot it well. He gets to the rack. He is good at facilitating. I have my hands full.
CHRIS LIVINGSTON: Like he said, I think they're a really, really good team. I've been watching them throughout the season seeing the success that they had. They're really aggressive.
Johnson, the wing on the other team, is a really good wing. You know, he is aggressive. He gets downhill, and he is really strong. He also can play at the midrange area pretty well.
I think we've done a great job of scouting the team and understanding our matchups. We understand that we have a big-time matchup ahead of us.
Q. This is for all of you guys. Last night your teammates told us about the TikTok game that you were playing at the team dinner that had everybody laughing a lot. One, can you tell us about the game? Two, do you think John Calipari could play it?
OSCAR TSHIEBWE: (Laughing) That game I told them to teach me. I'm still learning. I don't know how that game works. They're the ones they're playing the game, so I'm enjoying. I'm just recording and have fun see them playing that game. They might explain better.
CHRIS LIVINGSTON: All right. So basically in the game it's like a shadow boxing game. Like, you point a certain direction, and the person goes that way. You get a point for that. It's like you got to like predict where the person's head is going to go. It's, like, I think we've just been playing that for a little minute. But, yeah, it's a little fun game.
CASON WALLACE: Can Cal play? He actually played it today (laughing) during our practice. Talking about one of our teammates. Would he be good at it? Probably not.
CHRIS LIVINGSTON: I don't know if he could react fast enough.
Q. Going back to the question you received about paying attention to the task ahead of you, the game you have, I'm wondering if last night you could hear any of the buzz going on in the arena while you guys were playing kind of reacting to other games, and if you are able to block that out or do you hear them chanting "FDU, FDU," and going wild when a 16 seed defeats a 1?
CASON WALLACE: No, I didn't know about that.
CHRIS LIVINGSTON: I ain't going to lie. I definitely did hear a lot of — it was out of nowhere. We were coming out of a time-out, and there was a lot of noise and stuff and chanting. I didn't look at the screen or anything like that to worry about the other game because I was still focused on what was going on in our game, but I definitely noticed it.
OSCAR TSHIEBWE: I hear the noise, loud people. I was confused. The game is not going on, so how are these people screaming? I did not know. I was, like, confused a little bit. I said, no, I'm not going to focus on that. I'm just going to focus in the game.
So I did block my ears from paying attention to all those things.
Q. For either one of you, you brought up Markquis Nowell earlier, their guard, number one. Have you guys seen a player like that, ever, very often, 5'8″ point guard that can do so many things, deep threes, to be unpredictable with the passing?
CASON WALLACE: Not really. Some of the film that we watched today, I mean, he shot a deep one. No rim. Straight in there.
So seeing him shoot deep like that and get downhill, facilitating for his teammates, like, you know, not everybody can have skill like that.
CHRIS LIVINGSTON: Yeah, like he said, I don't think we really have seen that throughout the season. Except probably one time we played South Carolina. The point guard for South Carolina, Meechie Johnson, shot a few deep shots. But I think the point guard for Kansas State's range might be a little further out, so I don't think we've really seen that before.
Q. There were a couple of issues with the rim during the pregame. Did you notice anything different about the rim, and do you like the way the rims are here?
OSCAR TSHIEBWE: Say that again, please. I didn't get that.
Q. During the pregame they checked the rim on a couple of occasions, and there was a little bit of delay. I didn't know if you noticed any difference in these rims, and how do you like these rims here in Greensboro?
OSCAR TSHIEBWE: I did not notice any difference. Just we were coming up for warmup, and I see they were fixing it. I did not know what was going on. I was just waiting until the finish so we can start shooting.
CHRIS LIVINGSTON: Yeah, I didn't really pay that no mind. I was ready to warm up and for them to get their job done. I didn't really pay that no mind.
CASON WALLACE: Yeah, didn't really affect us during the game. I mean, it gave us time to work on other things, ball handling.
THE MODERATOR: Thank you, guys.
Okay, questions for Coach.
Q. I guess we've probably gotten numbed watching Oscar do what he does, but there have been a lot of great rebounders. What does he do specifically that makes him the elite rebounder he is?
JOHN CALIPARI: He has a nose for the ball, and it's important to him that he goes and gets rebounds. He understands positioning, where the ball will probably come off to, and then he goes up and now he rebounds with two hands.
When he gets both hands on it, it's hard to get it away from him. Our own players have figured that out. They go try to grab it, and he grabs it with two. I tell the kid, You got one rebound. He said, He jerked three out of my hands.
Q. John, coming into the tournament, people were saying this is not a Calipari-like defensive team. Yesterday, Ed Cooley said last night you were the best defense he has seen in a month. What did you do last night well defensively?
JOHN CALIPARI: We were able to take away some of their things. I mean, the preparation was really good. Harder in a quick flip like this. It's just harder.
Now you've got to base it on principles, but the guys, like Antonio, he has become a better defender. You know, I think the injuries and who we were playing affected our defense some. Rim protection, again, we've worked hard on what we're doing. How are we playing? How are we cracking down? You just work on it every day.
I mean, we're still coaching, still teaching, still giving these guys — building them up, giving them hope, belief. A lot of it is you have more confidence when you are playing the right way.
I believe Antonio Reeves is shooting the ball better because he is a better defender now. You get clubbed seven times, you think you're going to go down and be confident and make a shot? The kid is defending better. Jacob is defending better, playing tougher. Oscar still stands behind the post sometimes. Kid, what do you — what don't you understand? Daimion got in and tipped that ball away. That was a big play.
So then rebounding, it's not just one guy because Jacob and Chris Livingston are rebounding the ball well too.
Q. Jerome Tang after last night's game said he would go back and draw on some of the experience he had coaching against you when he was an assistant at Baylor. I was wondering if anything you maybe thought —
JOHN CALIPARI: Jeez, he can remember that? I can't remember. You know what I remember? An ice storm in Dallas, and the game before us we said, let's have the women play, and then we'll play. Four overtimes later we started the game at midnight, and it was an ice storm. We almost couldn't get out. Almost couldn't get to the game.
So that's what I remember. The rest of it I don't remember.
Q. What kind of stands out to you about the way he coaches and the team he has right now?
JOHN CALIPARI: He has done a great job. I mean, defensively disruptive, scrappy, 50/50 balls, freedom offensively, space the court. You know, a bunch of really good players. He has done a great job.
And you think of, you know, where they were and where they are now and where they're headed, oh, great job.
Q. In the spirit of reminiscing and also the fact that you are here in North Carolina, I was hoping you could put something to rest.
JOHN CALIPARI: To rest?
Q. You said a couple of years ago you were close to taking the NC State job back when you were at Memphis, and recently Josh Pastner told us that you told him it was a bad pizza experience that might have led to you not taking the job?
JOHN CALIPARI: Josh is out of his mind. Look, I've had people talk to me throughout my career, and NC State was one of those teams. You know, knowing what that league was and all that stuff, but I ended up staying, and we had a heck of a run at Memphis. It was the right decision for me and probably both programs.
No, pizza, I can't remember. That's the greatest thing when you start getting older. You just say, "I don't remember."
Was he on the plane with us, by the way? Was Josh on the plane with us? He wasn't. He was just telling stories. He was on the plane with us?
Q. He said it might have been bad pizza. That's what he told me.
JOHN CALIPARI: No, no. It was Mellow Mushroom pizza from Raleigh. Really good place. Mellow Mushroom.
Q. Markquis Nowell, their point guard, No. 1 for Kansas State, very unique player with his size and range. Have you ran into many point guards like him before?
JOHN CALIPARI: No. No. And deep, quick. Big-time usage. Creates for his teammates. He is really — he is an All-American, and he deserves to be.
Q. I was just curious, I'm kind of doing something on Nae'Qwan Tomlin, No. 35 at Kansas State. Seems like he is pretty athletic. I'm just curious your thoughts on him.
JOHN CALIPARI: He is a good player. They have guys that are kind of positionless. Like, you would say is he a 4 or a 3? Is he a 5? What is he? He is just a basketball player, and he is a good athlete. He is a good player.
Q. What do you tell your post players to do on defense when you go up against a team like this that doesn't necessarily have a traditional 5 man, and they have a lot of stretch 4s?
JOHN CALIPARI: You're going to have to go out and play these guys. But the other side of it is that they've got to play us too. So it's — okay, you know, we are coming at you, and they do a great job of trapping the post and creating opportunities to steal balls and be disruptive.
The good news is the season that you play is to prepare you for these moments. Have we played anybody that plays like them?
They also play some good zone. They do on the baseline out. They put a big man on the ball. They do some good stuff. They really do.
I got to see all that last night and this morning in all the tapes I've watched.
Q. I was going to ask you, you were talking about playing free and loose with these guys the last couple of days. There were moments during the season about frustration building and pressure and those types of things that we saw, like, with Oscar, for example. Have they handled — like when they talk about playing the walk-ons, for example —
JOHN CALIPARI: That wasn't — that wasn't — the greatest thing about him, sometimes he just says stuff. Could you imagine him coming up and saying, Coach, play the walk-ons? Come on. Why would you say that? I don't know. Just came to my mind. Okay.
No, what happened was you have guys when you go through a season that you get hit in the mouth, and you got to learn how to deal with it. This team, one, they needed me — they needed to know I believed in them.
The second piece of it is they used it as fuel. Then we come back and win some big games. We lost some games that I wish we had back, but I bet you there's every coach in the country that says that.
But this is what basketball is. I've said it before. This tournament is one game, and it's not best of seven or best of five or best of three. It's one game. Anything can happen. This year has proven it. Last year has proven it. The year before has proven it.
You know, you hope you get your kids in a great frame of mind. You ready for this? And they're healthy. You have a healthy team. If you don't have a healthy team, touch and go because anybody can beat anybody.
Q. Just a follow-up on that. I was just going to say, are they — when you said are they better equipped maybe now over time to handle this, would you change anything —
JOHN CALIPARI: What they've been through, I told them, who is more prepared for you to take knocks and punches and throws? The biggest thing happens in this tournament, everybody is going to make runs. When they make a run on you, how are you going to deal with it? The water is boiling. What does it do to you? I'm, like, saying let's just be our best. Let's be our best when this thing heats up.
Now, yesterday we missed seven, eight shots in a row. I wasn't sure we were our best, but I tell you where we were our best. We made free-throws down the stretch until the end of the game, and that's with water boiling, and you stand up at that line and you make those free-throws.
Then Oscar's steal was a big play. You know, we did what we needed to do. We played well offensively. We just missed shots that we need to make.
Q. John, I think you're familiar with a book called "Ego is the Enemy." I know in the past that's been a big challenge, tamping down the egos of the big stars, but it seems like with this team it's almost been the opposite, that you have had to constantly build the guys up. How challenging and taxing has that been, and why is ego so dangerous?
JOHN CALIPARI: Well, you want them to have some swagger, no question. But the balls that all of us coaches — you know, everybody — I'll say this again. Every job in college basketball is a hard job. They're all hard.
I said to a guy, I love the job I have. I understand what it is. I understand you take shots. That's fine. But we juggle balls as coaches, which is you must hold them accountable. You cannot just let them go on their own because you won't have a team.
Yet, you have to build them up. So you have to hold them accountable, and sometimes you've got to do it in a firm way. It's hard to say you're better than that. Know you're better than that. Play harder.
Sometimes you're being aggressive. It doesn't mean you're not being positive and that you don't believe in them, but you're being aggressive to get change. Yet, you've got to continue to build them up and get them to understand I believe in you. Yet, this isn't good enough. You can do this.
I told Antonio today, you made 11 in a row at Arkansas. How are you missing free-throws today? What is that?
So, you know, we've got a team of good players, terrific guys that care about one another. When the water is boiling, we just need guys to step up. At the end of the day, games we've lost this year, a player on the other team stepped up and went nuts. So then who on our team steps up and goes nuts?
That's part of what we've dealt with. And now we've got a bunch of guys — I think we've had six guys score 25 points, which means if you have done it once, it means you can do it. I don't care who gets 25 in this game. And I don't think our team does either. Somebody step up and go get baskets.
Q. The guys were telling us about the TikTok game, and they said you played it today at practice. Can you tell us about it?
JOHN CALIPARI: I didn't play it. I saw one of the guys that's supposed to be the best at it not concentrating, and so I went (making noise), like, you could do that for an hour, and yet I can't get you to concentrate on this for three minutes? Come on. That's why they laughed, I'm just…
Look, at the end of the day I've got to have fun at this too. I'm having a ball with this group. I want them to have a great experience. Don't listen to anybody try to steal your joy: They've got to do this, he's got to do that, that guy, we've got — that means nothing. Just go have fun. Let's see where this goes if we have enjoyment. If two teams are enjoying the game and playing well, probably who has the ball last wins.
Q. The players said that this feeling of winning at this level is addicting, and they want to continue that. So with that being said, everybody has bought into their roles. Just how have you seen that progress this season where when you were healthy — or not healthy earlier on this season, you had to put other guys in other roles, and now they're all in their right role.
JOHN CALIPARI: I would say they are, but we're still having a mishmash of how we're trying to play. You know, we're short-handed a little bit, but so are other teams.
But they are — I'm telling them, be a star at your role. Be an absolute star at what you do for us. Who was a star at his role last game? Oscar. He got 25 rebounds. Most in 53 years when they started "The Waltons" and "Little House on the Prairie." I mean, it was 53 years ago. He was a star at his role. He only had eight points. He was a star at his role.
How about you're a star defensively? How about you're a star at getting 50/50 balls? How about you're a star scoring baskets when we need it? How about you're a star defensively, you go block a shot?
It's all just be who you are. Take what they give you. If they give us a lot of threes, we'll shoot them. If they're giving us drives, we'll take them. If they're collapsing, we'll kick out.
Just more right now. Less is more. Less is more right now because it is all about let's play our best, and that means clear mind, play with joy, have fun with each other. You're looking at me. I'm a cheerleader right now telling the staff all you have got to keep saying, Be positive. Keep being positive.
Sometimes when you are coaching, it may come across as you're being negative when you are, Come on, man, you're better than that. Go get that ball. They may take it as always being negative. No, that's coaching.
But sometimes you've got to say, But you're doing good. You just keep playing. Keep shooting.
I told Antonio last night. He ran by me. I said, You keep shooting the ball now. You let it go. I told Chris the same thing. Shoot the ball, man. They're wide open. Shoot it.
Q. You talk about the boiling water and the intensity of this event. How gratifying was it for you to see Daimion perform the way he did, given everything he has been through this year?
JOHN CALIPARI: He has been a pleasure, and it's been one of the high points of me coaching this season, is seeing him come back from what he had to do.
You may not know, folks. His dad passed away suddenly in Lexington. We had to go answer the phone and went over, and eventually Daimion went over to see, too, and was there. It's just — it was awful.
You know, Dad was young. He is the oldest. He has a young brother, young sister. Mom, Kim. I mean, it just was a rough time for him. He lost 17 pounds.
Now you see him smiling, and I'm grabbing him, and, Appreciate you, Coach. You know, it's — those are the things that are most satisfying.
Yeah, I want to win every game I coach. If you know me, you know that's how I am. I want to win every game I coach, but that is like a big-team win what's happened for him.
I come back to Jacob, where Jacob was, and now where he is now. That's a W. Oscar, four weeks of knee surgery and being out for a while, and then him now coming into his own. Our freshmen doubting themselves. Now all of a sudden they're helping us. Antonio, same deal. Where he was and where he is now just makes you happy because that's what we're about as coaches.
We just want to see growth and see kids smile and be happy and the growth. They're that way, then you're in the best position to win ball games.
Q. Obviously, Western Pennsylvania heavily represented here in Greensboro this weekend. Curious to hear a story or just a memory of a young Sean Miller when you were recruiting him to Pitt.
JOHN CALIPARI: Well, first of all, his dad was in my practice today. Darelle Porter and Jason Matthews were in my hotel room today. That was the back court. Brian Shorter and Bobby Martin.
Sean, when I went to — I went to see him at Rochester High School, and his dad was really demanding. Great coach. Better coach than Sean, me, Arch, all of us, okay?
His dad was watching. I was watching the game. Sean went 12 out of 13 from the floor. Rochester was in the Summer League. I went up to Coach Miller and I said, Man. He said, Can you believe he missed that? If he held his follow-through, he would have made that. He was challenged his whole playing career.
I want you to know now, he was Rookie of the Year, Freshman of the Year in the Big East back then. I know the Big East is good now, but back then it was crazy. Wasn't as many teams. I mean, it was nuts.
He was Freshman of the Year. Just a competitor. Loved being around him. They're family. I mean, his grandmother raised my mother. I mean, I was in his grandmother's house more than I was in my own house.
And then seeing Pitt doing what they're doing. I mean, how they've done. Jeff has done — I mean, come on. These are all hard jobs, and when you struggle some and you got to bounce it and keep going, I always say that's when the real coaching happens.
That's when you get knocked in the head, and everybody is on you, and it's — how do you keep focused on your kids and getting your team better and just stay away from all the clutter and not let anybody steal your joy?
He has done that at Pitt. They were leading the ACC for a while. I'm, like, they're going to win the ACC.
And then Sean, the job he has done to step in and, you know, do the things he has done, and I even said to him — I saw him out there. I go, Man, when you were down 13, I said — they won the game, and I said, How did they do? They won pretty easy. My guys say, No, they were down 13. I went, You're kidding me. They came back. It shows a lot.
In this tournament you get down 13 and the other team is playing loose and free because they got nothing to lose, and now every shot, every free-throw becomes — again, that was a great job for him to get his team, win it and survive and march on. That's all we're all trying to do.
Q. Coach, last night we were talking to Jacob, and he said he hoped no one ever got as low mentally as he did during this season. Have you ever had a player go from that low all the way up to you name him team captain before this tournament? Then what has it meant to this team and to you to see that turnaround?
JOHN CALIPARI: Well, you know, I had to do some soul-searching there too because was I the reason he was where he was? Like, am I being too hard? Am I not realizing what this kid is going through, the expectations, my hopes and dreams and they're vanishing before my eyes and, you know — but he wasn't the only guy on my team that way. We had some other guys go through the same. Maybe not as hard as he went through it.
But, again, now, you think if you are me and you are looking at these kids like they're your own children and you see what he has done, you don't think I'm ecstatic for this kid and his family? I told his mom, I'm so proud of your son because he was in a tough place. She said, I know. I know.
But what I've told all these guys, because there was an onslaught, there was the attacking mode, making it personal on these kids, I said, Look, what we all went through, you all in your life are going to be able to look back on this season, and you're going to say: If I could have gotten through that, I can get through anything. There's nothing I can't do.
You may say it's only a game. Put yourself in their shoes. Be 18, 19 years old and read the stuff on social media that is so nasty, it's ridiculous, and you're 19 and 20. We didn't deal with that stuff. None of you in here dealt with that stuff, but they have.
I told them. I said, Look, nothing that you will go through, you'll be able to be challenged in any way, especially in this sport, and say I can do this. Yeah, I may be down, and I may be under attack, but, you know what, I've dealt with this before, and I came out on the other side pretty darn good.
So I'm happy for him and all these kids. I mean, think about CJ? This poor kid can't catch a break. Every time I turn around it's an ankle, it's a rib, it's — and his hamstring. What is going on?
You know what, he has never changed his attitude. He is always upbeat. He is always helpful. How about I told him at Arkansas, when I knew Cason wasn't playing, I need you five minutes at half, can you do it? He said, Yeah, I'll give you five minutes. He gave me 12 or 13. In the end he said, I can't breathe anymore. He has a broken rib.
Without him, we don't win that game. That's what I'm talking — they've all been through stuff. Every player on this team has been through stuff. I want them to have a great experience. They deserve it. Don't know what that means. We know who we're playing. We know how good they are. I just want us to be at our best, and we'll see what happens. Thank you.
THE MODERATOR: Thanks, Coach.
FastScripts Transcript by ASAP Sports