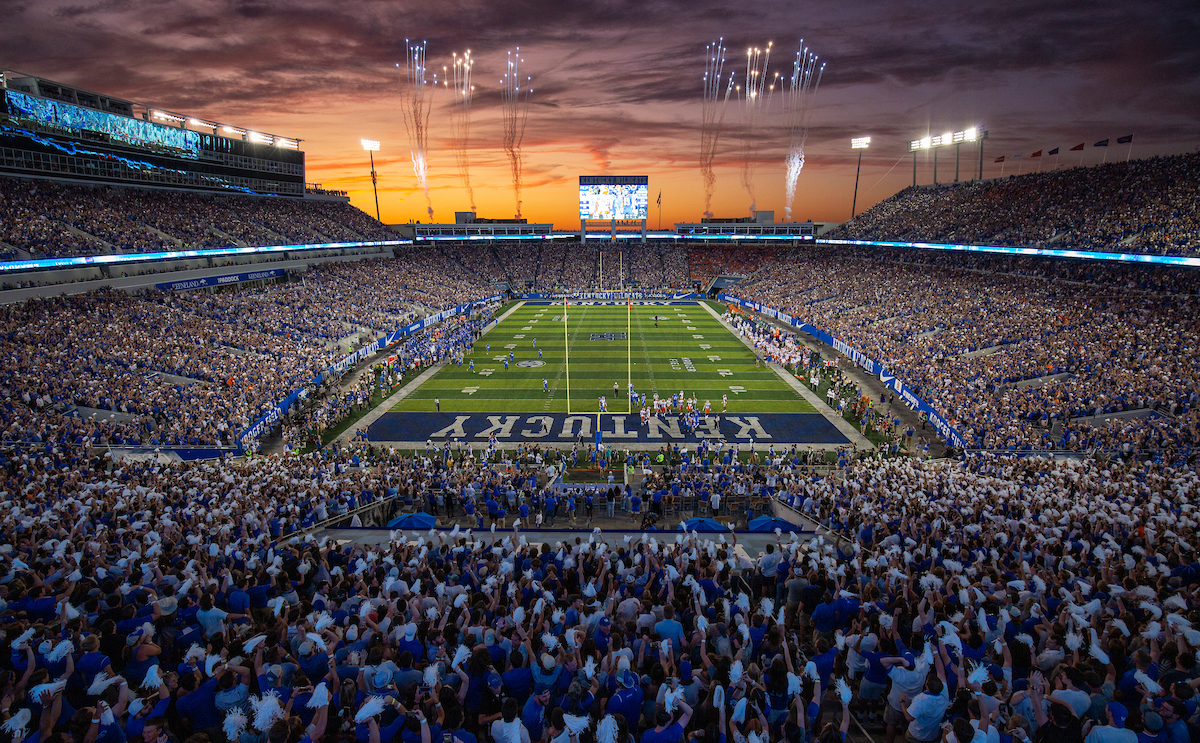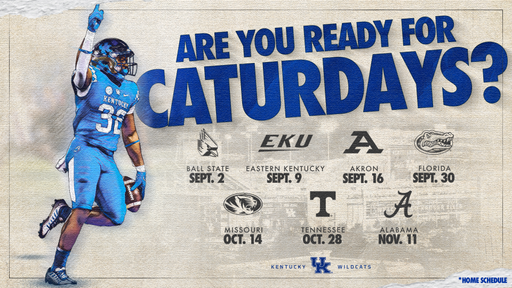 LEXINGTON, Ky. – Kentucky football season tickets are now on sale, following one of the most active Early Signing Periods since the program was implemented in 2019. Over the early renewal period, the Kroger Field season-ticket renewal rate increased to more than 60%.
Big Blue Nation committed to purchase more than 38,200 season tickets last year, the most since 2015, which was the first year of the current configuration of Kroger Field. As a result, available seats in Kroger Field are limited for the 2023 season, and fans are urged to act fast.
The official on-sale period begins today, with prospective new season ticket holders able to work together with a personal ticketing consultant to compare and purchase available seat locations by submitting a request at this link or by contacting the UK Sales Office at (800) 928-2287 (Option 1). Fans are also able to access to the Kentucky Football Virtual Venue for 360-degrees views from inside Kroger Field.
Returning season ticket holders are still able to renew their season tickets through their My UK Account at UKathletics.com/renew, while invoices were mailed last week. The renewal deadline for 2023 football season tickets is Friday, April 7.
As part of UK Athletics' ongoing efforts to provide affordable options and facilitate a great home field advantage, season ticket package prices will remain unchanged for the 2023 season. Seats in the 200-level will again start at $225, while a limited number of lower bowl seats are available starting at $350, plus a $50 per seat donation.
Due to high demand and limited inventory this year, in order to purchase season tickets in 2023 fans need to fill out the request form at this link, reach out directly to the UK Sales Office at (859) 257-1818 (Option 1), or email in to groupsales@uky.edu.
K Fund donations remain unchanged for all seating areas, except for sections 22 and 30, where the K Fund donation will increase by $50 per seat.
 
UK Athletics is committed to offering a variety of ticket price points and affording great value for football season tickets, while continuing to provide the resources necessary for a championship-level football program. Complete pricing is detailed below.  
New Season Tickets: View a 2023 season pricing chart here (PDF) 
Premium Seating – $600

 

Standard – $390/$350

 

200-Level Public Sideline – $325

 

200-Level Public Corner – $225




 
Only season ticket holders are eligible to purchase season parking permits at Kroger Field. To learn more about parking availability and the waiting list, click here.
Interest-free payment plan options that extend through June are available, including a three-month payment plan with the first installment due upon signup. 
Fans can browse the Kentucky Football Virtual Venue to view sections throughout the stadium and then work together with a personal ticket representative to compare and purchase specific seat locations. Special season ticket discounts are available to regular, full-time University of Kentucky faculty and staff.
 
UK Athletics will offer Season Ticket Surprise drawings throughout the spring and summer for fans who renewed or purchased new season tickets.  Prize drawings may include access to premium seating, spring practice invitations, exclusive Kentucky football memorabilia, complimentary tickets to away games, and much more. All season ticket holders will also be recognized on the Kentucky Farm Bureau "Wall of Commitment" inside Kroger Field.
Fans also have the opportunity to make a donation toward the Football Facility Projects Fund, which will be completed in the coming months.
 
To learn more about football season ticket offerings and frequently asked questions, visit UKFootballTix.com.
Big Blue Nation plays a huge role in games in Kroger Field, energizing the Wildcats to a 35-16 home record over the past seven years.