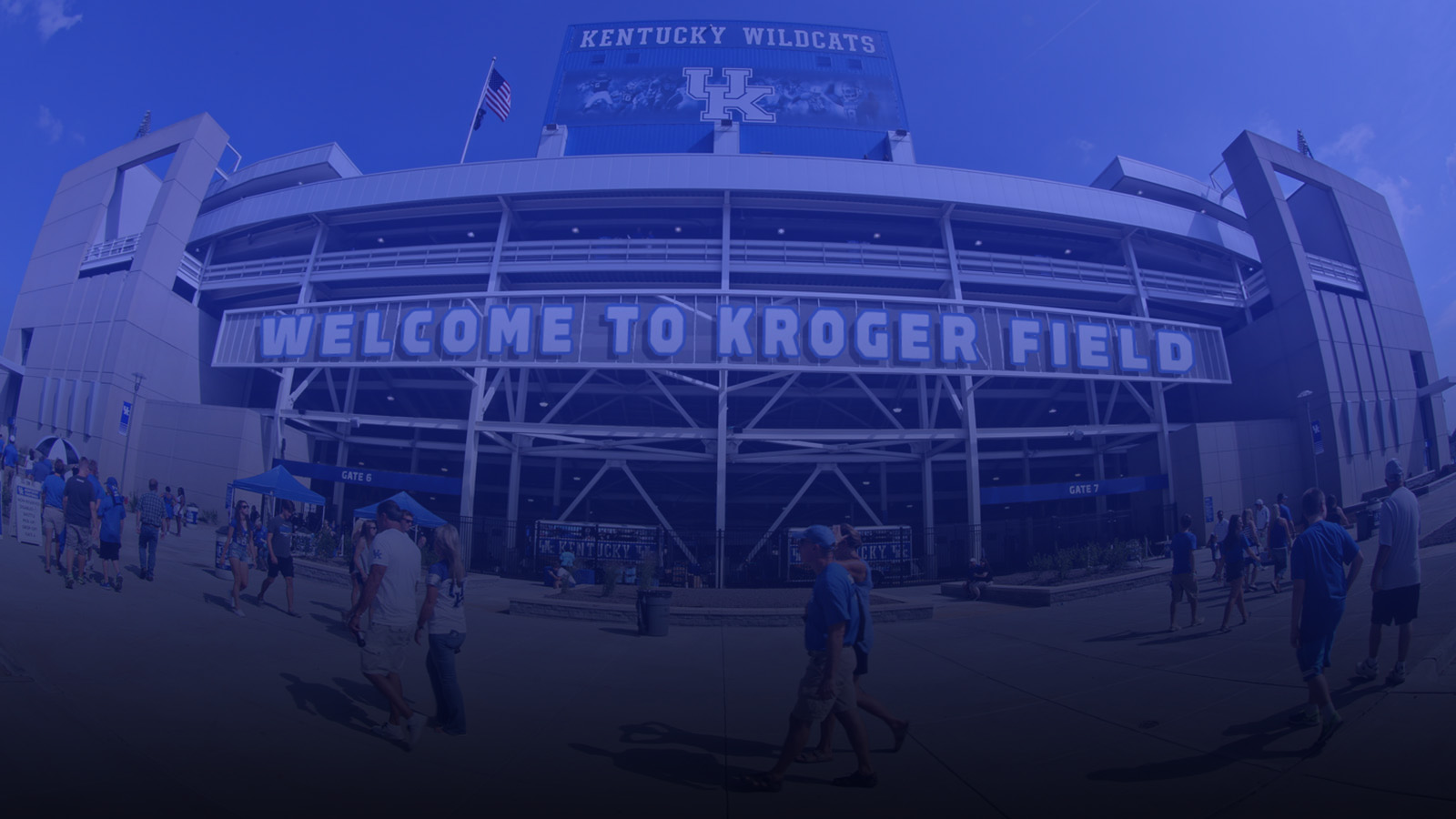 2023 Football Season Ticket Central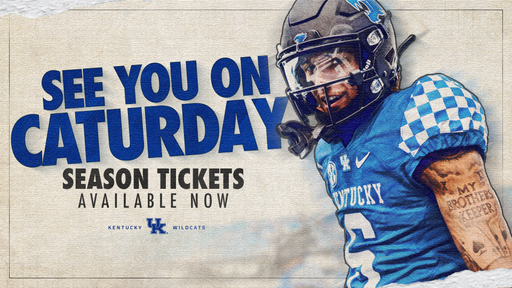 Commit Now!
There is truly nothing like game day at Kroger Field. The sights, sounds and atmosphere of football days in the Bluegrass are something special.
What's also special is the job that UK head coach Mark Stoops has done with the program. The Cats have been to seven consecutive bowl games and won four of the last five. The impact Big Blue Nation makes for our program is remarkable! Kentucky is 35-16 at Kroger Field over the last seven seasons. We are so thankful for your support as you continued to cheer on the Wildcats last fall and look forward to seeing you this coming season in Kroger Field!
You can be part of the excitement this fall as the Cats play a seven-game home slate in Lexington. Secure your tickets today and make plans to join us this fall!
RENEW BY FRIDAY, FEBRUARY 17 FOR SPECIAL EARLY SIGNING PERIOD PRICING!
FINAL RENEWAL DEADLINE: FRIDAY, APRIL 7
Online Account Management
All-mobile ticketing with the ability to easily view, transfer and post tickets for resale on Ticketmaster, the official marketplace for University of Kentucky Athletics.
Seat Upgrade Opportunities
Each year, season ticket holders have the ability to renew, upgrade and add seats.
Personal Account Representative
Season ticket holders can work with dedicated account representatives from the UK Ticket Sales & Service team for help with ticket-related needs.
Away Game Priority*
Follow the Wildcats on the road! Season ticket holders have first priority to order away game tickets in the official Kentucky allotment.
Postseason Priority*
Season ticket holders have priority to request tickets for all postseason games in which UK participates, including bowl games and the SEC Championship.
Early Signing Period Benefits
Special pricing is available for all 2022 season ticket holders who renew by Feb. 17, representing a savings of $10-$50 per season ticket. Season ticket holders who renew by Feb. 17 will also earn five (5) bonus K Fund priority points!
No-interest Payment Plans
Interest-free payment plan options are available when you secure your seats, with your first installment due upon signup. Renew by Feb. 17 to take advantage of our 5-month payment plan! Renew or purchase by Mar. 10 to enroll in the 4-month plan, or by April 7 to enroll in the 3-month plan!
Single-Game Ticket Offers*
Want to grab a few extra single-game tickets to bring friends? Special pricing is available through a pre-sale for season ticket holders, prior to tickets going on sale to the general public. Some restrictions may apply.
Season Parking*
Only season ticket holders are eligible to purchase season parking permits at Kroger Field. To learn more about parking availability and the waiting list, click here.
Season Ticket Surprises
Entry into drawings throughout the renewal period – prizes may include access to premium seating, spring practice invitations, exclusive Kentucky football memorabilia, complimentary tickets to away games, special events, and more! Your name will also be included on the Kentucky Farm Bureau "Wall of Commitment" inside the east endzone at Kroger Field.
K Fund Priority Points
Receive one (1) point for every year of season ticket purchase. Receive two (2) points for every $100 of required seating or parking donation.
*Based on availability and K Fund priority ranking, while supplies last.
Click map for PDF version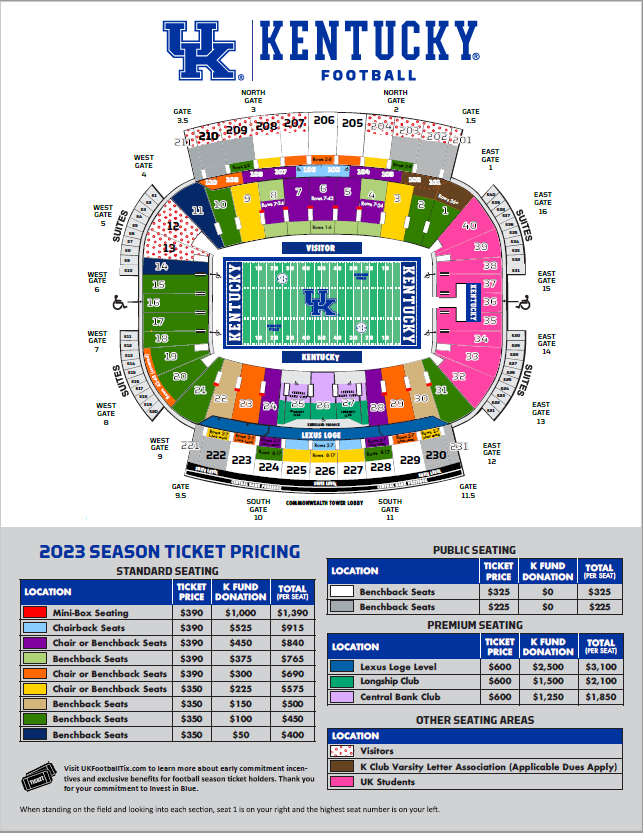 UK Athletics has a number of opportunities to help fans enhance their game day experience at Kroger Field.
Parking permits are always a hot topic when it comes to football season tickets. To learn more about this season's parking options, click on the parking button below.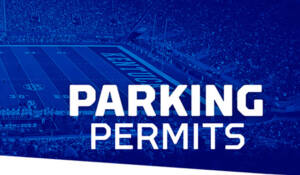 Want to have a great tailgate experience without all the work? UK Athletics has partnered with REVELxp (formerly Tailgate Guys) to offer fans a number of tailgate options for each home game this fall. Find out more by clicking the Tailgate Guys button below.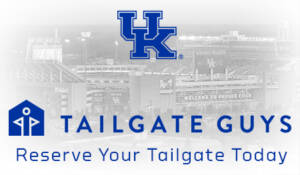 How about making your experience inside Kroger Field more comfortable? Wildcat Seatbacks return with additional brand-new seat cushions for 2023, offering a comfortable addition for your stadium seating experience. Seat cushions sold out in 2022, so don't delay and add your cushions now when renewing or buying new season tickets. Seat cushions are $55/seat when ordered prior to July 1.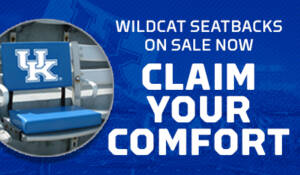 Frequently Asked Questions
Contribute to Current Projects
Fans interested in contributing directly to ongoing projects can give to the "Kentucky Can" Capital Fund by clicking this link taking them to a donation page.
Please contact the K Fund office at 859-257-6300 for more information or visit our website: https://ukathletics.com/k-fund/