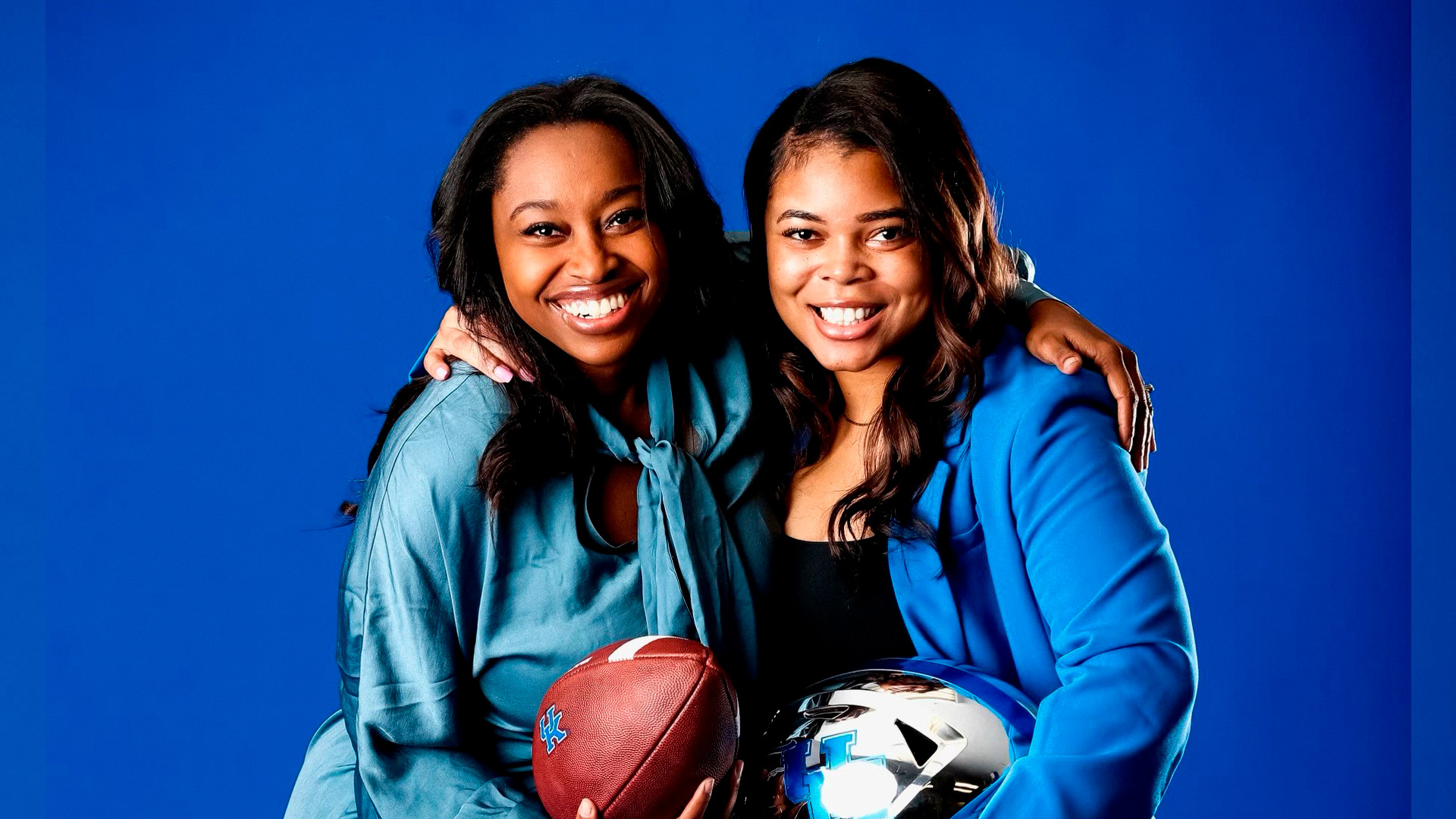 Kentucky football recruiting's Danielle Braswell and Kristen Hawkins are two of just 41 women invited to attend the seventh annual National Football League women's forum Feb. 28 to March 1 in Indianapolis.  Braswell enters her second season as the Wildcats' executive director of recruiting, while Hawkins is in her third season as the assistant director of on-campus recruiting.
The forum will connect 41 women, 60% of whom are women of color, with leaders in professional football to provide insight and networking opportunities for their careers in the areas of scouting, coaching and football operations.
"It's great that Danielle and Kristen have been invited to the NFL Women's Forum," head coach Mark Stoops said. "They are huge assets in our program and to be recognized on this level is outstanding. We are very proud that they will be representing the University of Kentucky."
For the first time since February 2020, the program will return to an in-person format. The two days of programming will include panel discussions, breakout sessions and networking activities with owners, executives, coaches, industry experts and hiring managers representing all 32 NFL clubs. The NFL partners with Women Leaders in College Sports to assist with the program and to create a development curriculum for the participants.
Braswell came to the Bluegrass in the spring of 2022 after four years of on-campus football recruiting at Texas A&M. She is responsible for overseeing all aspects of football recruiting at UK. Her nearly decade of experience also includes stops at Arkansas and her alma mater Auburn. To read more on Braswell, go here: Danielle Braswell
"I'm honored and excited to be invited to attend this year's event," Braswell said. "I'm looking forward this opportunity to network and interact with league general managers, executives, coaches and just learn from so many talented women in this industry."
Hawkins joined the Kentucky football program in 2021 and she handles all the planning of unofficial and official visits and manages recruiting databases and recruiting documentations/plans. She began her career in football recruiting in 2017 at her alma mater Alabama-Birmingham, where she also was a varsity cheerleader for four seasons. Read more on Hawkins here: Kristen Hawkins
"It means the world to be chosen to be a part of a Forum that helps the advancement of women in sports," Hawkins said. "I do not take this honor lightly and am blessed to be a part of a group of some of the brightest stars in the football profession. I am excited to network and learn insights on the industry, all while continuing to create a path for generations of women to come."
Since 2017, there have been 26 NFL clubs that have hired past forum participants and over 225 opportunities have emerged for women in all levels of football. That number continues to grow in 2023.
The first two panels on day one of the forum will be open for media attendance. There will be additional interactive learning sessions for participants that evening. Day two consists of breakout and development sessions between club and league coaches, executives and football operations staff with this year's forum participants.