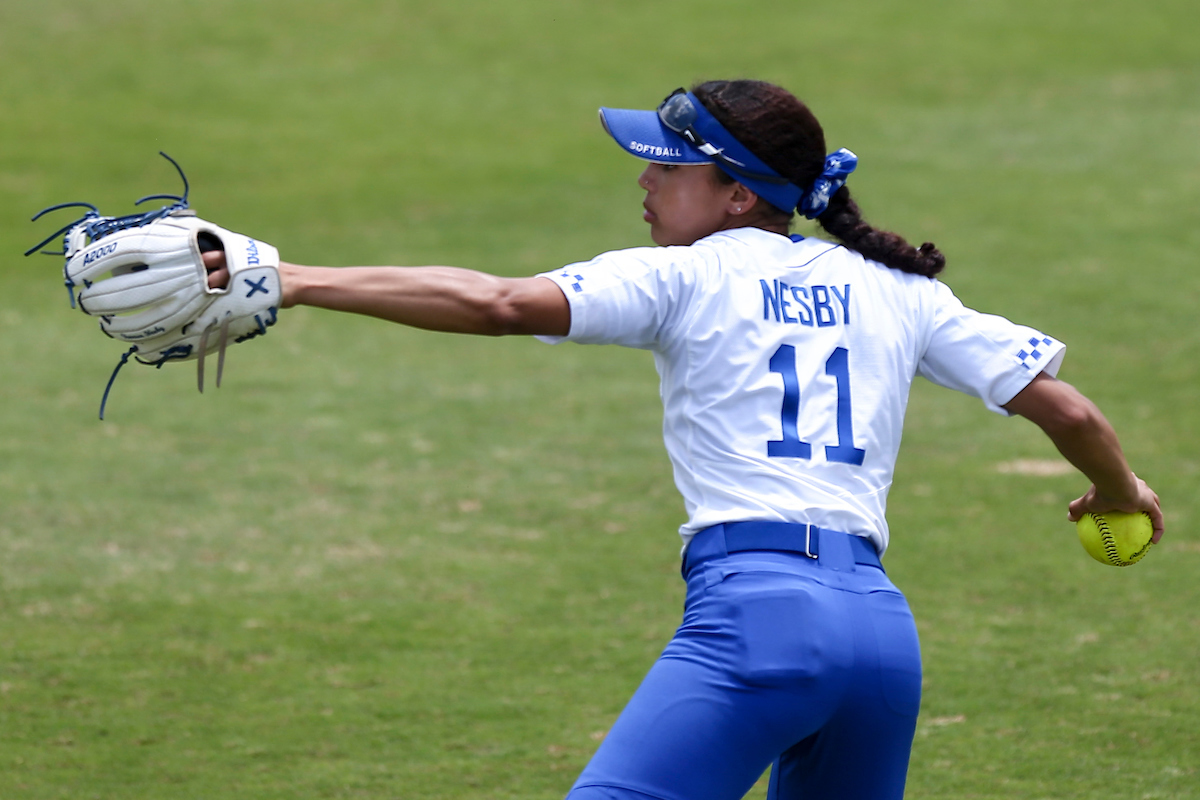 CLEARWATER, Fla. – Kentucky and Texas played to a 4-4 tie on Sunday afternoon to conclude the 2023 National Fastpitch Coaches' Association Lead-Off Classic in Clearwater, Florida.
Kentucky scored seven unanswered runs in the final three innings of the game and took a 7-4 lead after it hit in the eighth inning. The game had a drop-dead time of 3:30 p.m. ET due to the travel schedule of both teams leaving the Clearwater area tonight.
In the bottom of the eighth inning, Texas was down to its last strike, with two outs in the inning and an 0-2 count – the 3:30 p.m. ET drop-dead time was reached and that ended the game. With Texas not completing its at bat in the eighth inning, by NCAA rules, the score reverts back to the most previously-completed inning, which in this case is the seventh inning.
Thus, the final score in the game is recorded as a 4-4 tie, the second tie in program history.
The NCAA Selection Committee will consider the game a tie when evaluating both teams for the 2023 NCAA Tournament.
Key Stat
2. This is the second tie in Kentucky Softball history, with the first coming against UT-Arlington in 2004.
Key Play
The key play in the game was Vanessa Nesby's single in the top of the third inning that got the Kentucky offense going. Nesby went 2-for-3 in the game with two singles and a stolen base in the game.
Run Recap
Texas scored the first four runs of the game in the opening two innings thanks to two runs in each of the frames. UT 4, UK 0
In the top of the fifth, Hallie Mitchell launched an RBI single into left to score Vanessa Nesby in the top of the fifth inning to get UK on the board. UT 4, UK 1
In the sixth inning, a Taylor Ebbs scored two runs on a single and another run came across on Nesby's second single of the day. UK 4, UT 4
In the top of the eighth, Kentucky got three runs thanks to a two-RBI double from Karissa Hamilton and an RBI single from Nesby. With a 7-4 lead, the game was called as Texas had two on and two outs with an 0-2 count, but 3:30 p.m. ET arrived to immediately end the game. FINAL – Kentucky 4, Texas 4
For the latest on UK Softball, follow the Wildcats on Twitter and Instagram at @UKSoftball.