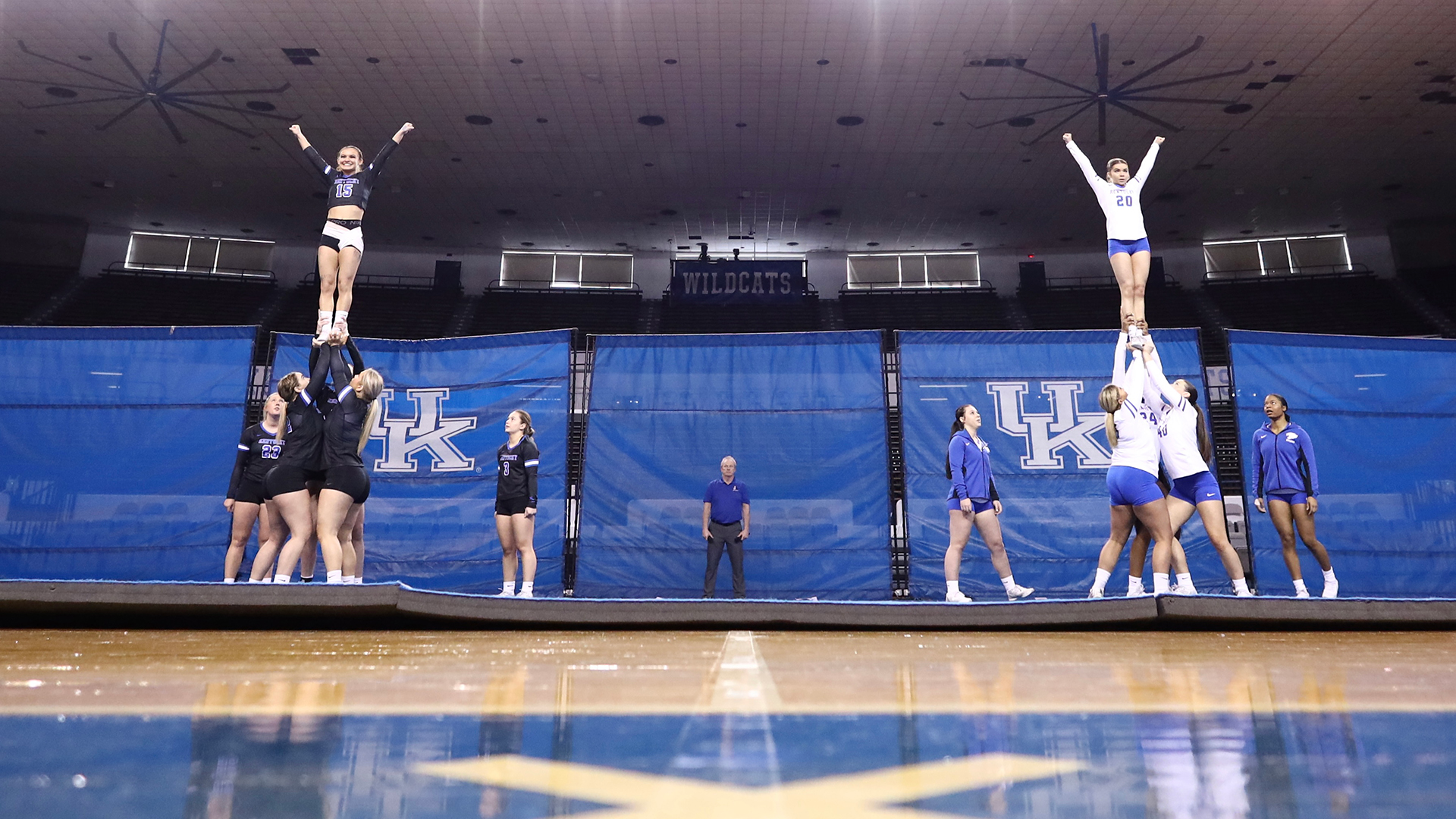 LEXINGTON, Ky. – The Blue team held off the White team 17-12 in the Kentucky STUNT Blue/White scrimmage on Saturday at Memorial Coliseum.
The Blue team grabbed the first point of the first quarter. The period continued with each team earning a point on the second routine. The teams battled it out for the rest of the quarter, with both grabbing another point in the final two routines of the period. However, at the end of the quarter the Blue team held a 3-2 lead.
In the second quarter, the teams alternated points, each winning two. The Blue team held a 5-4 lead at the half.
In the third quarter, the White team scored the first point to tie the game at 5-5. On the following routine, the teams tied, making the score 6-6. The Blue team scored the final two points to end the quarter ahead 8-6
The fourth quarter began with the White team scoring two points and the Blue team scoring one in the first team routine. In the next routine, the teams tied on two parts of the routine, with the Blue taking the other point. In the third routine the White team scored one point, but the Blue team took the other two points to lead 14-11.
In the final round of the fourth quarter the Blue team secured the victory with two points, compared to just one for the White team. The final margin was 17-12 in favor of the Blue team.
UK head coach Blair Bergmann wanted to see how his team would perform in front of a big crowd.
"In Blue and White, we wanted to give everyone a chance to be out on the mat to see, especially the new people, what they were capable of and see what kind of team we have when we're under pressure," Bergmann said. "We had some unexpected things happening (with injuries), that was tough. But we preach always being ready, next man up, ready to go."
Bergmann hopes the team can take this performance and build on it.
"There were definitely some areas that we need to clean up but overall, I like the product that we have," Bergmann said. "Now, it's just condensing down into our starters and then hitting the rest of the season full go. I'm excited to see a lot of good, and we're still young, so it's cool to see who's going to step up."
Bergmann liked the atmosphere in Memorial on Saturday.
"It was a great environment," he said. "We had a good turnout with all of the fans and that added to the excitement."
Kentucky begins its regular season on Feb. 16 against Arizona State in the Dallas Baptist Tournament.