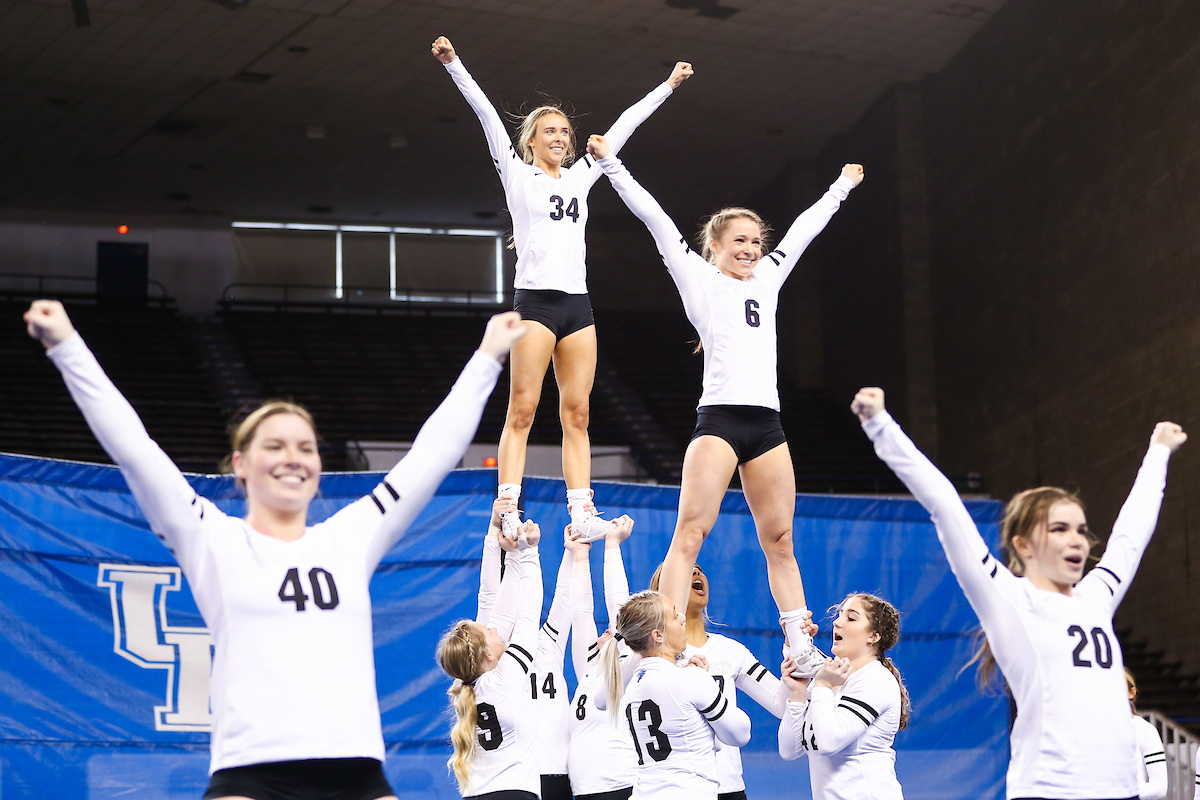 Kentucky STUNT – Frequently Asked Questions:
General:
What does STUNT at the University of Kentucky look like?
The STUNT team at Kentucky is the 23rd varsity sport at the university, meaning we receive the same benefits as all the other sports teams on campus. Our primary focus is competing at an elite level, so we do not cheer any games. We are a spring sport, with our competition season being from February-May, this includes home games and many travel opportunities during the semester. Athletic scholarships are on a case-by-case basis but are available to prospective athletes and current members of the team. The STUNT team is fully funded by the athletic department meaning any costs relating to gear, travel, lodging, food, etc. while on the team are covered by the university.
How big is your roster?
We try to keep our roster numbers between 50-60 girls each season.
Is the STUNT team an all-girl squad for Kentucky?
We are an all-girl team, but we are not affiliated with cheerleading. The STUNT team and cheer team are separate. We do not cheer at games or compete at college cheer nationals.
Can you be on both the cheerleading and STUNT team?
No, we do not allow any athletes to crossover to do both cheer and STUNT. Due to heavy time commitments and practice demands for both teams, we do not let any of the girls do both.
Do you have to have a STUNT background to be on the team?
No, you do not have to have a STUNT background to be on the team although it is an advantage if you did STUNT in high school or college previously.
What backgrounds do current athletes on the team have?
Most athletes come from a competitive cheer, gameday cheer, or gymnastic background.
UK STUNT Specific:
What are the requirements to be on the team? Do you have to tumble and stunt to be on the team?
There are no set requirements to be on the team, each year varies in what skills we are looking to add for the upcoming season. We look for athletes that are well-rounded that can both stunt and tumble. We do have a few members of the team who specialize in only stunting or only jumps and tumbling. Tumbling is not a requirement to be on the team although highly encouraged.
What academic benefits do you offer team members at Kentucky?
Academic benefits include access to the CATS Center (Center for Academic Tutorial Services), priority registration, academic counselors, and tutors.
What athletic benefits do you offer team members at Kentucky?
Athletic benefits include athletic trainers, strength & conditioning coaches, nutritionists, nutrition lab, training table, and placement in the athletic dorm for freshmen. All practice and competition gear are NIKE and are covered by the university. Travel, transportation, lodging, and meals are covered expenses.
Is STUNT year-round? When is your season?
STUNT is not year-round. Following NCAA guidelines, we have an "out-of-season" period, "in-season" period, and a dead period. Our out of season is from August when school starts to the end of September, we are only allowed to practice eight hours a week during this time. Four of those hours are instruction only "practice" and the other four hours are strength and conditioning "team lift". Our in-season starts October 1st and goes through April, during this time we can practice up to 20 hours a week. Dead period for us is during the summer, and there are no mandatory team obligations during this time.
How often do you practice?
Out of season practices (August-September) include team lift four times a week, and two team practices. In season practices (October-April) include practicing Sunday-Thursday, in addition to two team lifts during the week, and our weekly team meeting. We do not practice during summer.
What do practices normally look like and it is only stunting?
Once we are in season, practices involve running routines and mock scrimmages. During team practices we focus on stunts, pyramids, and baskets. Some days include having "tumbler" only practice, and during this time the stunters go to "stunter" only lift.
How do you manage practice times and class conflicts?
Since we are a varsity sport, we have access to our team academic counselor who work with our athletes to schedule classes around practice times and lift. Occasionally some athletes have exams or night classes that conflict with practices, but those athletes miss practice to fulfil their academic obligations.
How many games do you compete at each season?
During our regular season we compete 12-16 games.
Does everyone on the roster compete and travel?
We compete the athletes that we think are the best fit for the job to make us competitive. When we host home games, we try to compete the athletes who do not travel to allow for opportunity to get on the mat. When we travel for competition, we take 35 athletes.
Getting Recruited/Next Steps:
How do I get added to the team or what does the recruitment process look like?
There is no specific route to take to get added to the team. Most athletes we add get noticed by coming to clinics, submitting the online interest form, meeting us at recruiting combines, emailing the coaches with skills tapes and athlete information, reaching out to set up and meet with the coaches while on campus.
We do not hold a traditional tryout to add members to our team. We do have a "Senior Only or Current College Student" STUNT the Sport clinic in the spring. This normally occurs in March or April and is our last clinic of the year.
What is the first step in getting recruited?
Now that STUNT is an emerging sport under the NCAA, we require all prospective athletes to get certified in the eligibility center on the NCAA website. Go to this website to register https://web3.ncaa.org/ecwr3/register/CERTIFICATION?accountSubType=FULL
Certification through the eligibility center needs to be started your junior year.
When should I reach out?
Freshmen and Sophomores: The NCAA rules prohibit recruitment conversations with freshmen or sophomores. The regulations do not allow us to provide recruiting information in person or email. You can fill out our interest form on our website so we can monitor your progress. You should also follow us on social media @kentuckystunt.
Juniors and Seniors: You can contact us either in person or through email starting June 15th after your sophomore year. August 1st of your junior year is the first permissible date that we can start doing unofficial or official visits.
How often do you host clinics during the year?
We try to have two clinics during the fall semester and two clinics during the spring. Clinics focus on stunting with STUNT technique, which includes being precise, clean, and sharp while executing the skills.
Do I have to send specific skills when submitting skills tapes to be recruited?
No, we do not require you to submit specific skills; however, submissions should include a variety of your best skills. It is encouraged you include a range of elite stunts or the most advance stunts you can do. When looking at stunting videos, we like to see your ability to stunt with different people, preferably on all-girl groups. If you have jumps you should send those in addition to any tumbling you may have to demonstrate your most advance standing and running tumbling passes, these can be performed on spring floor, but dead mat is preferred.
When should I apply?
Any interested athletes are encouraged to apply by December 1st. December 1st is the deadline to be eligible for academic scholarships offered by the university.
When should I come visit campus?
The best time to come visit is during the fall semester since we are out of season and will not be travelling. If you are invited to do an official visit, we require you to have applied before December 1st.
What does housing look like for freshmen?
Freshmen are required to live on campus in the team assigned dorms. Freshmen get placed in the student athlete dorms and are matched so members of the team live together their first year.