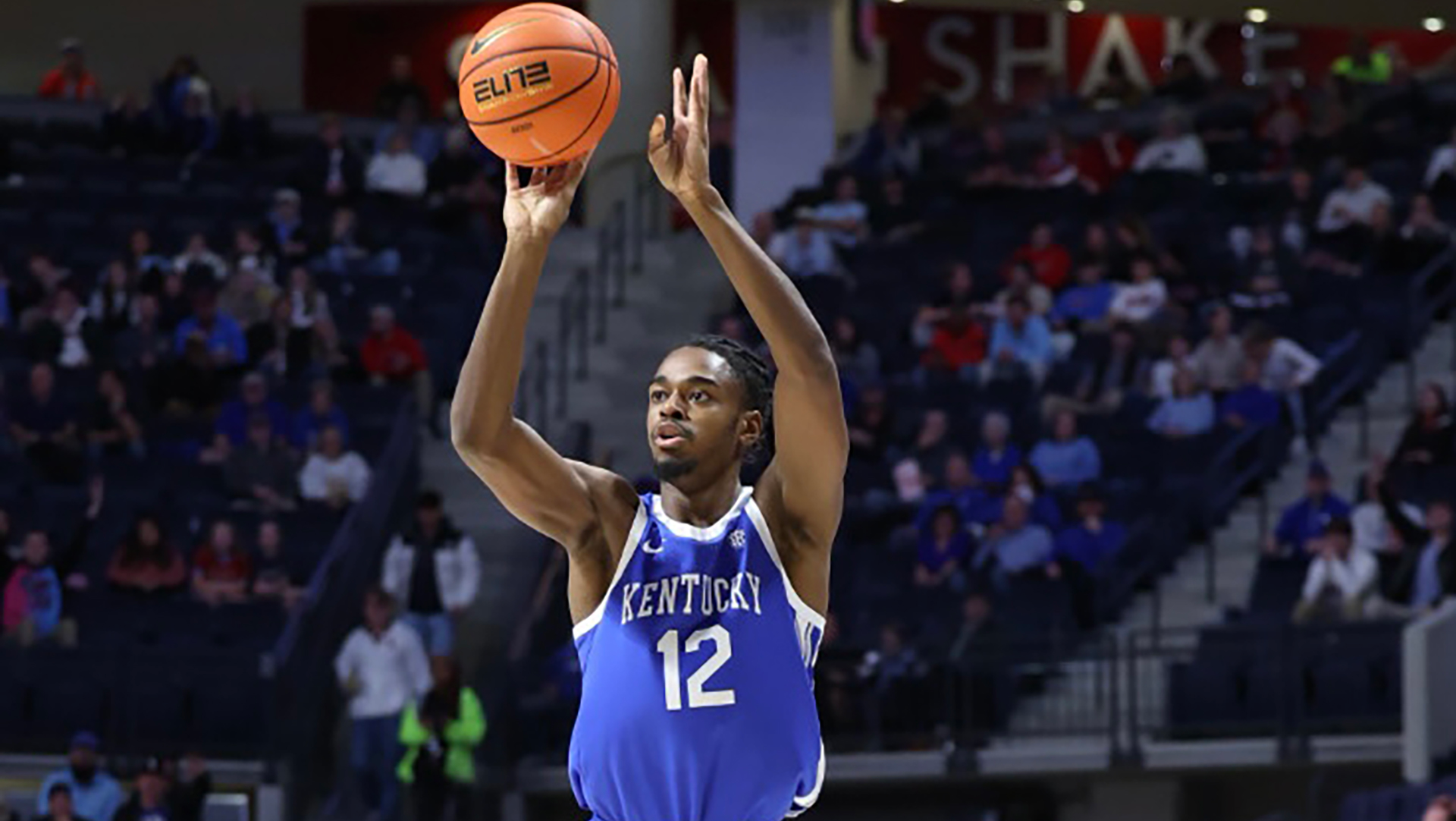 February 3, 2023 - 04:30 PM
Big Blue Preview: Kentucky vs. Florida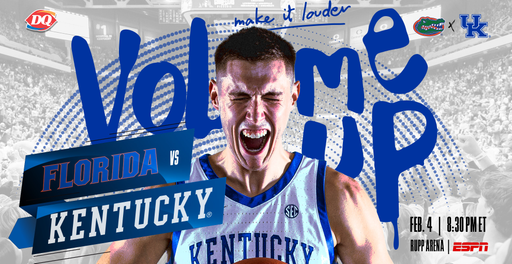 The 2022-23 season has been a roller coaster for Kentucky point guard Sahvir Wheeler. The senior has seen many highs, but also a number of lows during this campaign.
Wheeler has seen more than his share of tough times during his life. Still, his attitude remains positive.
"I've been through a lot. I've been through a lot in my lifetime and I think this season is just another one of those things you can add to my chapter," Wheeler said. "It's been a great experience, it's been a great ride. I can't wait to see what's left for us this year."
When asked what this season has taught him, Wheeler reflected a bit on everything that has transpired and the results.
"I'm learning about myself," Wheeler said. "How much I can handle. How much I'm willing to handle."
Whether his role has been to play the point, to come off the bench and contribute or to cheer from the sidelines, it's clear that the Houston native is a team player.
"All I want to be known is as a guy who has won games, who was team first and who has impacted somebody else beyond basketball. If I do those things, I'm good," Wheeler said. "I've done my fair share of winning and I'm going to continue to do whatever it takes to help my team win. And as long as my teammates love me while I'm doing it, I'm alright."
Wheeler and his teammates beat Ole Miss on Tuesday night and are now preparing for another Southeastern Conference challenge. This time, the Cats host Florida (Saturday, 8:30 ET, ESPN). The Gators are coming off an upset of second-ranked Tennessee earlier this week in Gainesville. Wheeler and the Cats know that the Gators will pose a big challenge.
"They're confident. They're a good team," Wheeler said. "They've won some games, they've got some really good players, they play hard on the defensive end."
Wheeler said the Cats are focusing on being the best version of themselves.
"I think the biggest challenge is to continue to do what we do," Wheeler said. "Continue to move the ball, continue to share it, limit live ball turnovers and get great quality shots."
Mike Pratt to the Rafters
Mike Pratt, who earned All-America and Academic All-America honors as a University of Kentucky basketball player and served 21 seasons as an analyst on UK radio broadcasts, will have a jersey retired in his honor.
The ceremony will take place at halftime during UK's home game vs. Florida. Pratt, who died June 16, will be represented by his wife, Marcia, and additional members of the family.
A native of Dayton, Ohio, Pratt began his Kentucky career in 1966-67 as a member of UK's freshman team. He was a three-year starter for the Wildcats' varsity squad, from 1967-68 through 1969-70, totaling 1,359 points and 718 rebounds while averaging 16.8 points and 8.9 rebounds during the 81 games of his career. His best performance came in a 102-100 win against Notre Dame in Louisville's Freedom Hall on Dec. 27, 1969. Pratt poured in a career-high 42 points and added eight rebounds. He was a perfect 10 of 10 at the free-throw line.
The 6-foot-4 forward was a second-team All-America selection in 1970 and two-time first-team All-Southeastern Conference choice by the league's coaches (1969 and '70). He also earned Academic All-America honors as a senior. He was part of one of the best trios in program history under legendary head coach Adolph Rupp. The trio, which included Dan Issel and Mike Casey, led UK to three SEC championships and two Elite Eight appearances in the NCAA Tournament. During those three years, Kentucky compiled a 71-12 overall record, including 48-6 in league action. (Casey did not play the 1969-70 season because of injury but did return a year later.)
Pratt rejoined Kentucky in 2001-02 as the analyst, alongside play-by-play announcer Tom Leach, for UK Sports Network radio broadcasts of the Wildcats' men's basketball games. Pratt held that role for 21 years, through the 2021-22 season, calling games coached by Orlando "Tubby" Smith, Billy Gillispie and John Calipari. He was on the call for 558 wins, highlighted by Calipari's 2012 National Championship victory. The Wildcats also claimed the SEC regular-season title eight times, the SEC Tournament crown eight times, and advanced to four Final Fours and nine Elite Eights during Pratt's time on the radio team.
Pratt was inducted into the UK Athletics Hall of Fame in 2009, the Kentucky Sports Hall of Fame in 2010 and the Ohio Basketball Hall of Fame in 2019. His will be the 45th retired jersey to hang in the rafters of the arena.
Super Sixth Man: Antonio Threeves
Senior Antonio Reeves came to Kentucky after ranking among the nation's top 20 in points per game (20.1) a season ago. He showed flashes of his ability to put the ball in the basket after leading the team in scoring during its foreign tour this summer and knocking down six 3-pointers in his debut against Howard. However, Reeves has become a clutch player for the Cats and made an immediate impact off the bench.
• Reeves has reached double-figure scoring in each of the last eight games. Over that eight-game stretch, he's averaging a team-high 17.3 points per game. He's drained 21 3-pointers and is shooting 47.5% from the floor and 42.9% from behind the arc.
• He drained a season-high 27 points and made a season-high-tying six 3-pointers at Ole Miss. He was 8 of 12 from the field, 5 of 6 from 3-point range and a perfect 5 for 5 at the line
• His clutch play down the stretch has paid dividends for the Cats. Reeves scored 10 points over the final eight minutes against Tennessee and seven against Texas A&M. At Ole Miss with UK clinging to a 35-34 lead and 16:58 to play, Reeves scored 11 of UK's next 13 points over a 3:34 span to give the Wildcats a cushion they would not surrender at seven points with 13:24 to go
• Reeves' 13.5 points per game in 17 contests off the bench rank fourth nationally among players who have made at least 15 appearances as a reserve
Floor General Wheeler
Sahvir Wheeler has paced the Southeastern Conference in assists per game in each of his last two seasons. He's once again leading the league with 5.7 dimes per game this season. A Bob Cousy Award finalist a season ago, Wheeler is serving the Wildcats as one of the best floor generals in the country.
• Wheeler sits first in the SEC and ranks 18th nationally with 5.7 assists per game. He has generated two games with 10 or more, seven with eight or more and 13 with five or more thus far
• Since the start of the 2019-20 season, his freshman season at Georgia, Wheeler's 653 total assists rank second nationally, only behind the 767 by Yuri Collins of Saint Louis
• With 653 total assists in his career at Georgia and Kentucky, Wheeler is fifth all-time in SEC history in the category. He trails only Terry Coner (664), Johnny Darden (715), Kareem Reid (749) and Sean Tuohy (830)
• A season after becoming just the fourth player in program history to amass at least 200 assists in a season, Wheeler is moving up the career charts as well. In just 50 games with the Wildcats, Wheeler already ranks 14th in program history with 321 dimes. He's 60 away from moving into the top 10