New for 2023
NEW, beginning with the 2022-23 Men's & Women's Basketball seasons, UK Athletics will implement SafeTix™ as an additional feature on mobile tickets. Be sure to review the

SafeTix™ information

for important details about this security enhancement. With SafeTix™, screenshots will not be accepted for entry.

 

Rupp Arena has gone cash-less! Rupp Arena will not be accepting cash as a form of payment for parking and concessions. Customers will be able to use all major credit cards (American Express, Discover, MasterCard and Visa) and mobile payments (Apple Pay, Google Pay and Samsung Pay) to make purchases while at the arena.
Now open, entrances on High Street (next to the Hyatt) and Vine Street (across from Triangle Park) will support the main ingress and egress of fans to Rupp Arena.
The student entrance has moved to High Street, across from the Gate 2 parking lot. Please follow the wayfinding signage through the spine to enter Rupp Arena.
New Kroger Store by Section 40

KNOW BEFORE YOU GO
UK Athletics has fully transitioned to mobile ticketing for all events. Fans are strongly encouraged to download the UK Athletics app and to download their tickets prior to arriving at Rupp Arena.
Fans with questions or feedback about basketball game day can contact UK Athletics by emailing BBNfirst@uky.edu.
PARKING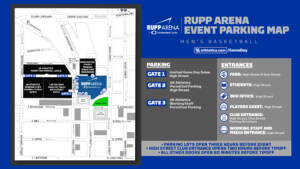 Parking lots will open three hours before tipoff
With a valid state-issued disabled hang tag fans can park in the non-reserved ADA lot located at Gate 1 of Rupp Arena. This lot will operate on a first come, first served bases at a cost of $20/vehicle (no cash accepted).
Those without parking permits can take advantage of more than 10,000 convenient parking located within a 10-minute walk of Rupp Arena. Visit the Rupp Arena Parking page to learn about additional parking options.
Game-day parking is available on a first-come, first-served basis through the Central Bank Center in their West High Street Lots. A parking fee will be in effect for most all Rupp Arena events.
For an additional downtown parking information please visit LexPark.org or click here to view the LexPark Downtown Parking Map.
Ride share vehicles are instructed to drop-off and pick-up along Main Street. Please utilize the curb cut in front of the convention center that allows easy, safe drop-off/pick-up.
MOBILE TICKETING
UK Athletics has fully transitioned to mobile ticketing at all venues. You'll be able to avoid will call lines and waiting for tickets to arrive in the mail, enjoy quick and contactless entry into venues and easily access and transfer tickets to friends or family, all from your mobile device. 
 
NEW, beginning with the 2022-23 Men's & Women's Basketball seasons, UK Athletics will implement SafeTix™ as an additional feature on mobile tickets. Be sure to review the SafeTix™ information for important details about this security enhancement. With SafeTix™, screenshots will not be accepted for entry. 
 
Season ticket holders and individual buyers will use the UK Athletics App to access and manage tickets. Season ticket holders may also manage tickets by visiting UKathletics.com/MyUKAccount from a mobile device's web browser. 
 
UK Athletics released a brand-new mobile app in July 2022. iPhone users will need to check that their app is updated. Fans can check for updates in the App Store. Android users will need to delete the original UK Athletics app and then download the new UK Athletics app from the Google Play Store. The new app icon will look identical to the original app. When using the new app for the first time, fans may be prompted to set up an 'app profile'. The app profile is optional and is separate from a fan's ticketing account.
FAQs and resources to learn more are available at UKathletics.com/MobileTickets
BOX OFFICE OPERATIONS
The UK Ticket Office will utilize a temporary box office area inside the main lobby of Rupp Arena, off of High Street. This location opens 90 minutes prior to tip-off and will be the primary location for ticket resolution, will call, and sales (based on availability).
Fans may visit this location at the arena if they require assistance with accessing their mobile tickets once they arrive.
Fans may contact the UK Ticket Office for assistance in advance of game day by calling (800) 928-2287. Hours are Monday through Friday from 9 a.m. to 4 p.m.
RESALE & AUTHORIZED PURCHASE
UK Athletics cautions against purchasing tickets through unauthorized sellers. Only tickets purchased directly through the following outlets are guaranteed to be valid:
UK Ticket Office
Ticketmaster
Rupp Arena Box Office
FEVO
Visiting Team Ticket Office
Screenshots and print-at-home paper tickets (PDFs) are not accepted at any UK Athletics venue, to further combat fraud and counterfeiting commonly associated with these types of tickets. To learn more about resale and ticket security, please visit UKathletics.com/TicketSecurity.
ENTERING RUPP ARENA
Now open, entrances on High Street (next to the Hyatt) and Vine Street (across from Triangle Park) will support the main ingress and egress of fans to Rupp Arena.
Doors will open 90 minutes prior to tip-off.
Ticket holders are encouraged to arrive early.
All bags must adhere to the UK Athletics Clear Bag policy. All bags and items will be searched. To avoid additional touch points, fans are strongly encouraged to not bring unnecessary bags to Rupp Arena.
Security posture at all Rupp Arena entrances will remain the same as in the past with the security check taking place prior to tickets being scanned.
The following items are not permitted inside Rupp Arena:
Bags (see Bags)
Weapons of Any Type*
Banners
Illegal substances
Outside Food and Beverage
Pets / animals**
Beach Balls
Laser Pointers/pens
Baby Seats or Carriers
Video or Audio Recorders
Cameras with detachable lenses
Selfie Sticks
Unauthorized noisemakers
Stadium seats in excess of 18″ wide or stadium seats with hard plastic or metal parts.
Fireworks
Frisbees
Hoverboards
Helium Balloons
Electronic Cigarettes
Flasks
Mace
Signs larger than 24" x 24"
Tablets and Laptops
RECOMMENDATIONS FOR FANS
Clear bag policy. As a reminder, the SEC's clear bag policy remains in place at Rupp Arena as an additional safety measure and to facilitate entry. Each fan will be permitted to carry one large clear bag – either a one-gallon Ziploc-style bag or a 12″ x 6″ x 12″ clear bag – plus a small clutch that does not exceed 4.5″ x 6.5″. The small clutch allows privacy for small personal items and is also easily searched.
The clear bag policy improves public safety by making bags easily searched and significantly reducing faulty bag searches.
Pregame fireworks and light/strobe show will take place during the event.
Medical bags only permitted through guest services gate
Arrive early – pay attention to your suggested gate
Plan to use credit cards, no cash
A game ticket, or game credential, is encouraged to be on the premise of Rupp Arena on men's basketball game days
If you feel bad, stay home. Enjoy the game on TV!