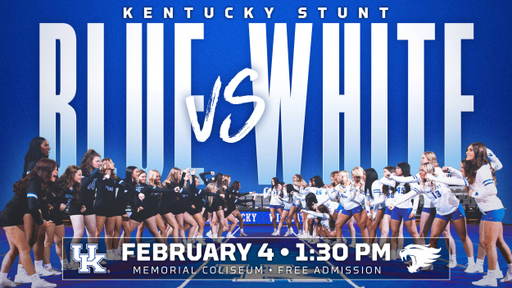 LEXINGTON, Ky. – The Kentucky STUNT team will kick off its second season with the Blue/White scrimmage this Saturday, Feb. 4, at Memorial Coliseum.
Doors open at 12:30 p.m. and the scrimmage will begin at 1:30. Admission is free and fans should enter on the Lexington Avenue side of Memorial Coliseum.
The Blue/White scrimmage can also be seen on SEC Network Plus.
STUNT is a head-to-head competition between two teams that focuses on the technical and athletic aspects of cheer. It is one of the fastest-growing female sports in the United States. Kentucky is one of 62 universities, including the NCAA and NAIA varsity and club teams, that are sponsoring the sport for the 2023 season.
The UK STUNT team will begin its regular season in Dallas against Arizona State on Thursday, February 16.