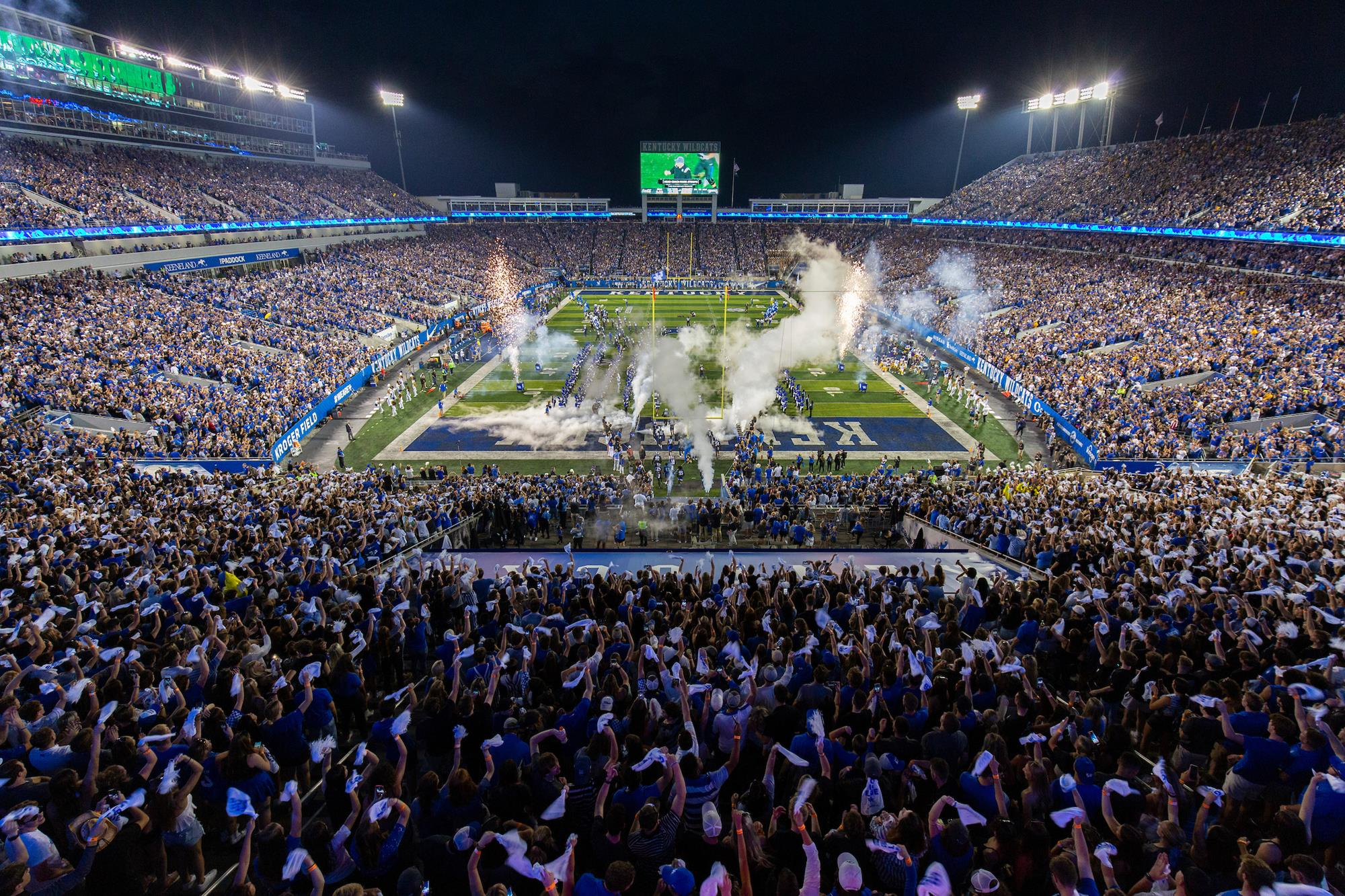 LEXINGTON, Ky. – Ahead of an impressive home schedule, plus the addition of an exciting new crop of transfers joining a talented core of returning players at key positions and a strong signing-day class, UK Athletics announced ticket information for the 2023 football season on Monday.
Seven home games highlight the Kentucky football schedule in 2023. The Wildcats will begin the season with three straight home games in Kroger Field, which includes a visit from Eastern Kentucky.
The full 2023 schedule, which is a combination of four nonconference games and eight conference games, features home matchups against Ball State, Eastern Kentucky, Akron, Florida, Missouri, Tennessee and, for the first time since 2015, Alabama. 
Kentucky fans have sold out Kroger Field multiple times in recent years, playing a vital role in some of the most memorable wins in program history.
In an ongoing effort to provide affordable options and facilitate a great home field advantage, season ticket package prices will remain unchanged for the 2023 season. Seats in the 200-level will again start at $225, while a limited number of lower bowl seats are available starting at $350, plus a $50 per seat donation.
Big Blue Nation is exhibiting strong passion for the program, so fans are urged to act fast to ensure their chance to see the Wildcats in 2023. Inventory is limited due to so much interest in the past year. 
The total number of season-ticket holders in 2022 was the most in years. Deposits by those interested in buying new season tickets have reached record levels.
Back again by popular demand, an Early Signing Period will offer exclusive pricing to 2022 season ticket holders who renew early. Those who renew their tickets by Feb. 17 lock in special pricing and save between $10-$50 per seat. Fans who take advantage of the early renewal period also receive five (5) bonus K Fund points with their early commitment.
K Fund donations will also remain unchanged for 2023, except for sections 22 and 30, where the K Fund donation will increase by $50 per seat.
UK Athletics is committed to offering a variety of ticket price points and affording great value for football season tickets, while continuing to provide the resources necessary for a championship-level football program. 
Early Signing Period Pricing – available to 2022 season ticket holders who renew by Feb. 17 
Premium Seating – $550*

 

Standard – $365/$330*

 

200-Level Public Sideline – $315

 

200-Level Public Corner – $215

 
New Season Ticket Sales and Renewals after Feb. 17
View a 2023 season pricing chart here 
Premium Seating – $600*

 

Standard – $390/$350*

 

200-Level Public Sideline – $325

 

200-Level Public Corner – $225
*Plus applicable per-seat K Fund donations
Renewals are now available online through fans' My UK Athletics Account.
Interest-free payment plans are also available, allowing the cost of season tickets to be split into monthly installments. Fans interested in upgrading their seats can find out more about seat upgrades at UKathletics.com/Upgrades. 
The renewal deadline for 2023 football season tickets is Friday, April 7. Paper invoices will be mailed in early March to those who do not renew during the Early Signing Period.
Only season ticket holders are eligible to purchase season parking permits at Kroger Field. To learn more about parking availability and the waiting list, click here.
Interest-free payment plan options that extend through June are available online, starting with a five-month payment plan with the first installment due upon signup. The deadline to sign up for the five-month payment plan and to earn five bonus K Fund priority points for renewing early coincides with the end of the Early Signing Period on Feb. 17.
Suite renewals will be invoiced separately, and suite holders will receive an email in late February when suite renewals are available online.
New season tickets will go on sale in March, at which point fans will be able to browse the Kentucky Football Virtual Venue to view seats and work together with a personal ticket representative to compare and purchase available seat locations. 
Fans can gain priority access to the best seat locations prior to the public on-sale by placing a $50 per seat deposit or by contacting the UK Ticket Sales Office at (800) 928-2287 (Option 1). Fans who have already placed a deposit for new season tickets will be contacted soon to purchase seats. Additionally, special season ticket discounts are available to regular, full-time University of Kentucky faculty and staff.
Fans will also have the opportunity to make a donation toward the Football Facility Projects Fund. Future athletic project plans include, but are not limited to, football facility improvements and an indoor track & field complex.  These projects rely on philanthropic support and are being done in conjunction  to ensure both athletic programs are set up for success. Please consider a gift to help these initiatives reach completion!
To learn more about football season ticket offerings and frequently asked questions, visit UKFootballTix.com.
Big Blue Nation plays a huge role in games in Kroger Field, energizing the Wildcats to a 35-16 home record over the past seven years.