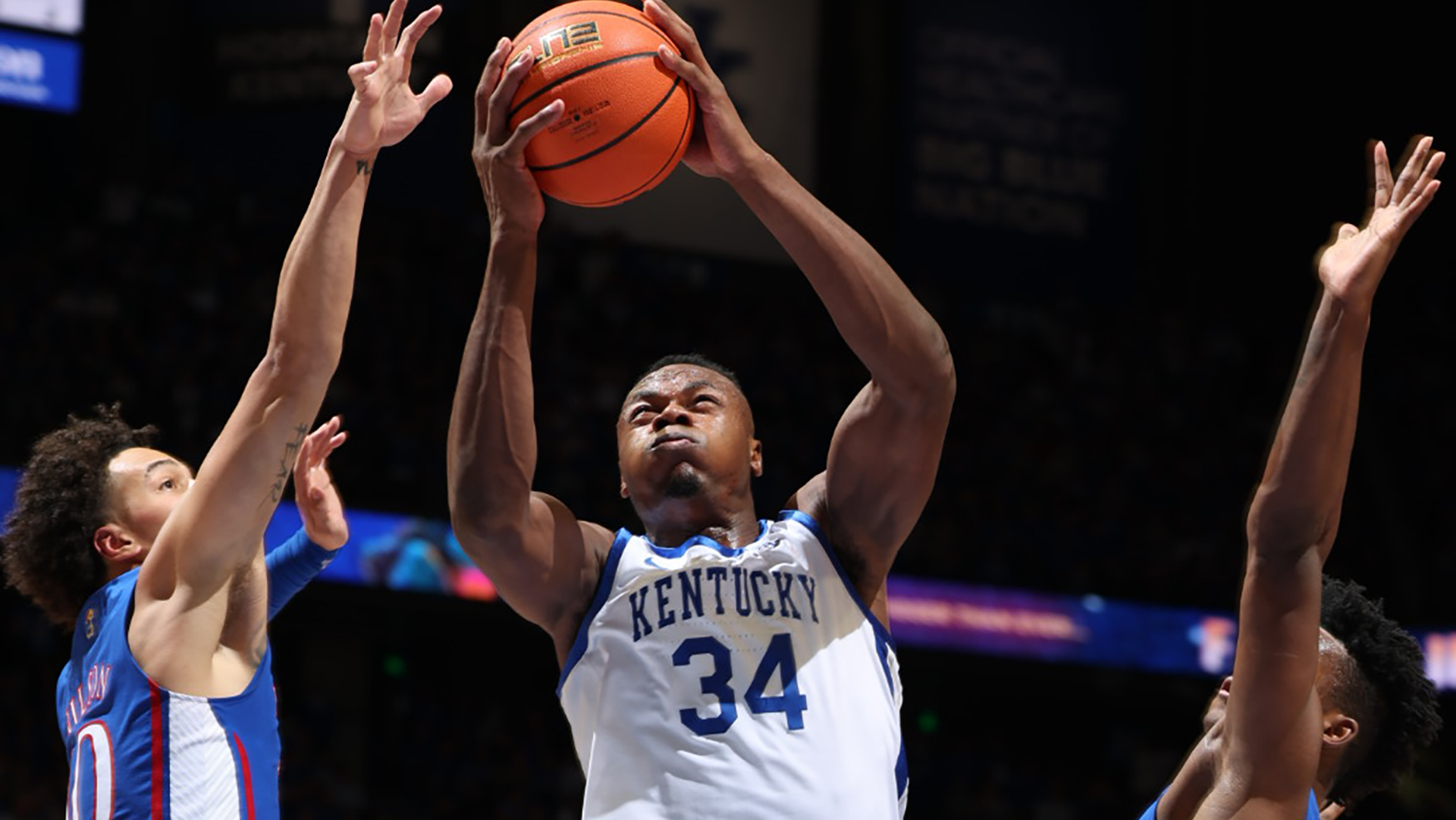 January 28, 2023 - 10:43 PM
Kentucky Falls to No. 9 Kansas on Saturday
The eyes of the college basketball world were on Rupp Arena on Saturday night, where the two programs with the most wins in the history of the sport met.
No. 9 Kansas came to Lexington to face the Wildcats in the premier game of the SEC/Big 12 Challenge. And the Jayhawks left with a 77-68 victory.
Oscar Tshiebwe scored 18 points and grabbed nine rebounds for the Cats, while Jacob Toppin and Cason Wallace each had 14. Wallace added six rebounds and five assists. Antonio Reeves was the fourth Cat in double figures, scoring 10 points.
Kentucky (14-7) got off to a fast start in the game, hitting four of its first five shots. In the process, the Cats grabbed a 9-4 advantage.
The Cats would hold the lead for much of the first 10 minutes. However, with UK leading 22-21, Kansas socred five in a row. Kentucky would get back within one on three occasions, the last at 30-29. The Jayhawks would close the half on an 11-5 run and Kansas led 41-34 at the break.
In the second half, Kentucky would try to claw its way back into the game. The Cats cut into the Kansas lead. A 7-2 run, keyed by a Wallace three-pointer, got UK within one, 51-50, with 11:55 to play. However, Kansas got a three from Jalen Wilson and a Grady Dick layup to lead 56-50 and force a UK timeout.
From there, Kentucky would be able to cut the lead to two points on four occasions but could never get over the hump.
Kansas (16-4) was led by Wilson's 22 points. KJ Adams had 17.
Kentucky returns to action on Tuesday, visiting Oxford to face Ole Miss in Southeastern Conference action. Tipoff is set for 9 p.m. and the game can be seen on ESPN.