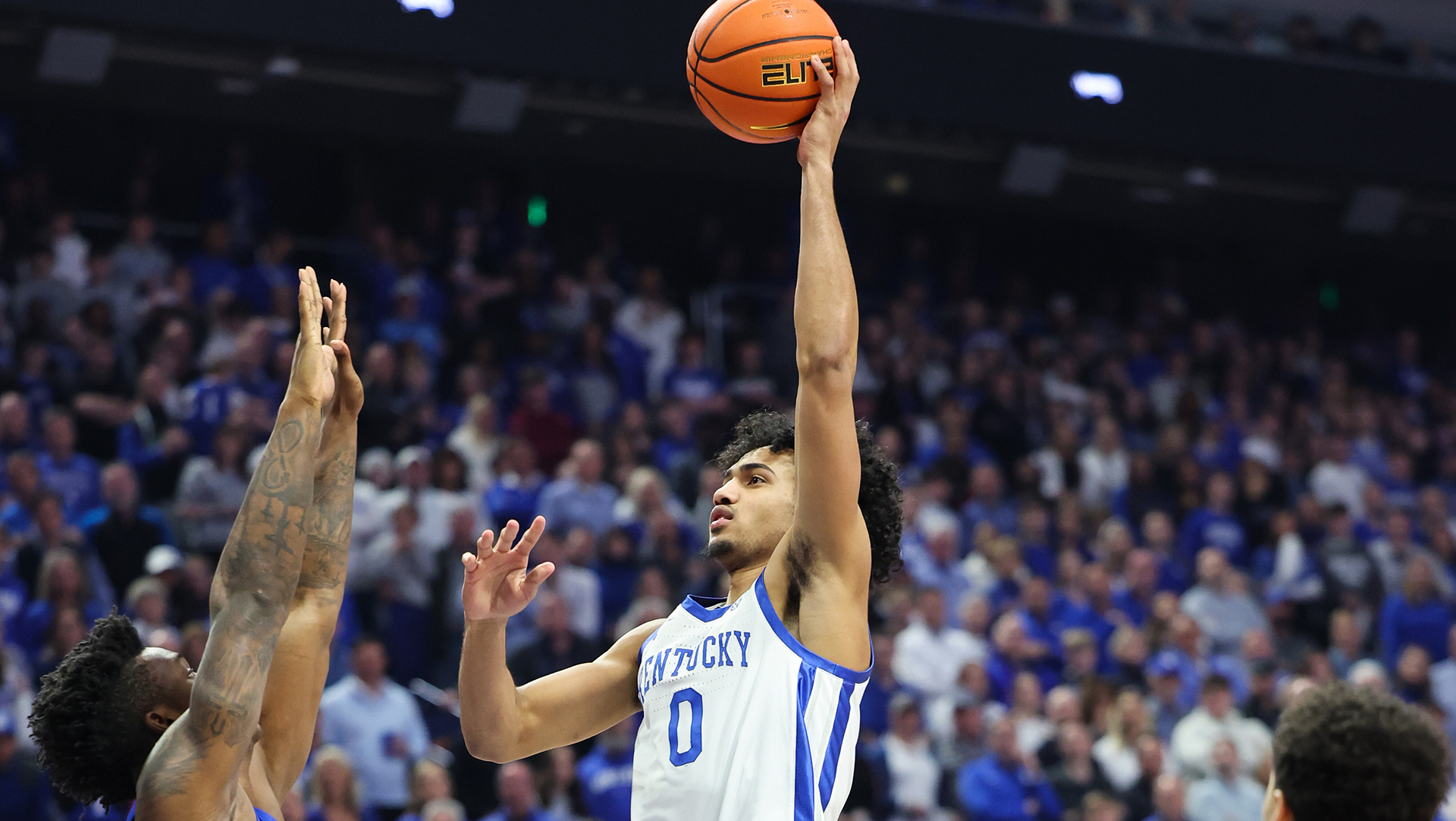 January 28, 2023 - 11:28 PM
Kentucky-Kansas Postgame Quotes
University of Kentucky Basketball Media Conference
Saturday, January 28, 2023
Lexington, Kentucky, USA
John Calipari
Press Conference
Kansas 77, Kentucky 68
JOHN CALIPARI: Hard fought game. Give them credit. They were physical. Their ball screen was really physical, knocked us off point a few times, they were coming right at it that way but they deserved to win the game because they made three threes down the stretch. You've got to make those kind of plays, and they made them.
The ball screen thing has been an issue for Oscar (Tshiebwe), what are the conversations like with him?
JOHN CALIPARI: There's two pieces to it. One, they had some guys that we were saying, you can get off them a little bit. But if it's an empty-side ball screen, they have got to get in there, and they weren't.
We were saying, play (Grady) Dick and play (Jalen) Wilson but we were playing too wide and we were opening up the court so he should be able to stay and then get out but we needed to do a couple emergency switches and again, it was a one-point game, it was a two-point, three-point game, a four-point game.
With all that being said, we didn't — and I said after, Chris Livingston should have played more in the second half and the reason is, he could offensive rebound. He'd go get balls. The problem was they weren't playing him, and it was crowding the court for Oscar. That's why I told him when I took him out, "I'm only taking you out because they are not playing you and they are crowding the court and we need Oscar to get the ball."
But you've got to give it to them. Again, blocking out Oscar, facing him, I don't think you're allowed to do that. I don't. Maybe you are but if they face him on a shot, don't know if you can do it but he fought and you know, again we had our chances to win the game.
I thought we were going to win the game. We had it right there, and then all of a sudden there's a turnover, a play, they make a shot, there's a charge here and a charge — well, a block there, and you know, and all of a sudden it's eight, nine. And it was still, like I told them at six, we're okay.
But again, Dick makes a three. Wilson makes the three, and then we didn't bum rush 15 as the shot clock wind down. We went at him hands down and he made that. Now, he hadn't shot it that way all year but neither did their point guard.
They came in, and we fought. I mean, they are a Top-10 team and we're trying to re-establish who we are and I was hoping we could get this but you know what, kids fought and tried and you know, no second points. No second-chance points. None. You've got to be kidding me. So, I've got to watch the tape and say, why did that happen.
And pick-and-roll defense, like I said, we'll get better, and how we were playing it and what we were trying to do, we just — we kept getting knocked off point and you say, well, how did that happen? I don't know, watch the tape. They did a great job of the initial screen. But you've got to make some shots, guys. The first half we don't make free throws, including two front end one-on-ones.
In the second half we go 12-for-12. That's who we are. We could be a 75 percent, 80 percent free throw shooting team but in the first half that kind of hurt us. The last play by Sahvir (Wheeler) made it seven, and I thought, we're okay, let's get this.
Yes?
CJ (Fredrick) does so much on the floor, even when he's shot-making shots you've got to keep him on there but it felt like when you were six or seven points —
JOHN CALIPARI: Well, he it got to four and I put him in, but again, those are decisions I've got to make, maybe Chris could have gone in and rebounded the ball and getting us, you know, changed the complexion of the game. When we got it to four and three and one; I thought we're in good shape. We're winning this. I said to CJ, I said, "You're going to make a three," and it just wasn't his day.
They are not machines, they are not robots but in these games, someone got to step up and make a shot. They left case on, he made that three in the corner and I thought finally, here we come. But they are a seasoned, veteran team and they made those threes late. That's nine points.
You talk about needing to make shots. Did you like the shots that you guys got?
JOHN CALIPARI: Yeah.
Did you like the way the offense flowed tonight?
JOHN CALIPARI: Yeah, I would have rather how we started the game continued to fly up and down. But you know, if you heard me the whole game, move the ball, move the ball. We were holding a little bit, looking for Oscar. I thought we missed him probably four or five times we could have thrown it more to him.
But you know, they crowded him and you know, it's not like he was as much as they ran and went at him that he turned it over. He didn't. He turned it over a couple times. But we got some stuff to work on, and you know, they were — you know, they were crushed after that. I think they went in with the idea.
Here is the other thing: Unbelievable crowd. Unbelievable students were there and you want to reward them as a coach and as a team. You want to do that. But we never stopped playing. We fought the whole time, and we got a lot of games left. This is a marathon. We've got games and we've just got to keep getting better.
We had two terrific practices to be honest with you. And the way we started the game you could see that they weren't — but you get hit a little bit, you know, and one or two of those shots go down, you know, maybe it changes the way we're thinking but give Kansas credit. They played. They came in with the idea. One of their players said, we're going to keep Oscar but no one else will rebound. We knew that.
I told my team: This is what they are going to do. I need you to rebound, I need you to rebound. Go offensive rebound. They are saying it's not happening. And then the pick-and-roll, most teams are doing it to us. They are coming at us, and you know, we're making adjustments and doing stuff. We are not, you know, where we need to be but we are not certainly where we were. They are good. They are a good team. They are Top-10 for a reason.
A couple times in that answer you just mentioned about the rebounding battle. Were you surprised you guys didn't have more success in the first half? In the first half you didn't have a single offensive rebound.
JOHN CALIPARI: I know. I saw it. I was there watching the game. I mean, we're one of the top offensive rebounding teams in the country but you've got to go, and when it gets physical, you go. You do know that if the shot goes up and they block out facing the man, you cannot do that. I don't believe you can. You can't — you've got to turn and block him out. You can't do that.
So, I'll watch the tape and see if that was, you know, I don't blame him for doing it if it's to the going to be called. I'd do it, too.
And again, that's not why we lost the game. They made three threes at the end and we missed a bunch of threes that we had a chance to close the gap or go up and do it and we missed them. I'm not — it happens. But you miss them and then go offensive rebound. I think we did on one and then we kicked it out and got another one and he missed that one, too.
But that's part of the game. Try to figure out what we did up the middle third, where we were able to post Oscar and get that going, and then you know, I thought we were in pretty good sync for a while. But you still want to run and get the ball moving because it's hard to trap him ask crowd him if we're flying up the court and throwing it to him.
You didn't have quite as much success tonight with the different combinations you like to play over the last couple of weeks. How much of that was foul trouble? What were you looking for there?
JOHN CALIPARI: First half that, hurt us. I mean, we were — when we had the foul trouble, it hurt us. But the only thing that I said was that Chris could have gotten us some more rebounds and gone and done some things. He gotten points. He went to the rim. He got, you know, got to the basket, which is what we talked to him about. Our whole thing against them was: Beat them on the bounce and get to the basket, and we did that.
But I didn't think they would stop us from offensive rebounding like they did. All the tape I watched, they played a high-level game that way. They were physical and banged and they got balls. But ones that we wanted to get, they jerked from us. So give them credit.
You talked about Chris in that first half and maybe you should have played him a little more in the second. Does figuring out exactly how he fits, where he fits for you guys feel like the last big thing for this team?
JOHN CALIPARI: It's getting better but here is what it was. I'm telling you why I played him less: They were leaving him and going right at — before the ball was thrown, to Oscar, and that's why I took him out. And now we've got to figure out if anybody is doing that, what are we going to do. Like how are we going to do it. Do we stick him under the basket? Let his man throw and go to him and we'll dunk it. I've done that before. We just have to figure out if a team is not going to play him, what can we do.
Now, when they are playing him out on the court and all that, he drove. He got balls, but when we were trying, because we said in the second half, we're going at Oscar. Let's get that ball to him. Missed one early but we were going to go at him.
Thanks, folks.
FastScripts Transcript by ASAP Sports
KENTUCKY BASKETBALL POSTGAME QUOTES
KENTUCKY VS. KANSAS  
RUPP ARENA – LEXINGTON, KY.
JANUARY 28, 2023
Kentucky Players
#0, Jacob Toppin, F
On getting the team moving past Saturday and on to Tuesday night…
"We're good. Yeah, we took a tough loss, we made a few mistakes down the stretch that cost us the game, but we're still together. We're not going to separate now, we've been through worse, you guys know it. So, we're just going to come back tomorrow, watch film on what we could get better at, and just get ready for our next game."
On struggling with rebounds tonight…
"I didn't rebound the ball. I wasn't fighting first half, second half I got I think four rebounds, but that wasn't a fight. I've got to go for more rebounds."
On adjusting to the physicality of this game…"I mean I feel like we were physical, but we weren't physical enough. Like I said, I didn't rebound the ball. I think they beat us on the rebounds too, so that was the it factor. Every other game we've won we've dominated on the boards, and we didn't do that today."
#12, Antonio Reeves, G
On if they felt they put themselves in a spot to win…
"Yeah, I definitely believed that we were going to win this game tonight. I feel like those threes they hit were simple mistakes we made on the floor, but they were able to hit them. It is tough for us but it hard to come back when they hit threes like that."
On if tonight changes how the team feels about themselves…
"No, I do not think it changes at all. It just means we need to get back to the basics and figure out what we need to do on the floor next time. It is a marathon it is not just one game, it is multiple games, so we just have to figure it out."
On how tough it was to not get a run in the second half…
"It is definitely tough, when they make threes like that it is really hard to beat a team. We just have to figure out how to guard those things next time. It is just really tough when they make a three and we make a two." 
#34, Oscar Tshiebwe, F
On his overall feelings on the game…
"It was a tough game. It was really tough. It was a physical game. They came in ready and were just fighting. So I give them credit."
On the way Kansas fouled him…
"It happened a lot. I don't know if it's a foul or if its not a foul, but I just fought through that. There was nothing I can do. They were facing me and trying to box me out. If someone is facing you, and you're trying to move and they're boxing you out, you cant do nothing with that. That's why it's good for my teammates to just keep fighting through, and go fight for the ball. We got two offensive rebounds, and that is tough for us."
On the way they played tonight versus non-conference opponents earlier in the season…
"I feel a little bit good. I think two or three weeks ago, or months, against a team like this, we probably would have loss because we were not really been defending like we are now. We are really playing good. We just have to stay locked in, make all of our threes, we have to do everything."
On the crowd at Rupp Arena…
"I just want to say thank you to all of our fans. Today was a tough one. It was a big boy fight. We just came in and we were fighting. They came out from losing three games in a row, and just came in to win this game. For us too, we were fighting. But it was a tough one for us. So I just want to say thank you to our friends, and we're going to keep fighting."
KENTUCKY BASKETBALL POSTGAME QUOTES
KENTUCKY VS. KANSAS  
RUPP ARENA – LEXINGTON, KY.
JANUARY 28, 2023

Kansas Head Coach Bill Self
On status of Zuby Ejiofor after coming to the second half of the game in a boot …
"He turned his ankle, but I don't know what his availability is."
On being down to nine scholarship players, losing Kevin McCullar Jr., and if he was nervous …
"I was more confident when he came back. I think our guys are capable of doing well, but the way we were trying to trap the post and stuff, without Kevin we would've been dead. Oscar would've had a much bigger night if Kevin had to go back."
On how KJ Adams Jr. played against Oscar Tshiebwe …
"We wanted KJ to score and he did a good job at that. I thought he played great, he's just not a very big guy, he's 6'6. But when we didn't trap, he got buried there in the second half. He wasjust exhausted. He was worn out after that."
On rebounding and defending the pick-and-roll…
"I'll be candid – we hoped to attack them in the pick-and-roll. We were just praying on their rebounding stuff, so we did a great job defensive rebounding. We haven't rebounded the ball like that in a while, you know, he's [Oscar] so good and big and active that if you double or if you force help it creates rotation rebounding. I think we were probably fortunate tonight – the ball bounced our way a little bit, but we did do a great job on the glass. I don't know how many points we scored off ball screens – but it had to be close to 20 tonight. So that was really good for us."
On Kevin McCullar Jr.'s double-double despite his injury mid-game…
"Yeah, I asked Kevin [Mcullar Jr.] if he wanted to go back, and he said 'Heck yeah I'm already hurt, I might as well play.' He was great. He rebounded the ball. He got his hands on several balls. You know, we're trapping, and our rotation's not great but he made up for others' mistakes because he's so smart defensively. He hasn't shot the ball great – of late, and then he makes a big shot to kind of give us a little cushion there late, so I'm really happy with him. I thought all of our guys did great – all of our starting five did great. I thought Jalen [Wilson] played like a First-Team All-American down the stretch. I thought Juan [Dajuan Harris Jr.] controlled the game. I thought Gradey [Dick] did some good things, even though they really keyed on him. KJ [Adams Jr. ] had one of his best games – so if you could have all five starters play well on the same night, you've got a chance and that's what happened with us.
On snapping their 3-game losing skid…
"Well, I can't speak for Kentucky, and I don't want to, but there's some similarities in pride that existed both places. The win they got in Tennessee was very similar to the win that we got tonight. They didn't have a lot of momentum at that moment, and we didn't either. They probably put together as good of a performance as we've seen on the road. And I don't know that ours was that good tonight, but considering where we were, you look out there, we're not the biggest team. We don't have a lot of depth. There's some things that we don't do great, but our guys do compete and they fight – and I think there's just a lot of pride within it."
Kansas Student-Athletes
# 15, Kevin McCullar, Jr
On working the glass …
"I feel like we did good. It was definitely an emphasis this week that we worked on. We know there's nobody really as big as Zuby (Ejifor) and Oscar (Tshiebwe) down there. If they box Oscar out then that opens up more rebounds for us. So we take advantage of that and clean up the glass."
On the impact of Zuby and Ernest (Udeh Jr.) in the first half …
"It was huge. As freshman playing in this environment on the road, it shows a lot. They are coming along very well and working hard every day, so that was big time performance for both of them."
On being in pain in the second half …
"I just got to the basket and stepped on a guy's foot. I tweaked my ankle a little, but I'll be good. I've got the best trainer and he's going to get me back right and ready for Tuesday."
#10, Jalen Wilson
On the emphasis on Kentucky second-chance points …
"Huge emphasis having such a big person in the paint like Oscar. He was really important to hit on first and watch his contact and position in the paint. They are really successful when they get second chance points, getting fouls, and getting to the free throw line so that was our main key for this game."
On winning after dropping three straight …
"This feels very good. I mean winning anytime against a historical program means there's a lot of pride on the line. This game means a lot to a lot of people. Feels good to get a win and to get our trains rolling again and now we got a big game Tuesday. Feels good to get our confidence up and play well for that game as well."
On what it took to not let Kentucky pull ahead …
"Really just stopping them in transition in the first half and how fast they are moving the ball. They were pushing the ball pretty fast, and it was important to us to hold them down and guard them at the half court and let this not really just be a running contest. As soon as we started focusing on that, the game went in our favor."