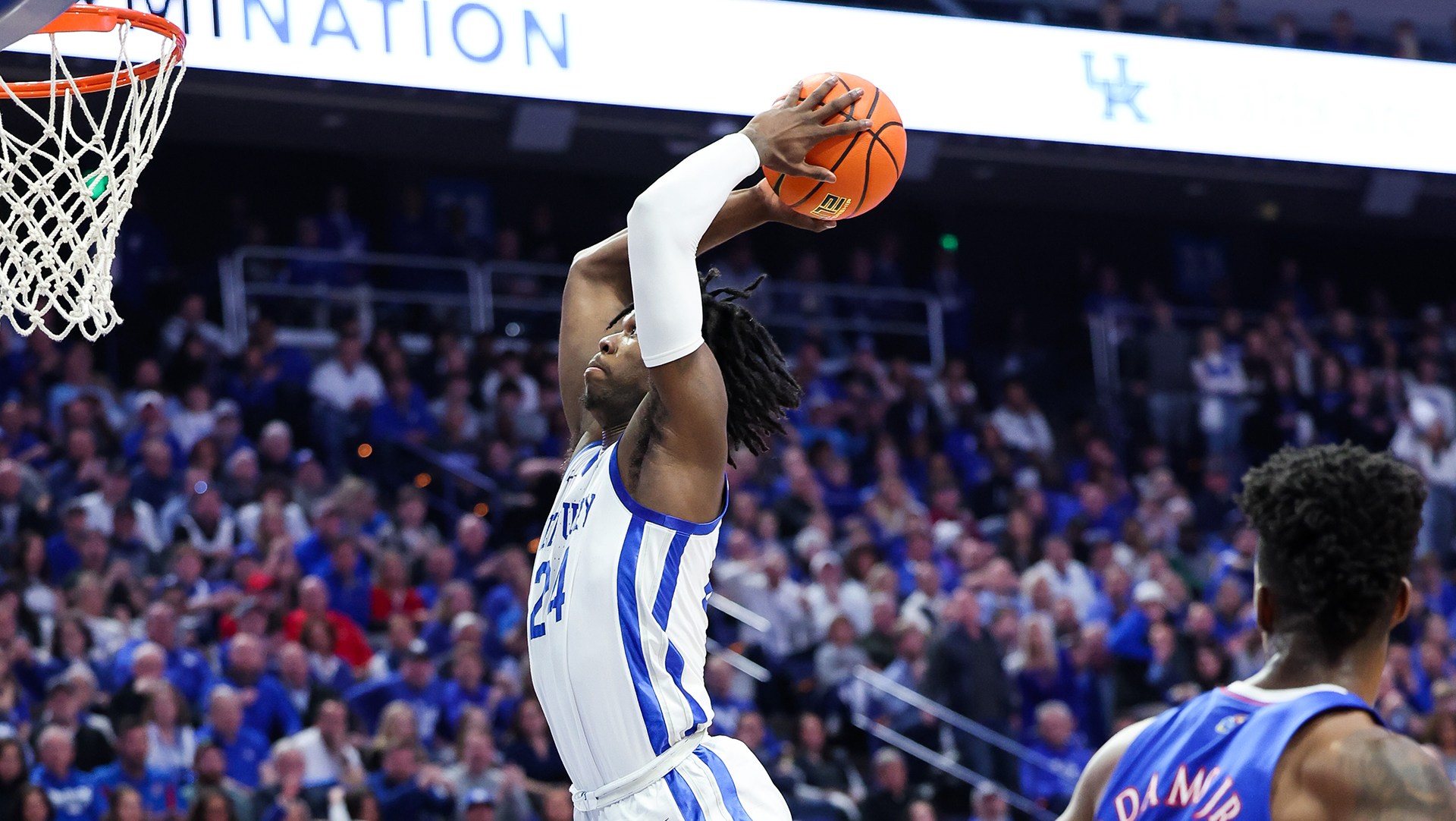 January 28, 2023 - 11:35 PM
Kentucky-Kansas Postgame Notes
KENTUCKY MEN'S BASKETBALL POSTGAME NOTES
RUPP ARENA AT CENTRAL BANK CENTER | LEXINGTON, KY
JAN. 28, 2023
ATTENDANCE: 20,418
Final Score: No. 9 Kansas 77, Kentucky 68
Team Records and Series Notes
Kentucky ended a four-game win streak and is 14-7 overall.
Kansas ended a three-game losing streak and improved to 17-4.
Kentucky holds a 24-11 advantage in the all-time series.
UK leads 8-3 in games played in Lexington.
Next for UK: the Wildcats travel to Oxford to take on Ole Miss on Tuesday. Game time is 9 p.m. ET (8 p.m. CT in Oxford) and the game will be televised by ESPN.
Team Notes
The SEC/Big 12 Challenge concludes this season. UK went 5-4 in the event, including 2-3 vs. Kansas.
One of the nation's top offensive rebounding teams, Kentucky was limited to four offensive rebounds and the Wildcats were outscored 11-0 on second-chance points.
Player Notes
Oscar Tshiebwe paced the Wildcats with 18 points and nine rebounds.

The big man also has been an especially adept passer recently as he continues to receive extra attention. He had four assists tonight, the fifth straight game with three or more.

Jacob Toppin had 14 points, his fourth straight double-figure game and 12th of the season.
Cason Wallace had 14 points, his 12th double-figure scoring game of the season.

He led the Wildcats with five assists, the seventh time this season he has paced the Cats in that category.

Antonio Reeves came off the bench to score 10 points, his seventh straight double-figure game and his 16th of the season.
Coach John Calipari
Calipari is 5-8 vs. Kansas, including 5-5 at UK.
Calipari has an 824-248 all-time on-court record and is 379-108 in 14 seasons at UK.
UK is 68-48 (58.6%) against ranked competition under Calipari.
Rupp Arena
Kentucky is 644-79 (89.1%) in the 47-year history of Rupp Arena.
Kentucky is 217-19 (91.9%) in Rupp Arena under Calipari, including 24-7 against Associated Press top-10 opponents.
In the First Half
Kentucky opened with a starting lineup of Cason Wallace, CJ Fredrick, Chris Livingston, Jacob Toppin and Oscar Tshiebwe for the fifth game in a row.
Antonio Reeves was the first substitute at the 12:49 mark.
Midway through the first half, Kansas was trailing 22-21, but the Jayhawks outscored UK 20-12 the rest of the way and took a 41-34 advantage into halftime.
Livingston and Toppin led Kentucky with eight points each.
In the Second Half
Kentucky began the second half with the starting lineup.
UK edged within 47-43 and Kansas called timeout with 16:10 on the clock.
UK pulled within 51-50 but a Jayhawk 3-pointer, steal and layup quickly restored a six-point lead.
The Wildcats crept within two points on four occasions (58-56, 60-58, 62-60, 64-62) but Kansas replied with scores each time.
Ahead 64-62, Kansas hit three 3-pointers to stretch the lead to 73-66 with three minutes remaining and the Jayhawks held on to win.