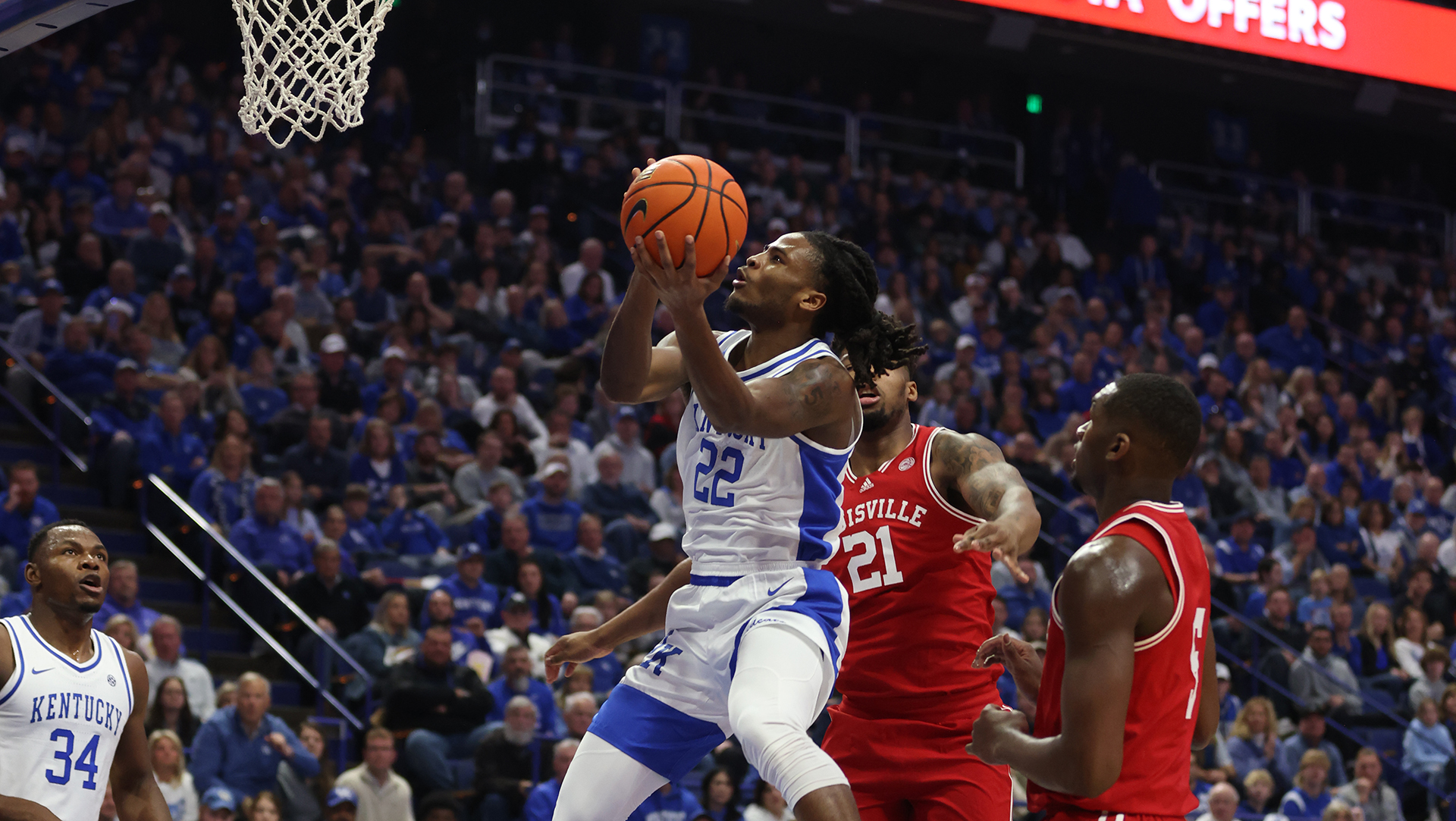 January 20, 2023 - 01:37 PM
Big Blue Preview: Kentucky vs. Texas A&M
Since falling to South Carolina early last week, Kentucky seems to have found its way on the basketball court. A win at then-fifth-ranked Tennessee happened last Saturday, which was followed by a win over Georgia on Tuesday night.
How did such a dramatic change happen in such a short amount of time? Senior forward Jacob Toppin explained.
"We're staying disciplined. We're focused on what we need to do, winning every day," Toppin said. "Taking it day by day. We're not trying to get complacent and get used to winning. We want to still have that chip on our shoulder and understand that we have to be the chasers. We've got to hunt and not be hunted. Everyone's locked in, everyone's dialed in to winning every day."
The Cats are hoping to have consecutive good days, whether that's in practice, in games or whatever. UK head coach John Calipari calls it stacking good days.
"That's what we're trying to do, we're trying to stack days," Toppin said. "Every day, we're trying to win, whether it's a day we're just scripting and not even practicing, just being dialed in mentally. Being able to win every day helps with that winning mentality for games."
Part of that is being focused on the task immediately at hand. That means not looking forward to the next game before addressing the practices that come before it.
"We're not worried about tomorrow, we're worried about today," Toppin said. "We're worried about how we can get better today. It starts with film and then, once we get on the court to practice, we worry about winning that practice."
The Cats will face another challenge on Saturday when Texas A&M visits Rupp Arena (2 p.m. ET, ESPN). The Aggies are 13-5 on the season, including a perfect 5-0 mark in the Southeastern Conference.
Coach Buzz Williams' team has won seven games in a row entering Saturday's contest. Wade Taylor IV leads A&M in scoring at 15.2 points per game. Tyrece Radford scores 12.2 points per outing and Julius Marble averages 9.9 points per game, but is scoring 15.6 points per contest in SEC play.
#OscarWorthy Part II
Senior Oscar Tshiebwe is once again in the thick of the conversation for the nation's best player after sweeping every major National Player of the Year honor a season ago.
Tshiebwe currently leads the Cats in points per game (17.3), rebounds per game (13.8), field-goal percentage (.580) and blocks per game (1.1). He's second in steals per game (1.7).
Tshiebwe put together a performance for the ages in a come-from-behind win over Georgia on Jan. 17. He poured in a career-high 37 points and added 24 rebounds. More about that historic performance:
• The last Wildcat with a 35-point, 20-rebound game was Mike Phillips, who had 35-20 vs. LSU on Feb. 2, 1976
• It was the the fifth 35-20 game in UK history, also Phillips (listed above), Dan Issel (36-29 vs. LSU on Feb. 22, 1969), Cotton Nash (34-20 vs. Tulane on Jan. 11, 1964) and Bill Spivey (40-34 vs. Xavier on Feb. 13, 1951)
• Per ESPN, Tshiebwe's 24 rebounds are the most for a Division I player with a 35-point game in the last 25 seasons
• Per ESPN, Tshiebwe's 24 rebounds are the most in a 35-point performance in the last 25 seasons. UNC's Brice Johnson had 23 in 2016, Oklahoma's Blake Griffin had 23 in 2009 and Texas' Kevin Durant had 23 in 2007
• Tshiebwe (24) and teammate Jacob Toppin (11) combined for more rebounds (35) than Georgia's entire team (31)
• He became just the third player in program history to have multiple games of at least 24 rebounds, joining Dan Issel and Cotton Nash as the only others to do so
• It is the fourth 30-point game of his career
• The 37-point game tied Malik Monk vs. Georgia (1/31/17) for most points in an SEC game and the third-most point in any contest in the Calipari era
• Tshiebwe's 37-point, 24-rebound game against Georgia was the fifth such contest of his UK career (at least 22 points and at least 18 rebounds). He now has five of the seven games of 22 or more points and at least 18 rebounds by an SEC player in the last 10 seasons. No other player has more than one and the feat had not been accomplished since South Carolina's Sindarius Thornwell did so against Alabama on Feb. 7, 2017
• Tshiebwe also has tallied four 20-point, 15-rebound games so far this season after seven a season ago. He has 11 of the 53 20- point, 15-rebound contests by SEC players in the last 10 seasons
• Tshiebwe has amassed six games of at least 20 rebounds in two seasons with the Cats. All UK players combined have totaled five other 20-rebound games since the 1973-74 season
• Tshiebwe is one of two players in the NCAA this season averaging more than 17 points and 13 rebounds per game (Zach Edey – Purdue)
• He is the only player in the country averaging at least 15 points, at least 13 rebounds, at least 1.5 steals and at least 1.0 blocks per game
• Tshiebwe paces the country for the second year in a row with 13.8 rebounds per game
• He leads the nation with 5.17 offensive rebounds per game
• With 1,299 points and 1,101 boards, Tshiebwe is one of two players nationally to total at least 1,000 points and 1,000 rebounds over the last four seasons, joining North Carolina's Armando Bacot (1,616 points, 1,202 rebounds). Tshiebwe has played 27 fewer games than Bacot
• Tshiebwe made his season debut at the Champions Classic and played 34 minutes in his first action of the season. Tshiebwe had a team-high 22 points and a game-high 18 rebounds
• In two games in the event (including last year vs. Duke), Tshiebwe averaged 19.5 points and 19.0 rebounds per game
• In just 49 games for Kentucky, Tshiebwe ranks 23rd all-time in program history with 712 rebounds
• He has registered a double-double in 39 of 50 career games for the Wildcats, ranking fourth all-time in program history. Dan Issel owns the record with 64 over three seasons
• In 50 games as a Wildcat, Tshiebwe has only been outrebounded by an individual opponent once, when Alabama's Brandon Miller pulled down seven boards on Jan. 7, 2023. Two of his teammates (Jacob Toppin this season vs. South Carolina State and TyTy Washington Jr., last season against Ohio) have been the only players to outrebound him in a game
S-E-C! S-E-C! S-E-C!
Kentucky is the Southeastern Conference's gold standard. Since the SEC's inception in 1932-33, the Wildcats are the most dominant team in the league, recording a 1,037-300 mark (77.6%) in regular-season conference play. Only Alabama has won more than 800 regular-season SEC games and no other team owns a better winning percentage.
• UK has averaged 11.6 wins and only 3.3 losses per season in 89 seasons in the SEC
• Kentucky has won 49 SEC regular-season titles and 31 SEC Tournament championships
• Kentucky is 11-3 in the opening game of the SEC season under John Calipari and 13-1 in the first home league opener. UK is 69-20 all-time in SEC openers
• The Wildcats have won 16 of the last 29 SEC Tournaments (the 2020 one was not played because of the COVID-19 pandemic)
• UK has captured at least a share of six of the last 13 SEC regular-season championships under John Calipari
• Kentucky has played in the championship game of the SEC Tournament in eight of Calipari's 11 tourneys, winning six times (2020 tournament not played because of COVID)
• UK won its 1,000th game in SEC regular-season action vs. Alabama on Jan. 11, 2020. Kansas has won 1,000 conference games when combining its records in the Big 6, Big 7, Big 8 and Big 12, but no other team in the country had won 1,000 or more regular-season league games in one conference alone
• Six teams made the 2022 NCAA Tournament field with Arkansas reaching the Elite Eight
• The SEC has had 27 NCAA Tournament selections over the last four tournaments, the third most. Only the Big 10 (30) and Atlantic Coast Conference (28) have had more
• The SEC went 5-6 in NCAA Tournament games in 2022. SEC teams are 78-49 (61.4%) in the NCAA tourney since 2012
• The league has advanced at least one team to the Elite Eight in 10 of the last 12 tournaments and nine different SEC teams have advanced to the Sweet Sixteen in the last five NCAA Tournaments
• The SEC has held its own in the annual Big 12/SEC Challenge. The SEC leads 31-28 over the last six seasons in the yearly January showdown and won outright in 2021 and '22
• Four SEC teams are ranked in the Jan. 16 Associated Press Top 25, with Texas A&M and Missouri also receiving votes