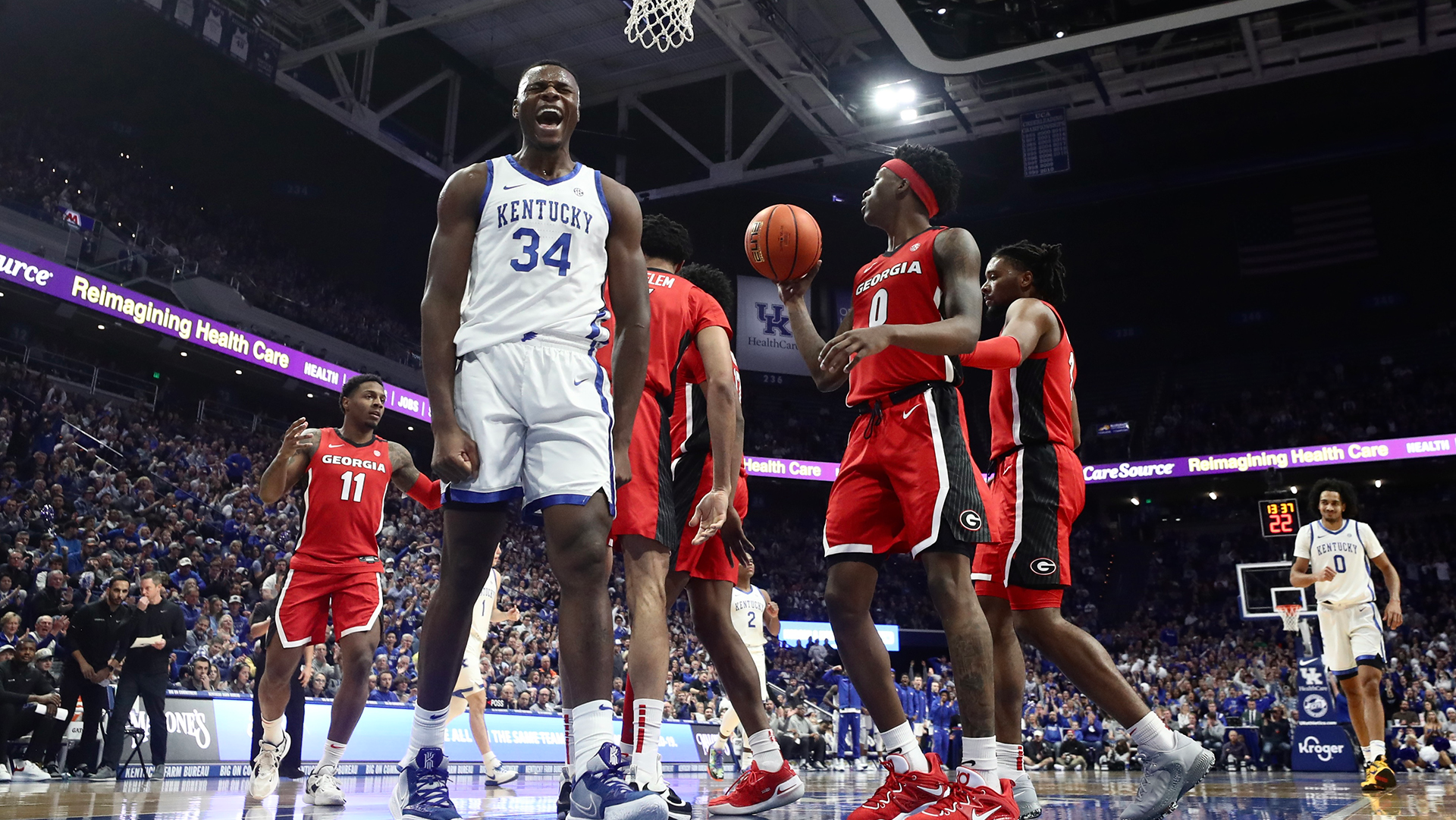 January 17, 2023 - 11:32 PM
Tshiebwe's Monster Night Leads Cats Past Bulldogs
Kentucky got off to another slow start on Tuesday against Georgia. But the Cats had the best player on the floor in Oscar Tshiebwe and that was enough for UK to win 85-71.
Tshiebwe had perhaps his best game as a Wildcat, which is saying something for the defending National Player of the Year, registering 37 points and 24 rebounds. Kentucky needed them all to hold off a feisty Georgia team in this game.
The 24 rebounds by Tshiebwe is the second-highest total in Rupp Arena history. Tshiebwe set the record last season with 28 rebounds against Western Kentucky.
The 2022-23 Cats have consistently been slow starters. That troubling fact reared its ugly head again on Tuesday night, as UK made just three of its first 13 shots and trailed Georgia early. However, it was just 11-10 due to seven points and five rebounds by defending National Player of the Year.
Kentucky (12-6, 3-3 SEC) took its first lead, 14-13, on a Jacob Toppin dunk with 11:04 left in the first half. That lead lasted exactly 12 seconds, and was Kentucky's only lead of the first half.
The second half was a much different story. Kentucky made a conscious effort to get the ball inside to Tshiebwe, and the big man delivered. He scored Kentucky's first nine points of the second half and assisted on a CJ Fredrick three-pointer that capped a 7-0 run and gave UK a 46-45 lead with 17:11 to play in the game.
Kentucky would open the second half with a 16-5 run to lead 50-47. Georgia would battle back to tie the game at 55 and 57, but the Cats would take the lead for good with 11:26 to play.
Jacob Toppin had an outstanding game for the Cats with 11 points and 11 rebounds. Freshman Cason Wallace added 17 points for Kentucky, which won for the second consecutive game.
Georgia (13-5, 3-2) got 21 points from Terry Roberts.
Kentucky returns to action on Saturday, hosting Texas A&M at Rupp Arena. Tipoff is set for 2 p.m. and the game can be seen on ESPN.