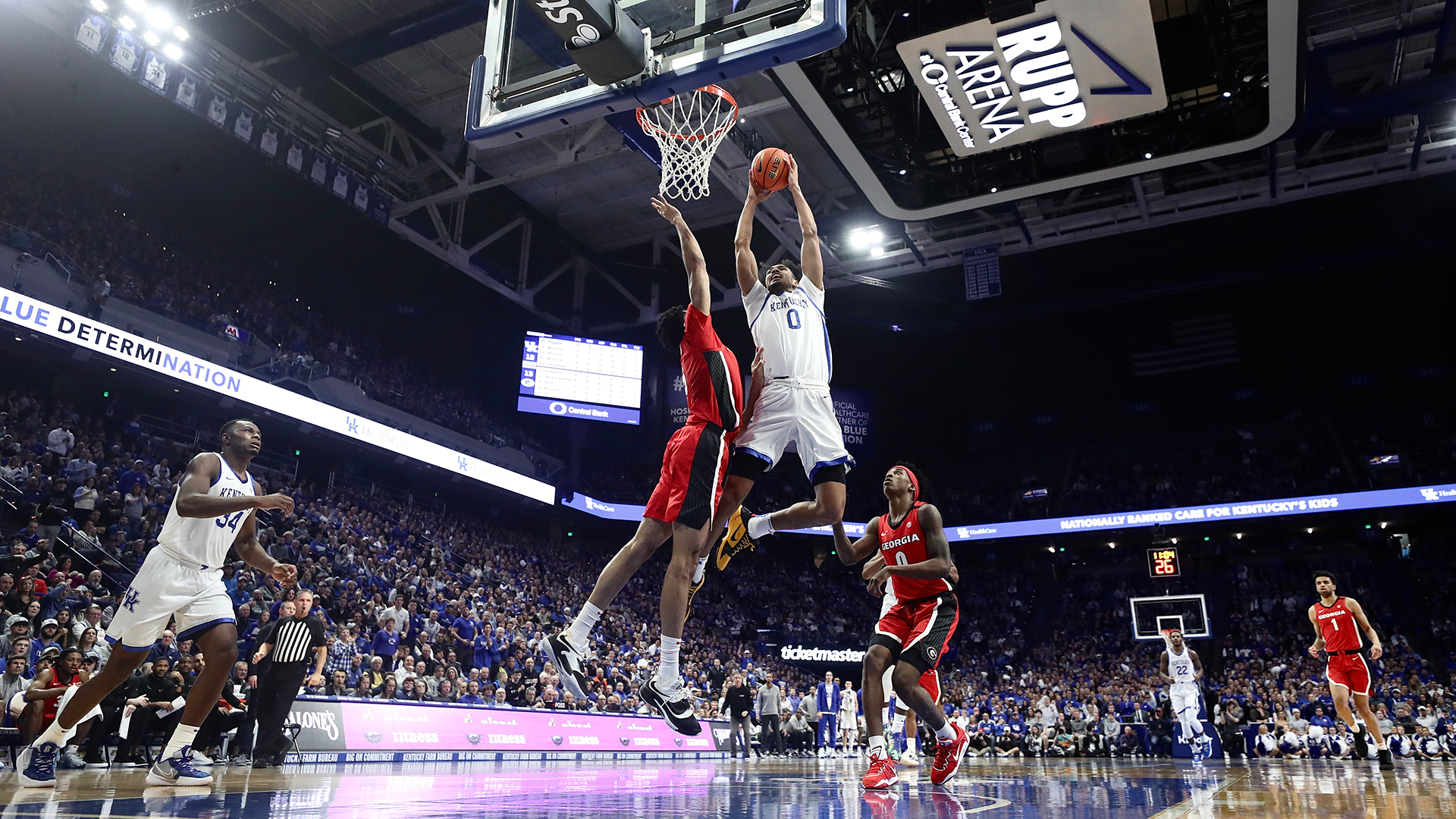 January 18, 2023 - 12:15 AM
Kentucky-Georgia Postgame Quotes
University of Kentucky Basketball Media Conference
Wednesday, January 18, 2023
Lexington, Kentucky, USA
Coach John Calipari
Press Conference
JOHN CALIPARI: Terrific second half. First half, they were beating us on the bounce and we had to tighten up the defense. My error was, I wanted to press them and then drop back. We can't play that way, and the staff just said stop, just go back and play that tight defense, and we did it.
Play of the game, Antonio (Reeves) steal and pass and the dunk and-one, play of the game. The most impactful player that the coaches just gave out, do you know Jacob (Toppin) had a double-double, but Oscar (Tsheibwe) was playing a video game and had 36 and 24. So he was the most impactful player.
Great thing I'm going to tell you, the whole second half they're looking at me, keep throwing it to him. Run stuff to him. Throw it to him. Again, free throws, we make them — if the right guys are shooting free throws, you make free throws.
But CJ (Fredrick) leads, man, he just leads. He's smart. Antonio scores baskets. Chris (Livingston) is tough as nails. Jacob is playing better and better, being more aggressive and more confident. Think about where he was before we played Missouri. Think about that.
So, we've got to continue to see about getting better. We're off tomorrow.
Again, I told Mike prior to the game, I watched the tape, I was scared to death of this game in that they can beat you seven different ways, and he's done a great job with this team, and it was a good win.
A couple questions because it's like midnight.
Coach, at the 12-minute mark you guys were tied with Georgia and you brought in a lineup that stayed all the way to the four-minute mark.
JOHN CALIPARI: What was that lineup?
CJ, Antonio, Cason, Jacob and Oscar. What did you see during that eight-minute stretch that led you guys to victory?
JOHN CALIPARI: Well, the only thing I worried about was defensively, and that means you're putting a lot of weight on Jacob to rebound. He did it, so you can play with three guards. If he doesn't do it, you've got to have Chris in there rebounding. You have to.
We also need a sub for Jacob. Today it was Lance (Ware). We went to the sub with Ugonna (Onyenso), kind of got muscled a little bit. But why do you think I put him in? Because they were driving for layups. I thought maybe he'll go block a shot and change the complexion of the game. But I loved the dunk. Adou (Thiero) did great again. But the game, whether it was he or Sahvir (Wheeler), the game just dictated to me this is how you've got to play this. It's not brain surgery. We were all watching the same thing.
I think it's after the South Carolina game Oscar kind of called out his teammates. He apologized —
JOHN CALIPARI: You guys, let me say this. I've got to stop you. This kid will say stuff and doesn't really know what that means. Now, he's very intelligent. How many languages? Like six. English is probably No. 6. So he will say, or he told me to put in a — he never did that. What do you think I would say if he said it? Sometimes he'll do stuff like that, and he'll feel bad, well, I didn't know it meant that. Yeah, that's what it means, so you don't do it.
He's the greatest kid. You saw that he's such a good kid that that's what they did.
Now, they wanted him to get 50. They could have cared less. They want to win the game now. We're not playing for ourselves, we're playing for each other now.
I will tell you that everybody was fine with it. You know why? Because they know him, and they know he does that occasionally, like says stuff, like where did that come from.
I was sensing a rededication in him the last two games.
JOHN CALIPARI: What he's done for two weeks, he's been in the gym. Last year he lived in the gym. For a while he was in the gym but not the same. Someone says you're criticizing him. No, I'm telling you for the last two weeks, he and Adou have lived in the gym. What does it do for your game? That's how you build your confidence, that's how you build your stamina. You told what I told him? Dunk every ball. Quit laying balls in. Jump up. But he had to get in the gym to be that way.
Now you're seeing him be how he was a year ago. Was he that way two weeks ago? No. That's why I said what I said, not to be disrespectful or talk down on Oscar. I love Oscar. He knows I love coaching him.
How does it change the complexion of this team when Jacob is attacking the boards like he has been here recently, and what —
JOHN CALIPARI: It means you can put a bunch of guards out there if he and Oscar, because Oscar is going to get a bunch of them and he cleans up the rest, but the last game Antonio rebounded, Chris rebounded. Let me say this, I'm sorry. The other play of the game was on the free throw miss. Chris got that ball and threw it out and CJ made the three. That may have been the play of the game. But those are effort plays.
Again, playing to win. I thought Cason (Wallace) was good today, made big shots. We're becoming that team. I'm happy for these kids.
I told them prior to the game, did you like the taste in your mouth 10 days ago or the one after Saturday? Well, then let's get that taste back in our mouth. We came in at halftime, I said, we're down four, three buckets. You know why? We can't make a basket. The only guy that can make a basket is Oscar. You're going to be down. So just play. We'll make shots. We're beating them in the — that's all I was saying to them.
After the game, I said, when are you going to start believing what I'm telling you, because I believe in these guys. I really do.
FastScripts Transcript by ASAP Sports
KENTUCKY BASKETBALL POSTGAME QUOTES
KENTUCKY VS. GEORGIA
RUPP ARENA – LEXINGTON, KY.
JANUARY 17, 2023
UK Student-Athletes
#12, Antonio Reeves, G
On Oscar's performance tonight…
"He was a beast today, that is the Oscar (Tshiebwe) we have been waiting for. He just went out and was the old Oscar. He rebounded, got put backs and dunked it. That is what we needed."
On how he has been improving…
"I feel like I am coming along well. Guys are trusting me and I just feel like I belong out there and am doing whatever it takes to win."
On how good it feels being out there with CJ to spread the floor…
"It spreads the floor a lot. You know, me and him are knockdown shooters and we make sure we get each other open and our other teammates do so as well."
#34, Oscar Tshiebwe, F
On how much he's had to practice free throws and getting back into a routine…..
"It helped us a lot (making free throws). Free throws helped us in the game against Tennessee. If we were not making free throws, we had no chance to win. And I like how the defense was playing. They just locked in and just tried to stop the ball. That's what everybody is now in the gym."
On Coach Cal telling him to dunk more…
"I did not feel like I was dunking enough."
On UK "having their fight back…"
"We've got our fight back. Everybody is now locked in. I'm so proud of our boys. We came together."
#22, Cason Wallace, G
On how the win feels…
"This one feels good, you know. Coming out of our last home game – it was a loss, coming back and getting the win. You know, had two tough games against Tennessee and Georgia. Just coming out with wins and stacking them up."
On how the last 2 games impacted their performance today…
"We were just ready to go fight again. We knew it was going to be another war and we've been talking about stacking wins and that's what we're doing right now."
On what changed in the second half…
"I'd say we started playing with more intensity. We started finishing and made more shots. [We] started off a little slow but as the game went on we found our rhythm."
On if Oscar knew he was performing well…
"I don't even think he knew. He's just team-oriented, he's not worried about himself. He looked up and he was like 'dang, I'm doing pretty good', but I don't think he was trying to force it and chase those stats."
UK ATHLETICS COMMUNICATIONS AND PUBLIC RELATIONS
Men's Basketball
January 17, 2023       
Rupp Arena – LEXINGTON, KY.
Georgia Coach Quotes
Coach Mike White
On Oscar Tshiebwe's game….
"We had one here last year, Florida vs. Kentucky, where he was incredibly dominant. Like unbelievably dominant, but not even this dominant. I don't think I've ever been apart of this. He was unbelievable. Credit him and his mentality, his motor and physical toughness, his physicality that he played with, even defensively. We just didn't match it. At all."
On what worked in the first half and how it changed in the second…
"We got some stops. A lot more stops that allowed us to get out in transition and play in a broken floor a little bit. Terry Roberts had a high level first 20 of course. Our poise, our decisions, we had a low number of turnovers in the first half, I mean we really gave ourselves a chance. We still didn't get to the offensive glass, but in the second half they just came out and made the most of their first few field goals opportunities. The crowd got loud of course, and we made some emotional decisions offensively, never defended the glass, whether it be on the post where Oscar missed his own shots and went up to get it, free throw misses, field goal misses, they just dominated the glass. Our best offensive category as we know, it's the offensive glass and we had a couple guys get one each, then Oscar gets 11, and they get 16. Their strengths dominated our strength, and we've got to be much better than that in the future. Our energy level early second half didn't match our first half efforts and that's on me. That's something that we've got to discuss as a staff and figure out why, because we were pretty sharp, and played a really good 20 to put ourselves in a position to be really competitive at Rupp, a really hard place to play. The second 20, I don't think that was the same team. Obviously, Oscar and Kentucky had a lot to do with that."
On what do you do differently against guys like Oscar…
"I think we have a good team. We have a team that was up double digits at Rupp late first half. We did some good things. When you're preparing for Oscar, no matter what you do, you tell yourself as a coach, 'He's going to find a way to get a double-double.' It's going to be hard for him not too. He just plays so hard and you don't want those guys to complement his production with made threes. With (Antonio) Reeves and (Cason) Wallace getting going, and CJ Frederick is an X-factor for those guys, so we just decided to go solo on him and obviously it wasn't the right decision. We doubled him some more in the second half, got into some rotations and he continued to just go get it off the glass. So I don't know, we'll have to watch film to see what we could've done better. We could've stopped a few of those post touches in the second half, with the details being a little bit more sharp. There were a couple of guys we could have gapped off of. When we doubled him and kicked it out, he still got it. He got it off missed free throws and missed field goals, he was unbelievable."