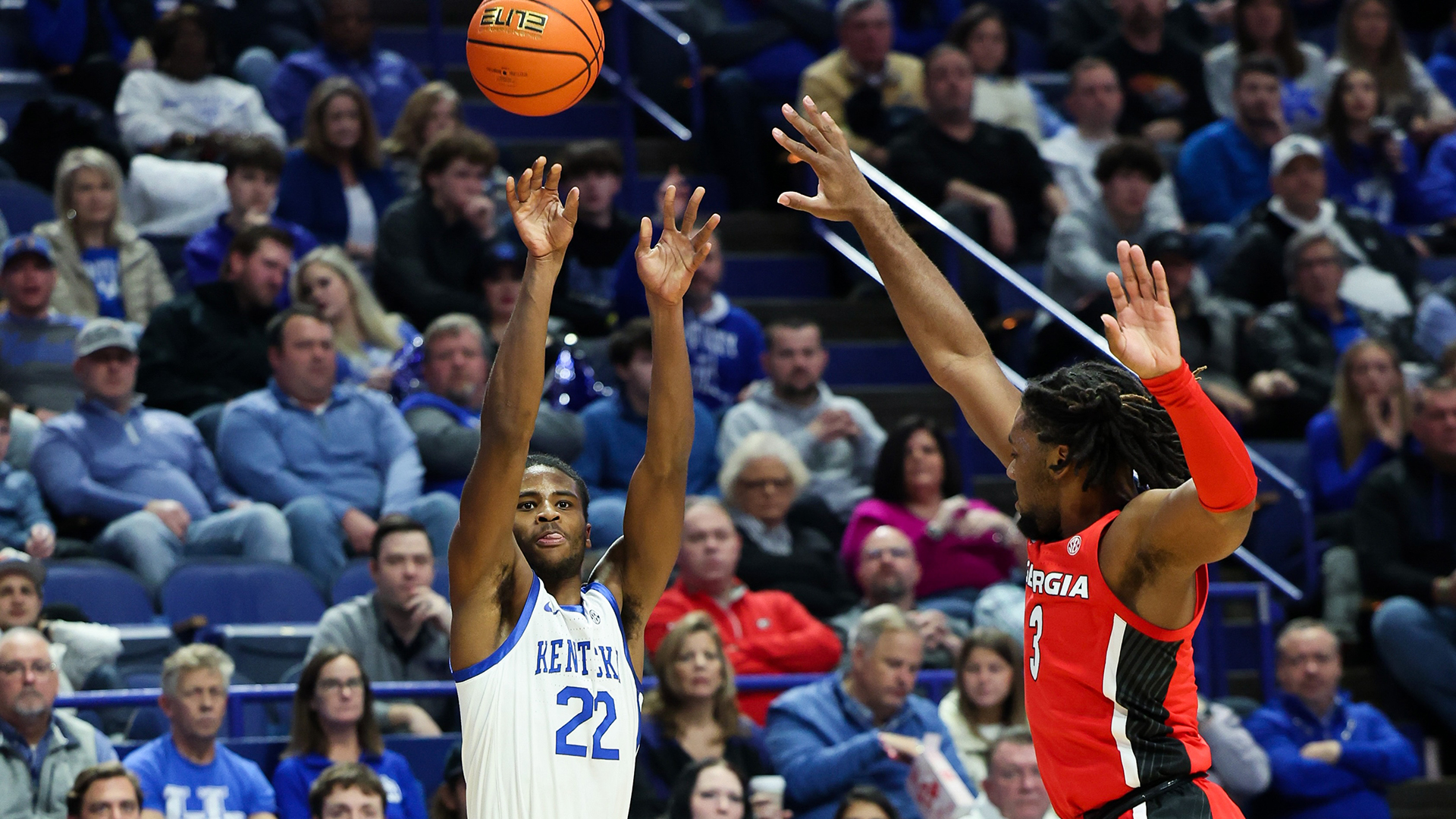 January 18, 2023 - 12:47 AM
Kentucky-Georgia Postgame Notes
KENTUCKY MEN'S BASKETBALL POSTGAME NOTES
RUPP ARENA AT CENTRAL BANK CENTER | LEXINGTON, KY
JAN. 17, 2023
ATTENDANCE: 19,171
Final Score: Kentucky 85, Georgia 71
Team Records and Series Notes
Kentucky is now 12-6 on the season, 3-3 in the Southeastern Conference.
Georgia is 13-5, 3-2 in league play.
Kentucky holds a 131-27 advantage in the all-time series and has won two in a row.
UK leads 64-5 in games played in Lexington and has won the last 11 in Rupp Arena.
Next for UK: on Saturday, the Wildcats host Texas A&M in a 2 p.m. game that will be televised on ESPN.
Team Notes
Kentucky's 85 points are the most against an SEC opponent in the last 12 games, since the 90-81 win over Alabama on Feb. 19 of last season.

UK tallied 51 points in the second half, most in a half this season vs. an SEC foe.

Kentucky won the rebounding 44-31. UK is 8-0 this season when leading the rebounding by double digits.
Kentucky made 23 of 30 foul shots, season highs in both categories.
Kentucky's final margin of 14 points was the largest lead of the game. UK is 320-13 (96.1%) under Calipari when leading by at least 10 points at any time during the game.
Kentucky trailed by as many as 11 points on two occasions late in the first half. It is the largest UK comeback win since rallying from an 11-point deficit vs. LSU on Feb. 23, 2022, with UK winning 71-66.
Kentucky got double-doubles from Oscar Tshiebwe and Jacob Toppin for the second time this season, also vs. North Florida on November 23.
Player Notes
Oscar Tshiebwe had a career-high 37 points and yanked a season-best 24 rebounds, the first 30-20 game of his career.

The last Wildcat with a 35-point, 20-rebound game was Mike Phillips, who had 35-20 vs. LSU on Feb. 2, 1976.
This is the fifth 35-20 game in UK history, also Phillips (listed above), Dan Issel (36-29 vs. LSU on Feb. 22, 1969), Cotton Nash (34-20 vs. Tulane on Jan. 11, 1964) and Bill Spivey (40-34 vs. Xavier on Feb. 13, 1951).
Per ESPN, Tshiebwe's 24 rebounds are the most for a Division I player with a 35-point game in the last 25 seasons.
It is the fourth 30-point game of his career.
The 37-point game tied Malik Monk vs. Georgia (1/31/17) for most points in an SEC game and the third-most point in any contest in the Calipari era.
Tshiebwe's points-rebounds-assists total of 62 (37-24-1) was the most of any player in the Calipari era, topping his own previous total of 50 (30-18-2) at Arkansas on Feb. 26, 2022.
Drawing 12 fouls during the game, he had career highs by making 13 of 18 free throws.
It is his sixth 20-rebound game of his career. All UK players combined have totaled five 20-rebound games since the 1973-74 season.
He entered the game leading the nation in offensive rebounding with 5.6 per game and got 11 ORBs tonight.
He could have had a double-double with either offensive (11) or defensive rebounds (13). It's the second time he's accomplished that feat with a 14-point, 10-ORB, 10-DRB performance vs. Robert Morris on Nov. 12, 2021.
It is his SEC-best 11th double-double of the season.
Tshiebwe has 39 double-doubles in 50 career games for UK.
He also had a season-high-tying three steals.

Jacob Toppin had 11 points and a career-high-tying 11 rebounds, his third double-double of the season.

He also had a game-high four assists, second time this season and fifth career he has done so.

Cason Wallace tossed in 17 points, his 10th double-figure scoring game of the season.

He made 7 of 11 from the field, including 2 of 4 on 3-pointers.

Antonio Reeves came off the bench to tally 11 points, his 13th double-figure game of the season.
Coach John Calipari
Calipari is 21-3 vs. Georgia, all coming at UK.
Calipari has an 822-247 all-time on-court record and is 377-107 in 14 seasons at UK.
UK is 309-60 (83.7%) against unranked competition under Calipari.
Rupp Arena
Kentucky is 643-78 (89.2%) in the 47-year history of Rupp Arena, including 348-47 (88.1%) vs. SEC foes.
Kentucky is 216-18 (92.3%) in Rupp Arena under Calipari.
In the First Half
Kentucky opened with a starting lineup of CJ Fredrick, Cason Wallace, Chris Livingston, Jacob Toppin and Oscar Tshiebwe for the second game in a row.
Antonio Reeves was the first substitute at the 16:55 mark.
Georgia opened an early 7-2 lead but the Wildcats got their only lead of the half (14-13) at 11:02 on a steal by Wheeler, followed by a fast break dish to Toppin for a dunk.
The Bulldogs regained the lead the remainder of the half and took a 42-34 advantage into intermission.
Tshiebwe led the Wildcat effort with 14 points and nine rebounds in the first half.
In the Second Half
Kentucky began the second half with Fredrick, Wallace, Livingston, Toppin and Tshiebwe.
Tshiebwe scored five quick points as UK pulled within 42-39.
Down 45-41, Tshiebwe scored and was fouled.  He missed the free throw but tracked down the rebound and found Fredrick for a 3-pointer that gave UK a 46-45 lead, coaxing a Georgia timeout at 17:11.
UK eventually stretched the lead to 53-49.
Georgia rallied to tie at 55.
Tied at 57, a Reeves basket put UK ahead for good and the Wildcats gradually pulled away to win 85-71.