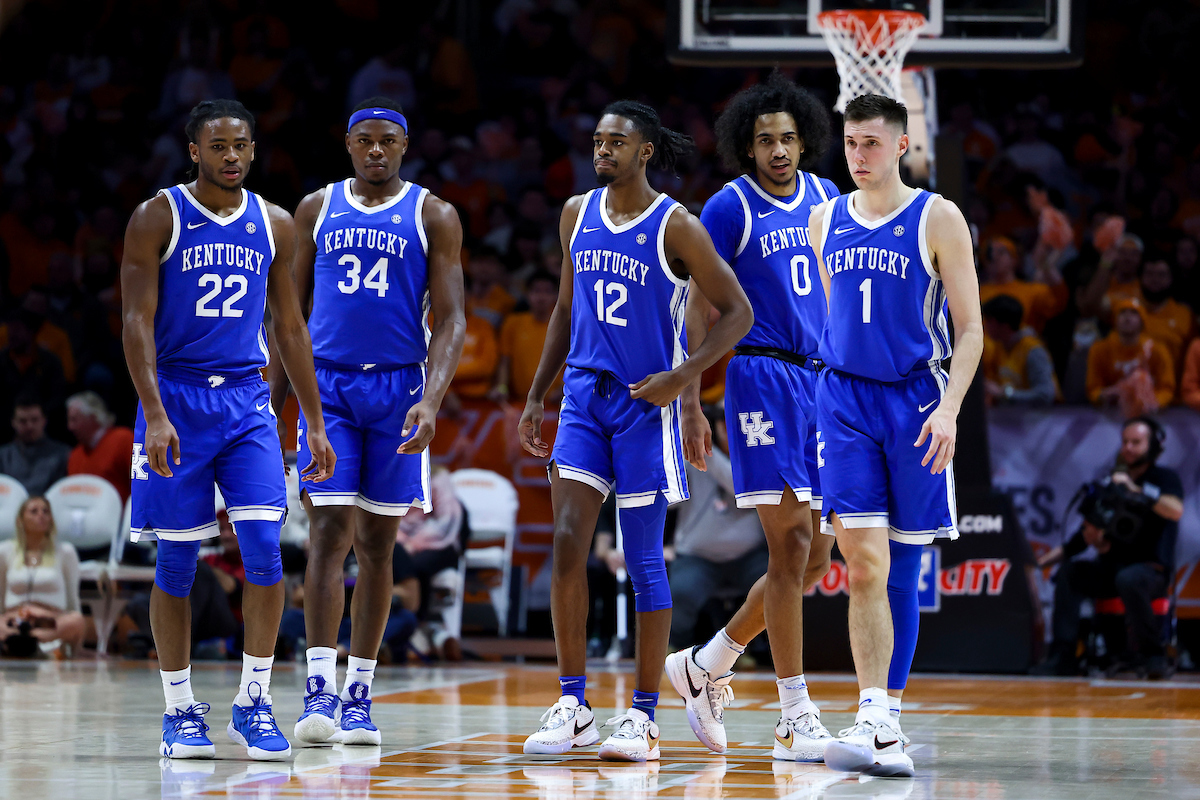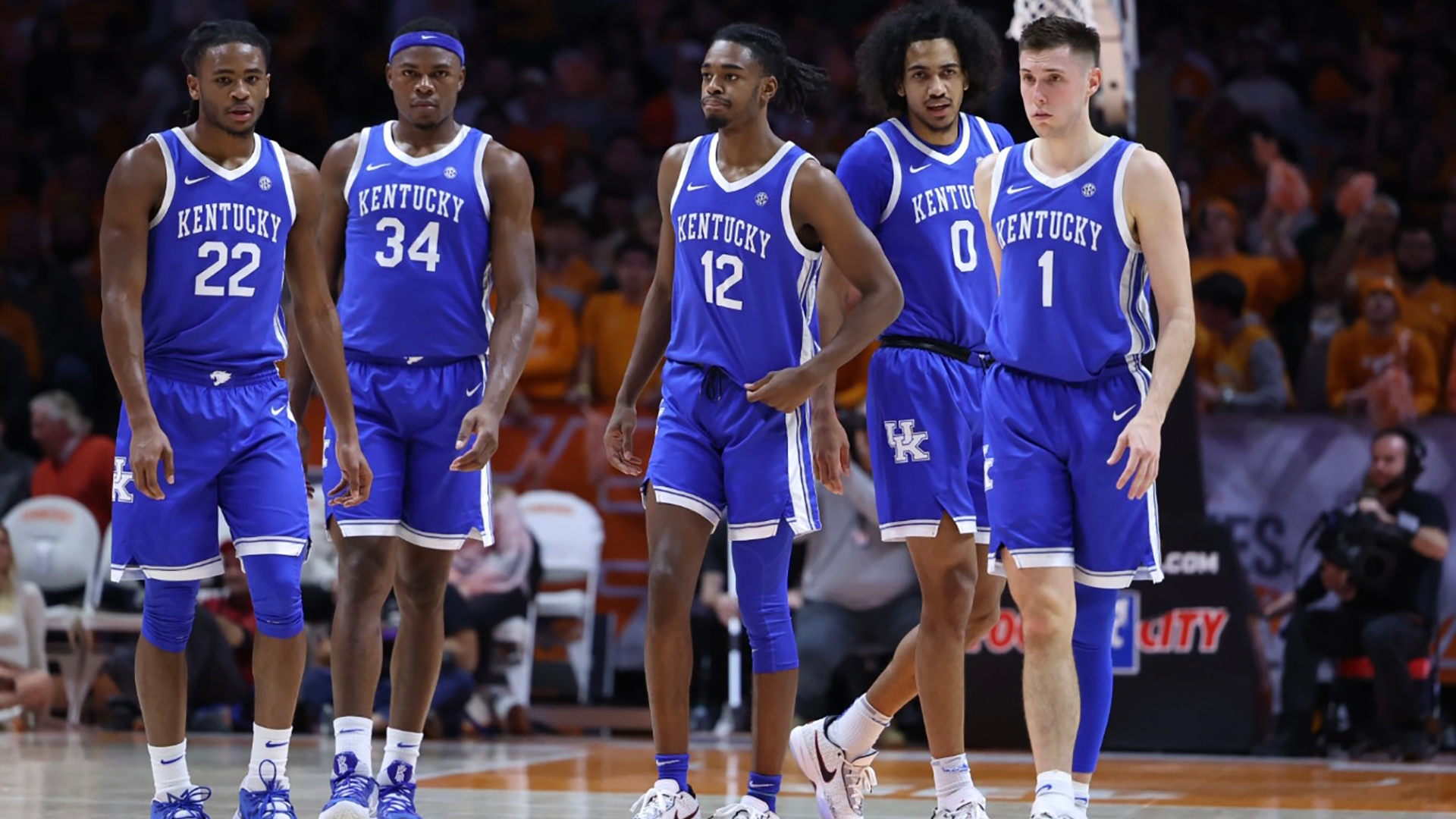 January 16, 2023 - 02:32 PM
Big Blue Preview: Kentucky vs. Georgia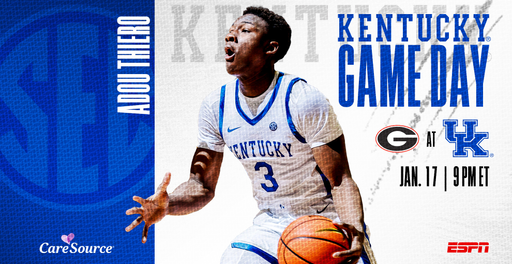 Coming off its best performance of the season, Kentucky is riding a wave of momentum heading into the new week. The Cats are coming off their best win of the season – a 63-56 win at No. 5 Tennessee on Saturday, one that UK knew it needed badly.
"That was a big one for us," said senior guard CJ Fredrick. "We had been through a lot."
What was it that made the Cats think they could go to Knoxville and pull off the unthinkable?
"We had a really good two days of practice," Fredrick said. "Coach (John Calipari) is big on winning each day and that starts with practice and stacking days. So, we had a lot of confidence in those two days of practice."
Now, Kentucky faces a new challenge – proving that its win at Tennessee on Saturday was no fluke. The Cats get their first chance to do just that at home on Tuesday night when they face a surging Georgia team. How can UK keep the momentum going?
"I think we've just got to go out and do the same thing – fight and just do what we know that we can," said freshman guard Adou Theiro. "Be together as a team."
Theiro hopes that the Cats can continue their upward swing.
"We were at our lowest, so it's only up from here," he said. "So, I think we're just going to go out and play like we played against Tennessee and fight.
Fredrick knows that strong performances on the court start with solid preparation.
"Just stacking good days of practice," Fredrick said. "We had a good film session yesterday, learned things we needed to correct. Go back out there today and win today and get ready to play a really good Georgia team."
Georgia is 13-4 on the season and 3-1 in the SEC. The Bulldogs have won their last two games and three of their last four, including a 76-64 win over No. 22 Auburn in Athens. Terry Roberts leads Georgia in scoring, averaging 15.6 points per game, and assists at 4.2 per outing. Kario Oquendo averages 13.1 points per contest for the Bulldogs. Fredrick has been impressed with what he has seen from Georgia.
"They're a really good team," Fredrick said. "They have really good guards. They run a good offense. We're going to have to do a good job of locking in and knowing the game plan."
Tipoff is set for 9 p.m. ET and the game can be seen on ESPN.
Big Blue Win on the Road
Kentucky's 63-56 win on the road at No. 5 Tennessee on Saturday was not only much needed for this team, but historic as well.
• Was the first in program history over an Associated Press Top 5 team on the road, while a UK team was unranked
• Kentucky outrebounded the Volunteers by 20 and limited the Vols to just four offensive rebounds. Tennessee entered the matchup as the nation's best offensive rebounding team
• UK's 88.1% free-throw percentage (22-25) was the third-best in a true road game under Calipari with a minimum of 25 attempts
• Kentucky moved to 5-1 against Tennessee on the road when the Wildcats are unranked and the Volunteers are ranked
• The 56 points scored by UT was the second-fewest ever allowed by an unranked Kentucky team against a top-five team in the AP poll (UK allowed 45 points to No. 2 Michigan State on Dec. 16, 2000)
Ulis Returns to Kentucky
Tyler Ulis was one of the most accomplished players in UK program history from 2015-16. He was an All-American and Bob Cousy Award winner in 2016. He was also a part of a team that won its first 38 games and went to the Final Four in 2015. He has returned to the Wildcats for the spring semester to serve as a student assistant coach as he works towards completing his undergraduate degree.
• 2016 Consensus First-Team All-American
• 2016 Bob Cousy Award winner
• Was the SEC Player of the Year, Defensive Player of the Year and SEC Tournament MVP in 2016
• Set the UK single-season record with 246 assists in 2016
• Was a part of 65 career wins in two years at UK
• Drafted 34th overall by the Suns in 2016
• Western Conference Rookie of the Month in April of 2017 when he averaged 20.7 points and 6.8 assists per game during the month. It was the most points and assists in a single month since Damian Lillard in March of 2013
S-E-C! S-E-C! S-E-C!
Kentucky is the Southeastern Conference's gold standard. Since the SEC's inception in 1932-33, the Wildcats are the most dominant team in the league, recording a 1,036-300 mark (77.5%) in regular-season conference play. Only Alabama has won more than 800 regular-season SEC games and no other team owns a better winning percentage.
• UK has averaged 11.6 wins and only 3.3 losses per season in 89 seasons in the SEC
• Kentucky has won 49 SEC regular-season titles and 31 SEC Tournament championships
• Kentucky is 11-3 in the opening game of the SEC season under John Calipari and 13-1 in the first home league opener. UK is 69-20 all-time in SEC openers
• The Wildcats have won 16 of the last 29 SEC Tournaments (the 2020 one was not played because of the COVID-19 pandemic)
• UK has captured at least a share of six of the last 13 SEC regular-season championships under John Calipari
• Kentucky has played in the championship game of the SEC Tournament in eight of Calipari's 11 tourneys, winning six times (2020 tournament not played because of COVID)
• UK won its 1,000th game in SEC regular-season action vs. Alabama on Jan. 11, 2020. Kansas has won 1,000 conference games when combining its records in the Big 6, Big 7, Big 8 and Big 12, but no other team in the country had won 1,000 or more regular-season league games in one conference alone
• Six teams made the 2022 NCAA Tournament field with Arkansas reaching the Elite Eight
• The SEC has had 27 NCAA Tournament selections over the last four tournaments, the third most. Only the Big 10 (30) and Atlantic Coast Conference (28) have had more
• The SEC went 5-6 in NCAA Tournament games in 2022. SEC teams are 78-49 (61.4%) in the NCAA tourney since 2012
• The league has advanced at least one team to the Elite Eight in 10 of the last 12 tournaments and nine different SEC teams have advanced to the Sweet Sixteen in the last five NCAA Tournaments
• The SEC has held its own in the annual Big 12/SEC Challenge. The SEC leads 31-28 over the last six seasons in the yearly January showdown and won outright in 2021 and '22
• Four SEC teams are ranked in the Jan. 16 Associated Press Top 25, with Texas A&M and Missouri also receiving votes