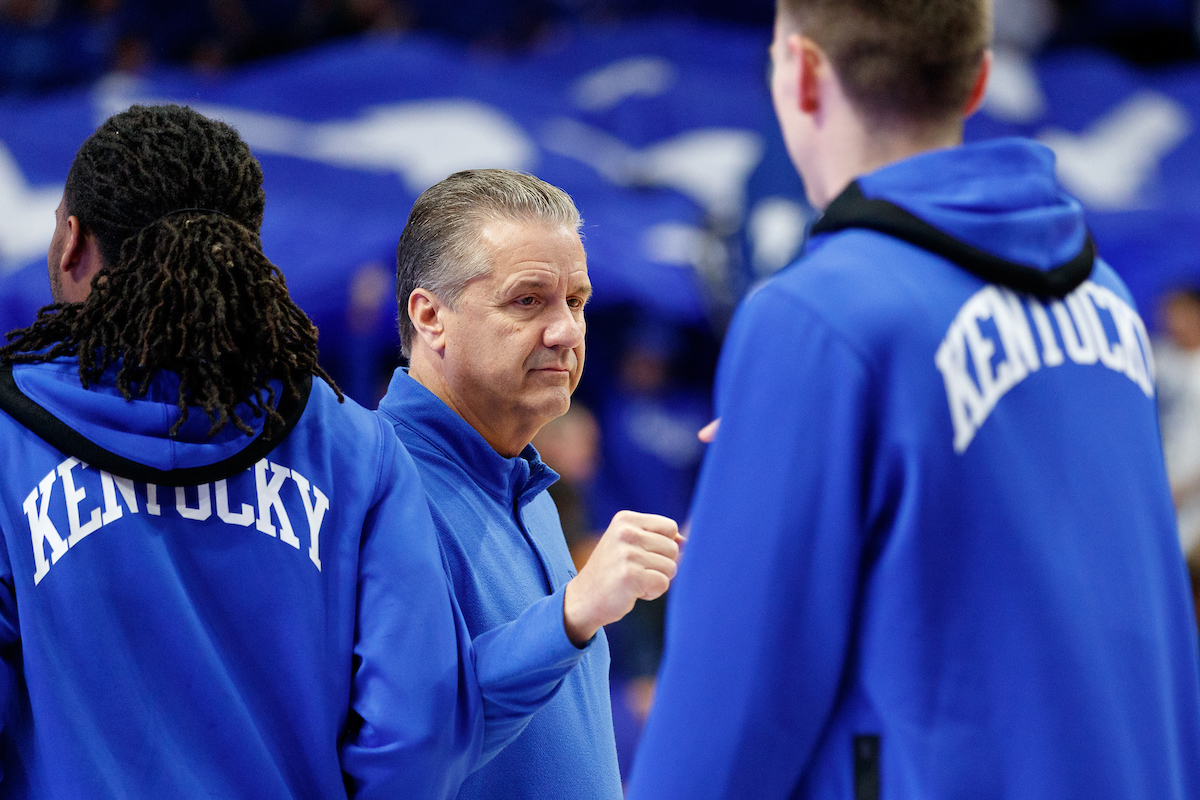 November 28, 2022 - 03:17 PM
Big Blue Preview: Kentucky vs. Bellarmine
Kentucky associate to the head coach Bruiser Flint realizes that the 2022-23 men's basketball season has essentially just started. So despite the fact that the Cats have lost twice in their first six games, Flint knows there's still a long way to go in the season.
"We've got some things to work on," Flint said during a press conference on Monday. "It's early."
The 19th-ranked Cats will continue to iron out some of those things this week, and especially on Tuesday night when Bellarmine comes to Rupp Arena to face the Cats (7 p.m. ET, SEC Network Plus). One thing that has helped, according to Flint, is actually having a full roster during practices.
"Our biggest thing is to get everybody together and on the same page," Flint said. "A lot of guys have missed a lot of time. We need to get guys back in tune with each other."
And when they get everyone in the same room at the same time, what are the Cats working on?
"Cal has really emphasized about getting back to some basic stuff," Flint said. "Really working on us. I think that's important."
Bellarmine certainly will not be phased by facing a nationally-ranked Kentucky team. The Knights are 2-5 on the season but have already faced road games at Duke and UCLA. One of Bellarmine's victories came over crosstown rival Louisville, 67-66, on Nov. 9.
Guard Peter Suder leads Bellarmine in scoring at 11.0 points per game. For the 17th straight year, the Knights are coached by Scott Davenport, who won his 400th career game earlier this season. Kentucky fans may remember Davenport as the head coach at Louisville Ballard High School, where he won a state title in 1988 behind star guard Allan Houston.
The Cats will be focused on improving themselves on Tuesday night, a task that should be easier now that UK has everyone back in the fold.
Need to Know …
Need to know facts about the Cats:
• Sahvir Wheeler ranks second in the league and 13th nationally with a 5.43-to-1 assist-to-turnover ratio. Wheeler leads the SEC and ranks fifth nationally with 7.6 assists per game
• Since the start of the 2019-20 season, his freshman season at Georgia, Wheeler's 577 total assists rank second nationally, only behind the 603 by Yuri Collins of Saint Louis
• Cason Wallace ranks ninth nationally with 18 total steals
• Wallace has totaled 29 assists and 18 steals through the first six games of his college career. The freshman is the only player in the country with at least 29 assists and 18 steals
• Wallace is third nationally in field-goal percentage (54.9%) among players with at least 25 total assists
• Oscar Tshiebwe's 22-point, 18-rebound game against Michigan State was the third such contest of his UK Career. He now has three of the six games of 20 or more points and at least 18 rebounds by an SEC player in the last 10 seasons. No other player has more than one and the feat had not been accomplished since South Carolina's Sindarius Thornwell did so against Alabama on Feb. 7, 2017
• Tshiebwe also has tallied a pair of 20-point, 15 rebound games so far this season and has five over the last two seasons. He has nine of the 51 20-point, 15-rebound contests by SEC players in the last 10 seasons
• Tshiebwe has an SEC-leading three double-doubles in 2022-23. He has produced a double-double in 31 of 38 career games for the Cats. The UK career record for double-doubles is 64 by Dan Issel. Tshiebwe already ranks fourth in UK history in the category
• Against North Florida, Tshiebwe became the only player in the country to record at least 15 points, 15 rebounds, five assists and three blocks in a game this season
• Ugonna Onyenso is tied for third nationally among freshman with 2.17 blocks per game
Best in the Bluegrass
Kentucky is 21-3 against in-state foes with John Calipari at the helm, including an 11-3 mark vs. Louisville.
Two of the victories over the Cardinals were during postseason play. The Wildcats have won all six meetings played inside Rupp Arena, including a 29-point win in 2017-18, the third-largest margin of victory in the history of the series. UofL's three wins are by a combined nine points.
Tuesday's matchup with Bellarmine will be the first between the two programs in their histories and the first of two regular-season matchups against in-state foes for the Cats in 2022-23.
Here is a list of the meetings between the state's two premier programs in the Calipari era:
• Jan. 2, 2010 – UK won 71-62 at Rupp Arena
• Dec. 31, 2010 – UK won 78-63 at the KFC Yum! Center
• Dec. 31, 2011 – UK won 69-62 at Rupp Arena
• March 31, 2012 – UK won 69-61 at the Superdome (NCAA Final Four in New Orleans)
• Dec. 29, 2012 – Louisville won 80-77 at the KFC Yum! Center
• Dec. 28, 2013 – UK won 73-66 at Rupp Arena
• March 28, 2014 – UK won 74-69 at Lucas Oil Stadium (NCAA Sweet Sixteen in Indianapolis)
• Dec. 27, 2014 – UK won 58-50 at the KFC Yum! Center
• Dec. 26, 2015 – UK won 75-73 at Rupp Arena
• Dec. 21, 2016 – Louisville won 73-70 at the KFC Yum! Center
• Dec. 29, 2017 – UK won 90-61 at Rupp Arena
• Dec. 29, 2018 – UK won 71-58 at the KFC Yum! Center
• Dec. 28, 2019 – UK won 78-70 (OT) at Rupp Arena
• Dec. 26, 2020 – Louisville won 62-59 at KFC Yum! Center