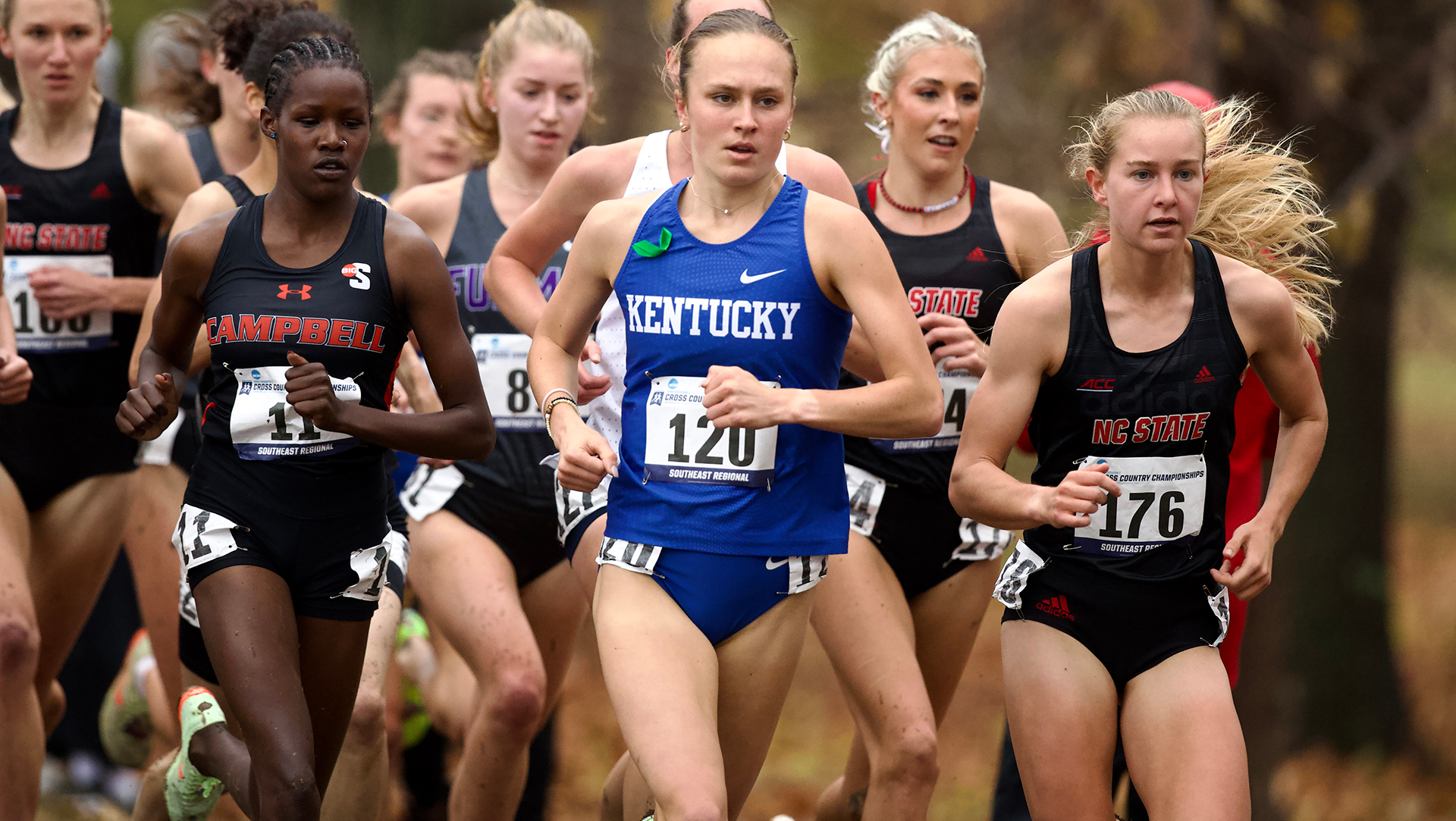 November 11, 2022 - 03:57 PM
Bockrath, Herman Qualify for NCAA Cross Country Championship
LOUISVILLE, Kentucky – Tori Herman and Perri Bockrath qualified for next week's NCAA Cross Country Championship during the Southeast Regional held Friday at E.P. "Tom" Sawyer State Park in Louisville.
Herman finished in fourth place individually by covering the 6,000-meter course in 20:10.9 while Bockrath traversed the terrain in 20:17.3 to place ninth. They will advance to the national championship meet November 19 in Stillwater, Oklahoma, the second season in a row that both runners will be in the national event. As a team, the Kentucky women finished sixth out of 32 teams at Friday's regional.
"Having two individuals qualify for the nationals, especially knowing that there are only four individuals that make it out of the regional that are not on (advancing) teams – to have half that group – is a testament to how strong both of them are," said assistant track coach Hakon DeVries, who guides UK's cross country and distance runners. "They have been two of the best runners in the nation all season and I'm so happy for them to have the opportunity to showcase it at the NCAAs, chasing the dream that started during the summer."
"Obviously, we had the intention of qualifying and we just went in there to do our best," said Herman, a junior from Hilton Head, South Carolina. "At the end of it we came in here to do our job and work together and that's what we did."
"It was muddy and sloppy (on the course) but we put our spikes on and worked through it together," said Bockrath, a graduate student from Centerville, Ohio. "Seeing Tori up there helped me race because I need to keep my eye on her and if she's racing well then I'm probably racing well. We work well off each other and seeing the finish line at the end, and knowing we both had an automatic spot, makes it so much better to cross the finish line."
After the top two, Kentucky's next three scorers were Sydney Steely in 48th place (21:19.7), Kaylie Kenne in 66th (21:41.2) and Jenna Schwinghamer in 77th (21:48.7).
"(Regarding the) Team standings, on the women's side I think everybody wanted to finish a little bit higher but every race you run is a learning experience, so we are going to learn from this one and those who are returning will come back hungrier for next season," DeVries said. "On the men's side, we came in ranked 10th (in the region) and finished 10th. We certainly have a good young core of guys and they're going to carry us in the future. Tenth isn't where we want to be but I'm happy with the direction the program is going."
The men's race was an 10k excursion, and as they have all season, Jake Allen and Dylan Allen led the way – Jake in 45th place (30:46.8) and Dylan in 55th (31:00.6). Joining them on the scoreboard were Aaron Withrow in 57th place (31:01.4), Jackson Watts in 71st (31:23.3) and Harper Moore in 76th (31:26.0).
The top two teams in each gender will advance to the national meet – North Carolina State and North Carolina on the women's side and North Carolina and Virginia in the men's category.
NCAA Southeast Regional, Nov. 12, 2022
UKXC Women's Team: 6th of 32 teams, 200 points (first five finishers count toward team scoring total)
UK 6k individual results, 232 total runners
4. Tori Herman, 20:10.9
9. Perri Bockrath, 20:17.3
48. Sydney Steely, 21:19.7
68. Kaylie Kenne, 21:41.2
77. Jenna Schwinghamer, 21.48.7
89. Ally Kruger, 22:06.6
110. DeAnna Martin, 22:25.2
UKXC Men's Team: 10th of 32 teams, 299 points (first five finishers count toward team scoring total)
UK 10k individual results; 222 total runners
45. Jake Allen, 30:46.8
55. Dylan Allen, 31:00.6
57. Aaron Withrow, 31:01.4
71. Jackson Watts, 31:23.3
76. Harper Moore, 31:26.0
96. Miles Brush, 32:00.1
112. McLean Griffin, 32:19.1