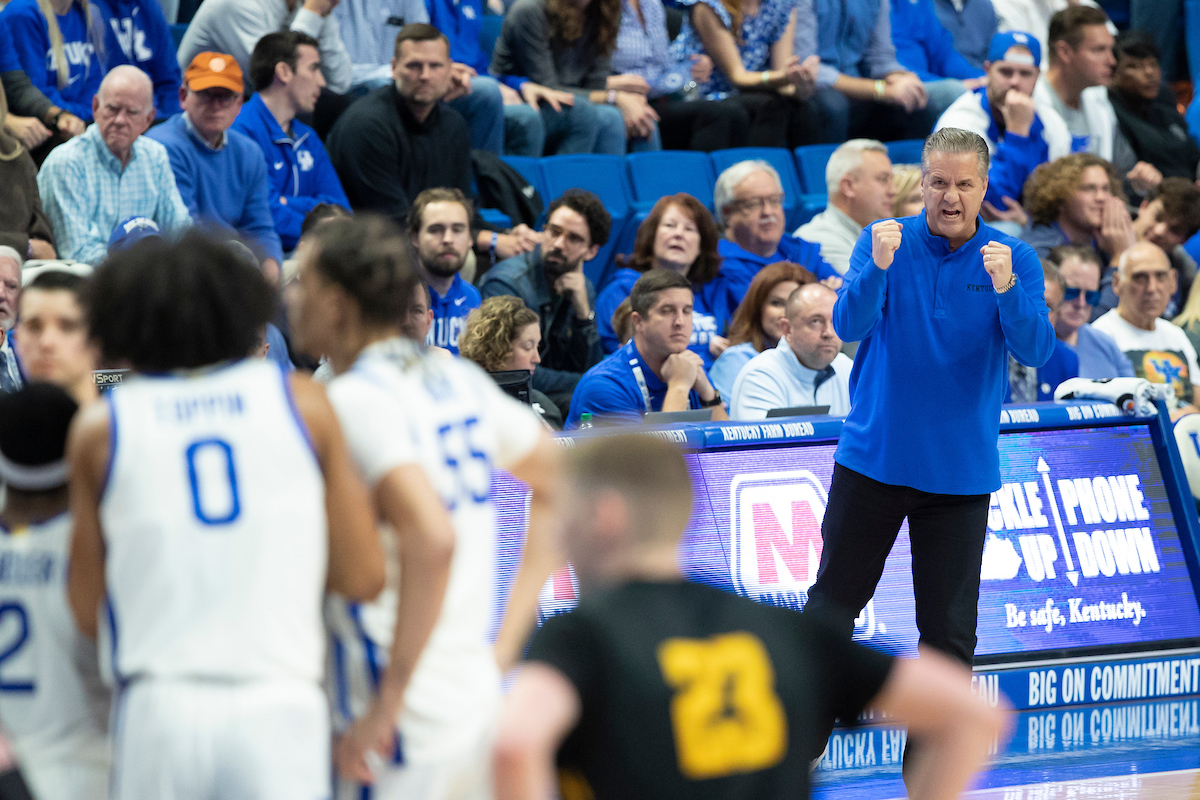 November 2, 2022 - 10:10 PM
Big Blue Preview: Kentucky vs. Kentucky State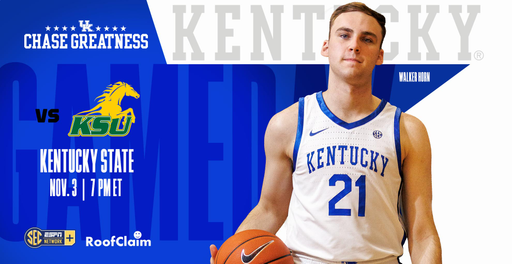 Preview
Perhaps the most pleasant surprise of Kentucky's first exhibition game, a 56-38 win over Missouri Western State, was freshman Ugonna Onyenso, who made an immediate splash for the Cats.
Onyenso, who reclassified to be eligible to play collegiately this season, entered the game mid-way through the first half. By the time the half ended, he had managed to block five shots over a four-minute span, giving a lift to his team and getting the Rupp Arena crowd excited about what they were seeing.
For Onyenso, it wasn't anything out of the norm.
"This is what I do," Onyenso said. "This is how I play."
Admittedly, he was a little bit surprised how well things went in his first game at Rupp Arena.
"I wasn't expecting to play that well," Onyenso said. "But I told myself to do what you do best."
The Cats get another chance to play in front of the Rupp Arena crowd on Thursday, hosting Kentucky State in the final exhibition game of the 2022-23 slate.
Kentucky got 15 points from CJ Fredrick in Sunday's win over Missouri Western. Jacob Toppin added 10 for the Cats in the win.
While the offense struggled at times, the defense was solid for Kentucky on Sunday. Led by Onyenso's five blocked shots, the Cats held MWSU to 30.8 percent shooting from the floor.
Missouri Western State Round-Up
While the offense struggled at times during UK's 56-38 win over Missouri Western State on Sunday night at Rupp Arena, the team's defensive effort was solid all the way around. Kentucky held MWSU to just 16 of 52 (30.8 percent) shooting from the floor, including two of 15 (13.3 percent) from behind the arc. The Cats also forced 16 turnovers in the contest and turned those into 17 points. Kentucky had seven steals and blocked 11 shots, led by five from freshman Ugonna Onyenso.
• UK improved to 145-12 all-time in exhibition games, including 1-0 vs. Missouri Western
• Kentucky has won its last 24 exhibition games dating back to Nov. 2, 2014, vs. Pikeville. The last loss was Aug. 17, 2014, vs. the Dominican Republic in the final game of the 2014 Big Blue Bahamas exhibition tour
• Kentucky limited Missouri Western to 38 points, fewest in an exhibition game since a 74-28 win over Transylvania on Nov. 5, 2012.
• CJ Fredrick led all scorers with 15 points, including 4 of 6 from 3-point shooting
Streaking at Home
With a victory over Ole Miss in the home finale, Kentucky notched a perfect 18-0 record in Rupp Arena for 2021-22. Kentucky will begin 2022-23 on a 19-game home winning streak. That mark is the longest current home winning streak in the Southeastern Conference.
• It was the 14th perfect home season in the 46-year history of Rupp Arena
• It marked the sixth time under Calipari the Cats were perfect at home. Calipari's teams were also spotless in 2009-10, 2010-11, 2011-12, 2014-15 and 2015-16
• UK is 633-77 (89.2%) at home in program history
• The Cats are 206-17 (92.4%) under Calipari
• Calipari owns the venue's longest winning streak at 54 games
Cats Give Back
As part of the University of Kentucky's commitment to the people of the Commonwealth and Big Blue Nation around the globe, the Wildcats continue to give back to those in need.
• All ticket revenue from the Cats' annual Blue-White Game, more than $160,000, went to Team Eastern Kentucky Flood Relief for those impacted by the devastating floods this summer. The team also participated in multiple community service activities in the area prior to the exhibition held in Pikeville, Kentucky
• Kentucky's men's and women's basketball team partnered with the Mamba and Mambacita Foundation to host a youth skills academy for underprivileged local boys and girls
• In partnership with Samaritan's Feet, coach John Calipari and several other Kentucky coaches handed out 10,000 pairs of shoes in eastern Kentucky in August. The Cats also spent a morning with the organization on their trip to the Bahamas, washing feet and delivering shoes to those in need
• In August, Kentucky's open practice in conjunction with a telethon hosted by Joe and Kelly Craft, LEX 18, the American Red Cross and Rupp Arena for Kentucky Flood Relief, raised more than $2 million for flood relief
• Calipari and the Wildcats traveled to five cities throughout the state this summer in conjunction with Kroger to raise funds for Kentuckians affected by the tornadoes that ravaged the state in December of 2021