HUNTSVILLE, Ala. – Highlighted by Perri Bockrath's victory in the women's 5,000 meters, the Kentucky men's and women's cross country teams each finished in second place at the North Alabama Showcase in Huntsville.
Held at John Hunt Park, Bockrath covered the 5,000 meters in 16:24.34, scoring a five-second win over Hilda Olemomoi of Alabama.  A graduate student from Centerville, Ohio, Bockrath eclipsed a field of 388 competitors for her first collegiate victory.
"The first mile was really important today," Bockrath said.  "Tori (teammate Tori Herman) and I got out in the front pack and stayed there. The course was super-fast and my legs were strong. With about 300 meters to go, we were together with the runner from Alabama and I thought 'Why not me?' With 200 meters to go I broke away and didn't look back. My first win since high school, it felt like I was in tune with myself again, a really good feeling."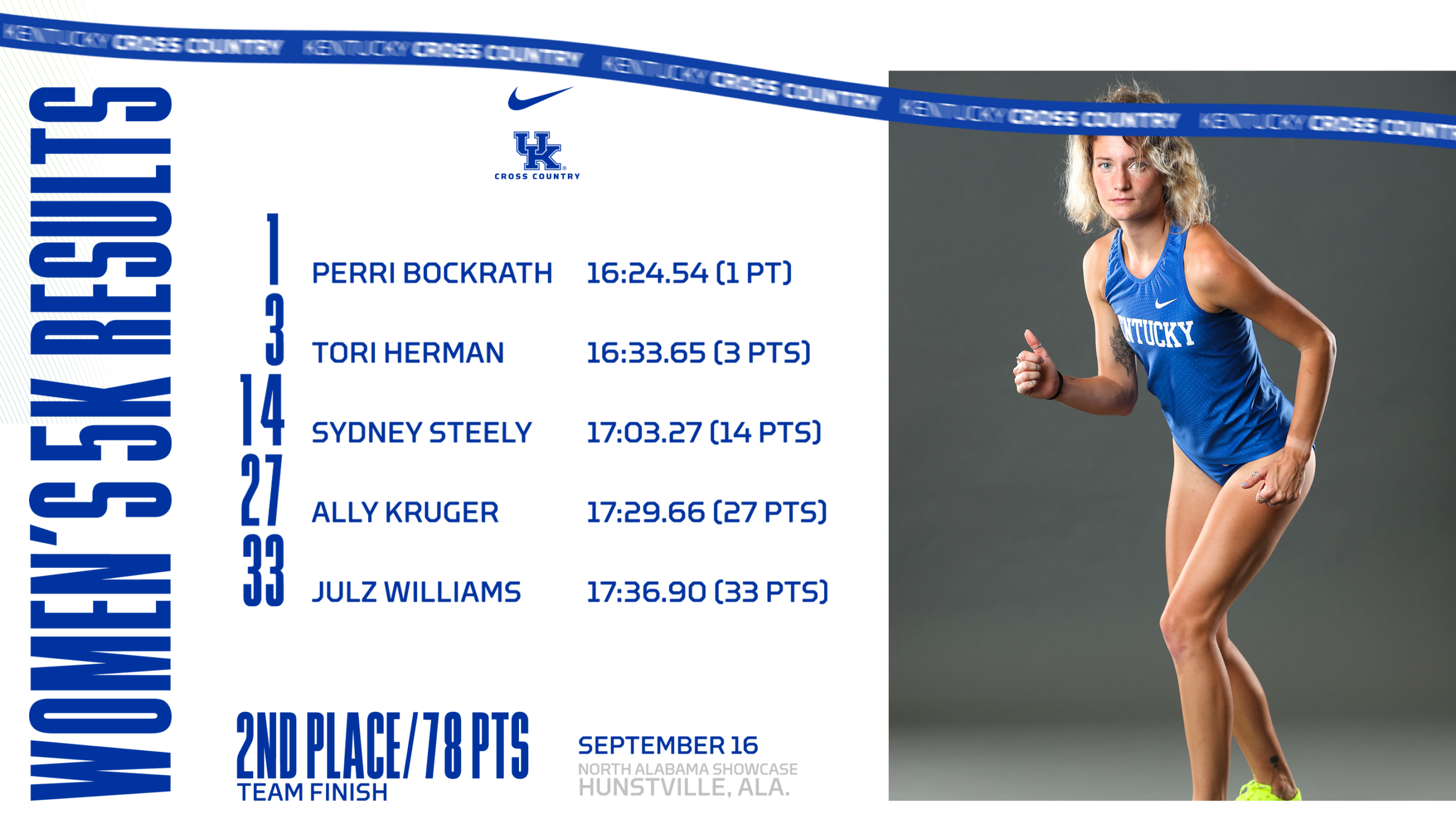 "Perri traditionally has been a slower starter, the big thing was convincing her that she belonged in the front group," said UK assistant coach Hakon DeVries, who works with the Wildcat cross country teams. "She got in the front group early, was still there late, and slammed the door."
Bockrath was supported by Herman, who finished in third place at 16:33.65.  Sydney Steely, a graduate transfer from Mississippi State, was 14th at 17:03.27.  True freshman Ally Kruger showed well in 27th place with a 17:29.66 mark and the top five was completed by sophompre Julz Williams, checking in at 33rd in 17:36.90.d
"The competition in the front group was great and Perri and Tori raced well together, which we had talked about before the race," DeVries said.  "Our second group worked well, too, and that helped us run our best.  As a true freshman, Ally stepped up in her first big-time race."
The Kentucky men put together a remarkable team effort, as five Wildcats finished between 13th and 26th places, with only 12 seconds separating the group.
Among a field of 366 entrants, senior Dylan Allen led the Cat pack in 13th place at 24:03.47, followed closely by junior Jake Allen (17th, 24:07.25), junior Harper Moore (18th, 24:09.02), senior Aaron Withrow (20th, 24:10.12) and soph Jackson Watts (26th, 24:15.73).
"We executed the plan like we wanted them to," DeVries said.  "We emphasized that we train together and we compete together. We were shoulder-to-shoulder throughout the race."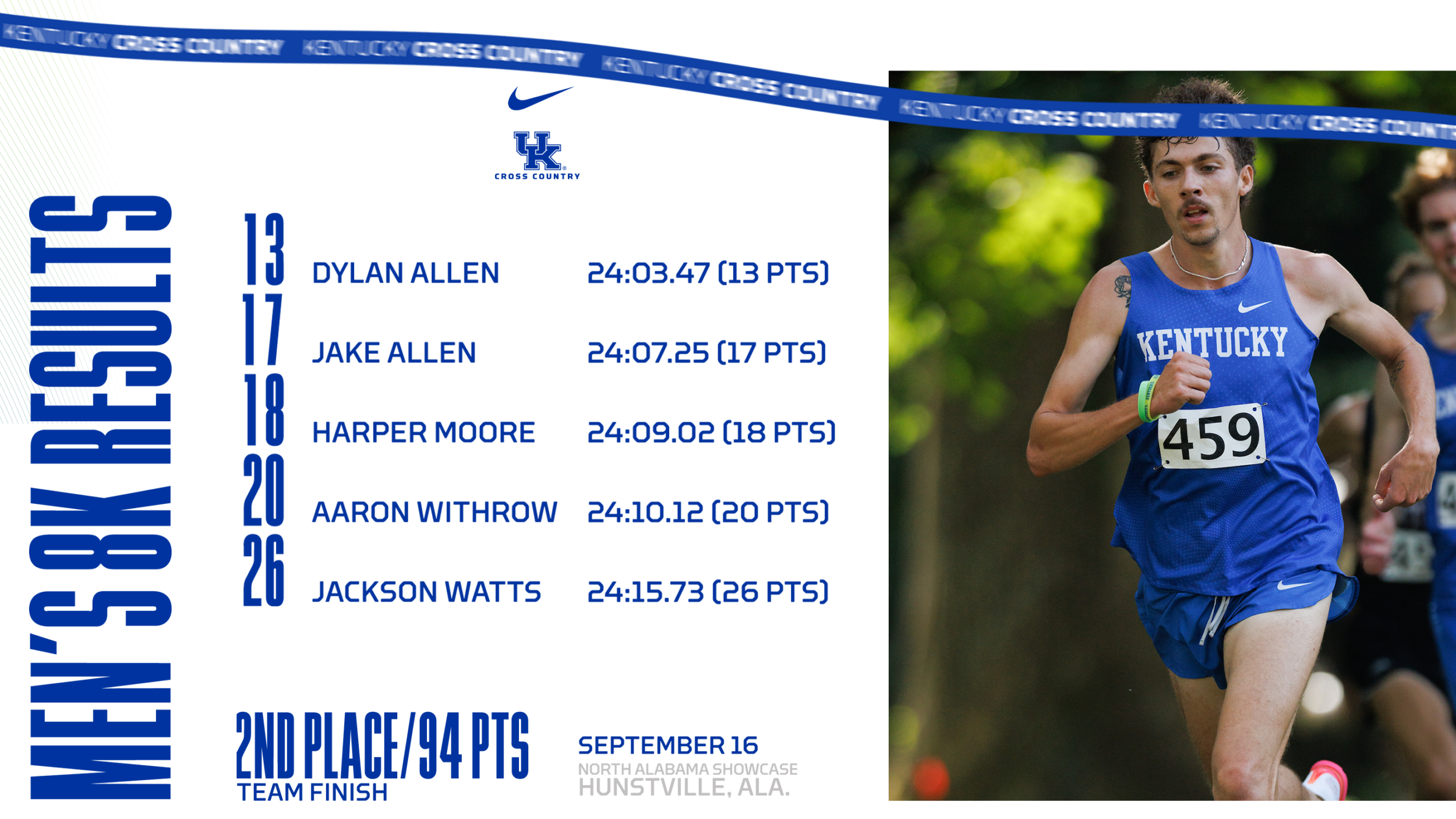 The University of Alabama won the meet on both the men's and women's sides.  With low scores winning, the Alabama men had 74 points, followed by UK's 94.  The UK women were edged by Alabama, 73-78.
UKXC Women's Team: 2nd, 78 points (first five finishers count toward team scoring total)
UK 5k Individual Results; 388 total runners
1. Perri Bockrath: 16:24.54
3. Tori Herman: 16:33.65
14. Sydney Steely: 17:03.72
27. Ally Kruger: 17:29.66
33. Julz Williams: 17:36.90
43. Kaylie Kenne: 17:51.89
52. Jenna Schwinghamer: 17:58.29
67. Mollie Roden, 18:10.94
85. DeAnna Martin, 18:21.92
121. Natalie Molotky, 18:36.96
154. Phoebe McCowan, 18:55.25
167. Bryanna Lucas, 19:00.56
195. Maggie Aydt, 19:19.18
UKXC Men's Team: 2nd, 94 points (first five finishers count toward team scoring total)
UK 8k individual results; 366 total runners
13. Dylan Allen: 24:03.47
17. Jake Allen: 24:07.25
18. Harper Moore: 24:09.02
20. Aaron Withrow: 24:10.12
26. Jackson Watts: 24:15.73
57. Miles Brush: 24:40.65
62. Alex Justus: 24:43.02
88. McLean Griffin: 25:03.00
113. Cade Byer, 25:18.84
153. Blake Byer, 25:53.49
Kentucky returns to action Sept. 24 at the Cowboy Jamboree, hosted by Oklahoma State in Stillwater, Okla.
Follow Kentucky Track and Field and Cross Country on Facebook, Instagram, Twitter and at UKathletics.com.