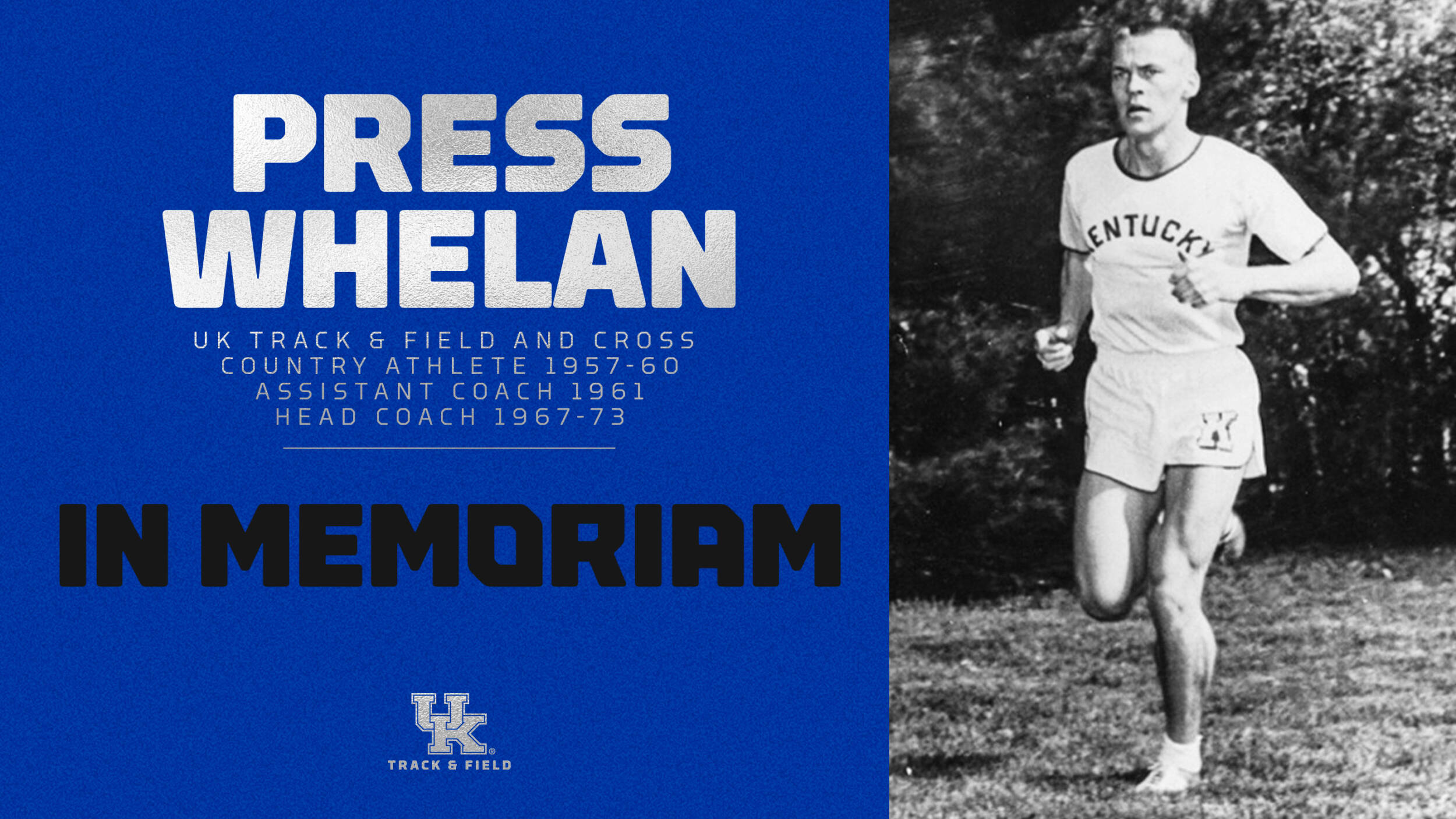 August 19, 2022 - 01:37 PM
Press Whelan, UK Athletics Hall of Famer, Has Died
LEXINGTON, Ky. – Press Whelan, a national champion and three-time Southeastern Conference champion in track and cross country, who later became head coach of University of Kentucky track and field, and a member of the UK Athletics Hall of Fame, died Tuesday at the age of 84.
"Press Whelan has a unique place in our history," said Mitch Barnhart, UK Director of Athletics.  "He made championship contributions as an athlete and coach and played a role in the integration of the SEC. He had an impact on so many people as a coach and a friend.  We are saddened by his passing and our condolences are with his wife Phyllis, his family, and everyone he influenced."
Born in New Haven, Ky., Whelan (pronounced "WHAY-lan") competed at UK from 1957-60. He won a national title in the two-man, 10-mile relay.  He set a record time while winning the 1957 SEC cross country championship and also captured the SEC track title twice in the two-mile run. His stellar performances led the Blue and White to back-to-back SEC cross country championships in 1958 and 1959. Following his collegiate competitive career, he served as an assistant coach in 1961.
Whelan was named the cross country/track and field head coach in 1967 and held the post until 1973. He guided the cross country squad to an SEC title in 1970. His athletes won four individual national titles and 33 conference crowns. In addition, Whelan was involved in the integration of the SEC as he coached the league's first African-American track athlete, Jim Green, who co-held the world record in the 100-yard dash.
"Coach Whelan was a fabulous coach and even better person than he was a coach," Green said. "He told me it wasn't going to be easy, and it wasn't, but he was always there for me. He was a father figure, an outstanding man. He taught us to do the right thing and made sure we got an education.
"He was a tough man, battling an illness for 14 years.  My teammates and I called him 'Iron Man' because he never gave up.  His disposition never changed, never said a bad word about anybody. Never. When we talked on the phone, I always ended with, 'I love you, Coach' and he would reply, 'I love you, Jim.' We had a bond that stayed from 1968 until the day he died. He will surely be missed."
In addition to Green, Whelan's proteges included NCAA long jump champion Bill Lightsey; Vic Nelson, seven-time SEC champion in cross country, indoor and outdoor track and a UK Athletics Hall of Famer (inducted 2019); and Don Weber, member of the 1970 SEC title team who was head coach of UK for 28 years and also is in the UK Hall of Fame (inducted 2019).
Whelan joins Joe B. Hall of men's basketball as the only two Wildcats in school history to win an SEC championship as a player and head coach.  Hall was a member of UK's 1949 SEC title team and guided the Wildcats to eight SEC regular-season crowns as head coach.
Whelan was inducted into the UK Athletics Hall of Fame in 2013.  He was an uncle to three nephews with connections to Wildcat Athletics — Bob Whelan, a UK track star from 1987-90, an NCAA champion, six-time SEC champ and inducted into the UK Athletics Hall of Fame in 2021; Joe Whelan, who ran for the UK cross country team; and Bill Whelan, a student equipment manager for the football team.
Following his collegiate coaching career, Press Whelan assisted the U.S. State Department by coaching foreign track teams in Turkey and Lebanon. In addition, he stayed active as an athlete and competed in three Senior Olympics and one national senior indoor championship. He is a member of four halls of fame.
Whelan is survived by his loving wife of 55 years, Phyllis; his daughter Erika Trelles; his son Preston; and five grandsons.  He will be honored with a celebration of life Wednesday, August 24 in Acworth, Ga.