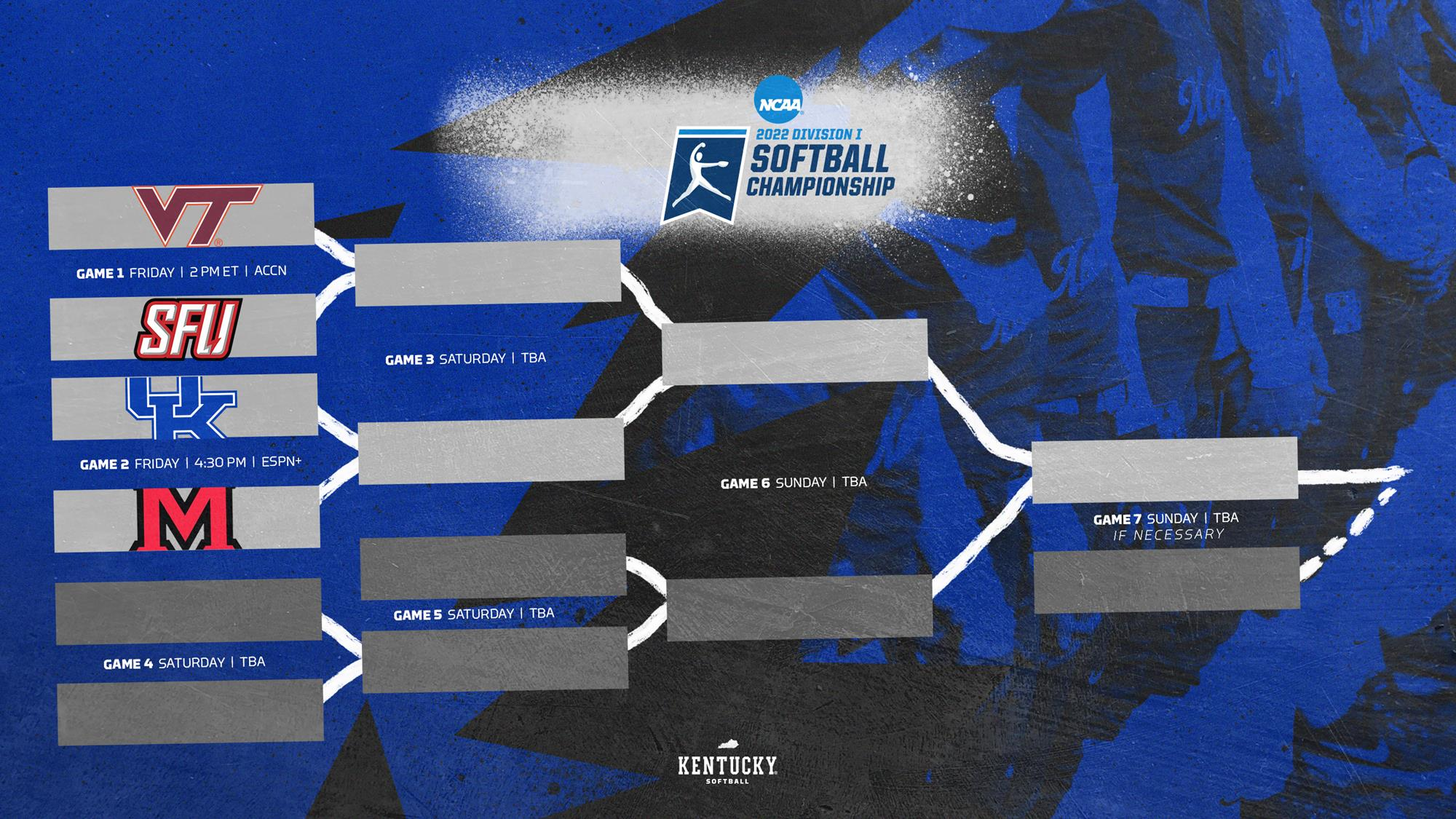 LEXINGTON, Ky. – For the 13th-straight year, the Kentucky Softball program was selected to the NCAA Tournament, as the Wildcats have been slotted into the Blacksburg Regional, hosted by No. 3 overall seed Virginia Tech.
 
The other participants in the Blacksburg Regional are Miami (OH), automatic qualifiers out of the Mid-American Conference, and St. Francis (PA), automatic qualifiers out of the Northeast Conference.
 
(3) Virginia Tech will play St. Francis on Friday at 2 p.m. ET with the game airing on ACC Network. The Wildcats will play Miami (OH) at 4:30 p.m. ET on ESPN+ or 35 minutes following the conclusion of the VT/SFU game.
 
Saturday and Sunday's schedule will be released in conjunction with ESPN and its family of networks at a later date.
 
Tickets to the NCAA regional games played at Tech Softball Park will be made available on Monday, May 16, while supplies last. Fans can purchase either an all-session pass that includes every game in the Blacksburg Regional or on a single-session basis. Both reserved seating and general admission seating will be offered, with reserved seats limited to all-session passes.
 
The on-sale timeline for NCAA regional tickets is as follows, with quantities limited to four (4) tickets per account:
 
10 a.m. ET – Current Hokie Ambassador, Hokie Scholar and Hokie Stone donors
Noon ET – Remaining current Hokie Scholarship Fund donors
2 p.m. ET – General public
 
Kentucky lost to Virginia Tech, 6-1 on opening weekend at the Northern Lights/Southern Nights Tournament, and fell to Miami (OH) in Oxford earlier in the season. UK and SFU have not played this season.
 
For the latest on UK Softball, follow the Wildcats on Twitter and Instagram at @UKSoftball.