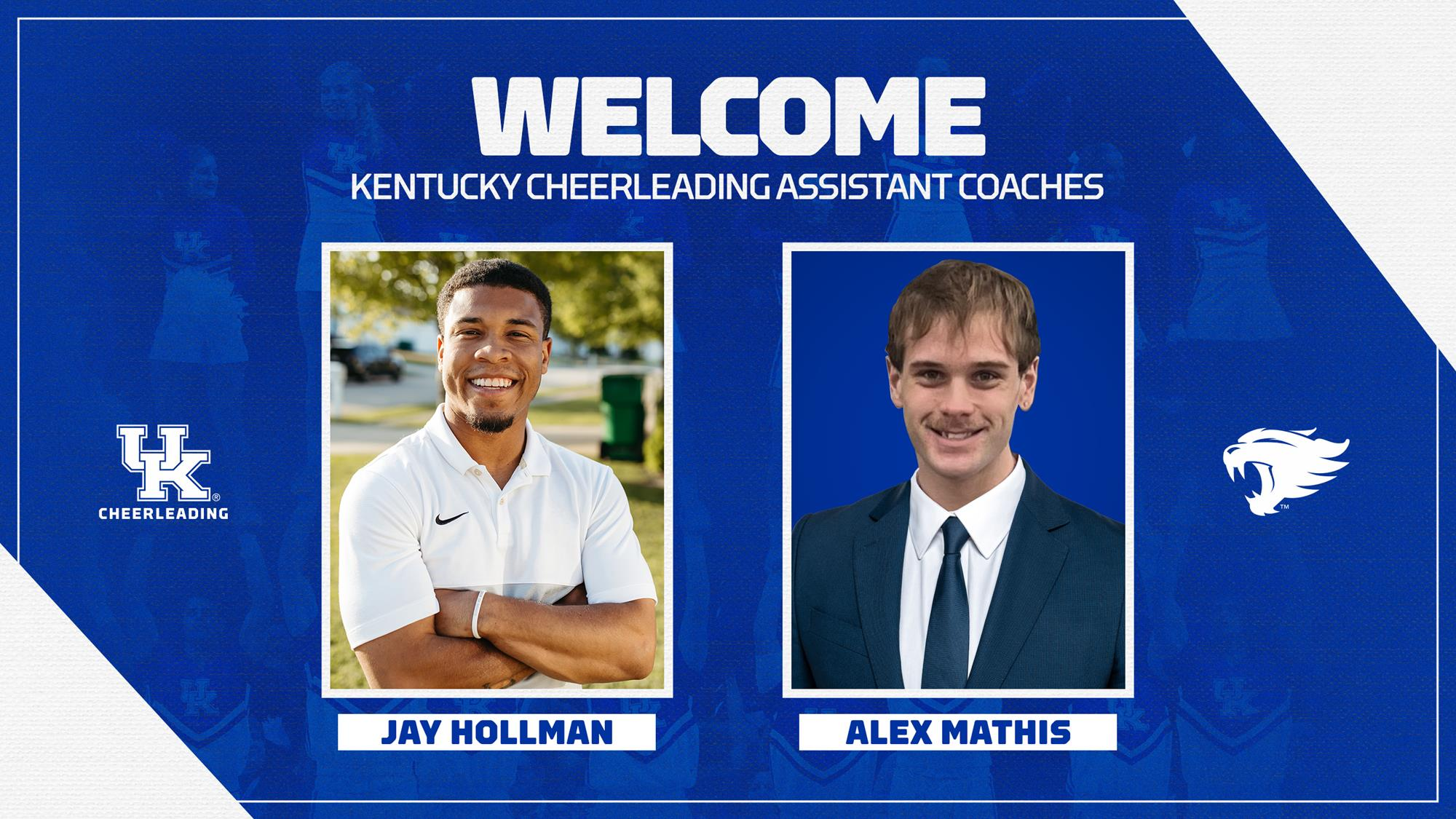 UK Cheerleading Announces Two New Assistant Coaches
LEXINGTON, Ky. – Kentucky cheerleading head coach Ryan Martin O'Connor has announced the hiring of two additional assistant coaches. Jay Hollman and Alex Mathis will both be members of O'Connor's Kentucky staff, beginning immediately. Both come with stellar credentials in the coaching field.
Hollman, who cheered collegiately at Central Florida, brings a wealth of successful experience as an athlete and coach. Hollman graduated from UCF in 2019 with a degree in sports and exercise science. The Birmingham, Alabama, native led the Knights to a UCA Game Day national title during his collegiate career and was also an International Cheer Union world champion in 2019. Since graduation, Hollman has been an assistant coach at Purdue, has coached PRIDE athletics in Greenup, Kentucky and has been on the UCA College staff.
"We are so lucky to have Jay as a part of this coaching staff," O'Connor said. "I have watched Jay since he was a high school athlete and his energy and passion for the sport is contagious. I am looking forward to welcoming him to Lexington and the Big Blue Nation."
"The opportunity to join the UK family, and to work with Coach O'Connor, as a part of the cheerleading coaching staff is humbling and exciting," Hollman said. "I am so excited to dive in and learn the program's long-standing history and traditions and to bring a different perspective to the staff."
Mathis graduated from UK in 2021 with a bachelor of arts in history. The Paducah, Kentucky, native was the MVP of the Blue squad in 2021, his senior season.
"I am so excited to welcome Alex back to Kentucky," O'Connor said. "As an athlete, Alex was a leader with his actions. He never missed a day in the gym and he improved every year he was in the program. I am confident he will help our athletes do the same."
"I am very excited to start this journey with the Kentucky cheerleading program," Mathis said. "To be able to give back to a program that gave me so much is a rare and special opportunity. I look forward to working with Coach O'Connor and the entire program."
Previously, O'Connor announced that Whitney (Agee) Hollman would be joining the UK cheerleading staff. Whitney and Jay Hollman are married and have a son, Greyson.