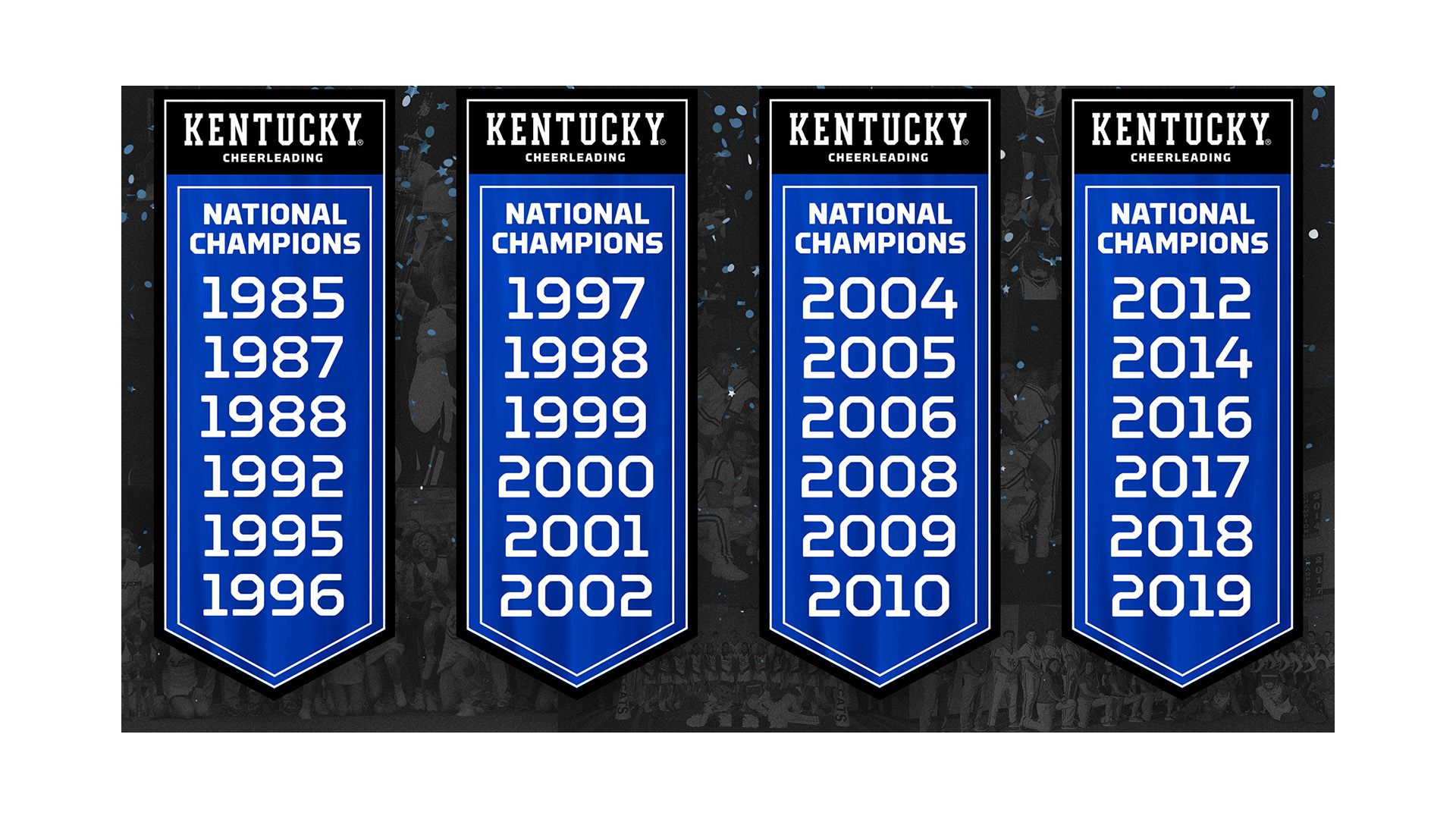 December 18, 2020 - 06:11 PM
About the UK Cheerleading Program
For for all other inquiries about the cheerleading or mascot program or appearance requests, email UKCheer@uky.edu
About Our Program and Frequently Asked Questions:
We are looking for well-rounded athletes to represent the University of Kentucky at athletic events, at on-campus and off-campus appearances, and competitively. We have TWO coed teams, so having experience as a male base or a female top girl is important in order to be a part of our program. Please review our frequently asked questions below.
Blue Squad (Varsity)

Home & Away Football Games
Men's Basketball Games
Travel to post-season bowl games and men's basketball tournaments
Occasional gymnastics meets
Compete at UCA College Nationals in D1A

White Squad (Junior Varsity)

Home Football Games
Home Volleyball Games
Women's Basketball Games
Travel to post-season women's basketball tournament
Occasional gymnastics meets
Plan to compete at UCA College Nationals
Weekly Schedule:
Practice 3-4 days a week for 2-2.5 hours (currently we practice SMWF) *Nationals practices are different*
Male Workouts: 3 days a week (MWF)
Female Workouts: 2 days a week (TTh)
CATS Study Hours – You will be required to compete 5 hours in Study Hall. CATS is a huge benefit for us! You will use it a lot during your time at Kentucky!
Program Requirements:
TRYOUTS: In order to try out for our program, you must receive an invite. These are handed out at in-person clinics. We host 2-3 of these per year.
AMBASSADORS: First & foremost, you must be able to represent the University of Kentucky 24/7 365 days a year! As a Kentucky Cheerleader, you are well-known, and you must be able to handle that responsibility! This will be judged throughout the clinic process and tryout process as we get to know you. We will also look at your social media, ask for references from past coaches and have an interview portion of tryouts.
GAMEDAY: We cheer a minimum of 10 football games, 36 basketball games, 10 volleyball matches throughout the year so you MUST be able to represent us well on gameday! This means voice, smile, proper motion placement and sharpness. This can also be a deciding factor in Blue/White Squad.
GAMEDAY SKILLS: You must be able to easily perform "IME/Gameday" stunts with multiple partners. For example: All toss stunts, full ups, hands full arounds, tic-tocs, etc. Any stunt that does not require a spotter. These are incredibly important! Do NOT skip basics and start on elites without mastering these skills!
ELITE SKILLS: You will need to be able to perform 2-3 elite skills with a double down from a body position. For example: Flipping & spinning skills to one leg or to one arm, skills that require a spotter.
TUMBLING: A round off back handspring full is a minimum requirement for our program. 95% have much more. Tumbling will help set you apart if your tryout is similar to someone else's in every other category.
Other Benefits:
Over $800 in Nike Gear (Backpacks, 2 pairs of shoes, practice shirts & shorts, warmups, etc)
Access to weight rooms with our own strength and conditioning coach
Access to nutritionist and nutrition stations around campus
Access to CATS with academic counseling, computer labs and free printing!
Free travel throughout the year for games & competition. No out-of-pocket fees throughout the year. Just show up every day and do the work!
Scholarships: everyone in our program receives some type of scholarship. Amounts depend on GPA, skill level, years in the program and need.
A chance to represent the BEST university and cheerleading program in the world!