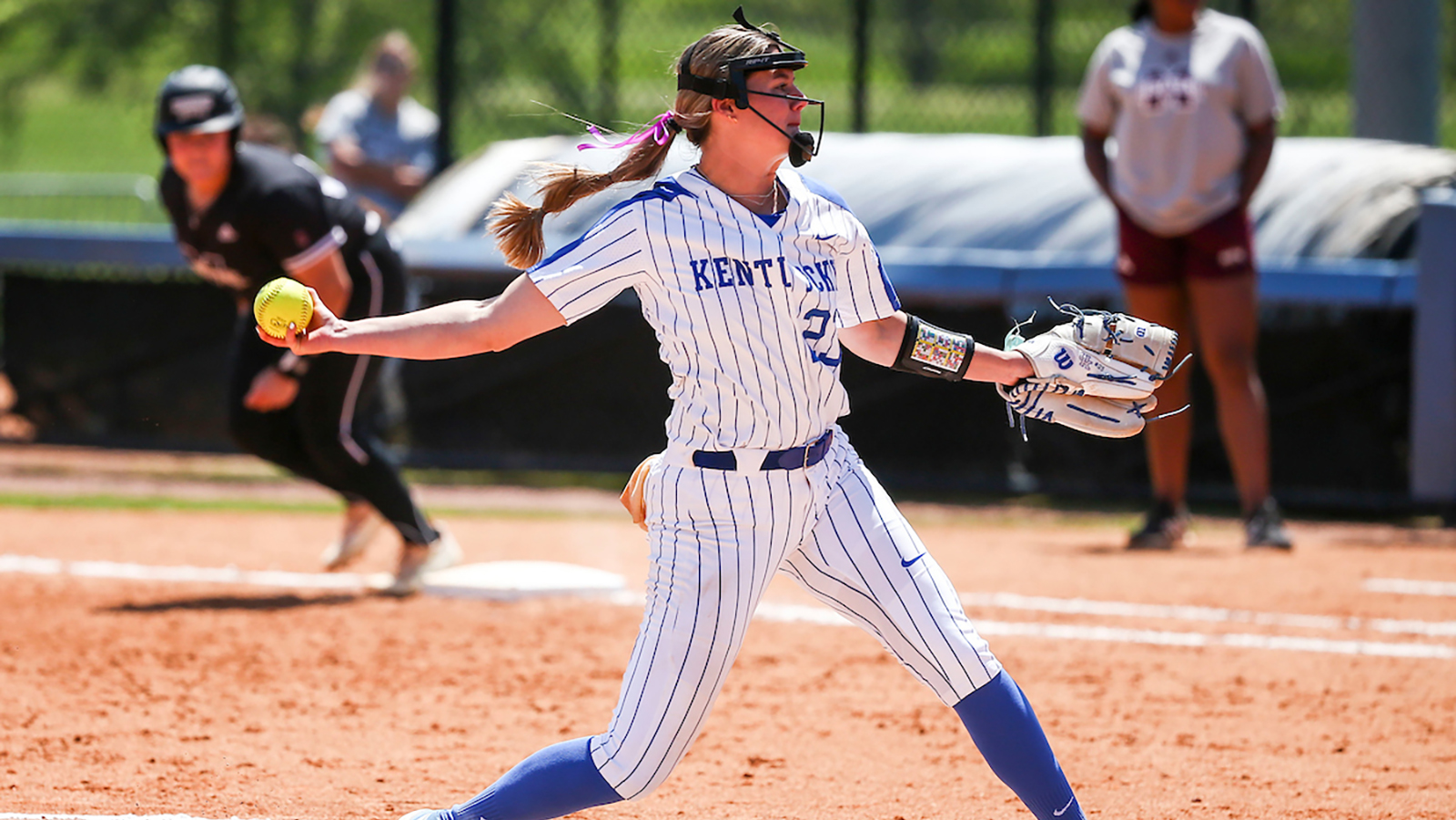 The first two innings of Sunday's SEC softball game between Kentucky and Mississippi State had a little bit of everything. Through it all, there was one constant – UK starting pitcher Stephanie Schoonover.
First the weird, which started in the bottom of the inital inning. With one out and two runners on, UK's Renee Abernathy hit an infield chopper that resulted in two runners being involved in a rundown. Ultimately, Kayla Kowalik was ruled out at the plate on the play. However, after UK head coach Rachel Lawson asked for a review, Kowalik was ruled safe at the plate due to obstruction and the Cats took a 1-0 lead. Or did they?
MSU asked for a review of a different portion of the same play. Upon that review, Kowalik was ruled out after she and Erin Coffel occupied the same base at the same time and were tagged by an MSU defender. That wiped out the run and UK ultimately did not score in the inning.
The Bulldogs would score a run in the top of the second to grab a 1-0 advantage. But the Cats fought back in the bottom of the frame, sending 11 batters to the plate and scoring six times to take control of the game. The big blow in the inning was a three-run blast by freshman Taylor Ebbs. MSU would make a pitching change in the middle of the inning, extending the time that Schoonover was forced to be on the bench. In fact, she went to the bullpen to stay warm while her team continued to bat. The right-hander did her best to stay in the game both mentally and physically during the long first two innings.
 
"I kind of did my between innings, pre-pitch – all of that in the bullpen, just like I was going in right then for that pitch," Schoonover said. "I did that a couple of times actually. Then, I have this ritual where I do jumping jacks. So, I did my jumping jacks and I just tried to really stay focused, stay in the game and cheer for every batter because it was a long inning."
Schoonover, who made her team-high 13th start on Sunday, battled out of a tough spot in the third inning. With two runners on and only one out, Schoonover got MSU's Paige Cook to pop out to first, then struck out Matalasi Faapito to end the threat. It was, perhaps, the biggest sequence of the game, according to Schoonover.
"With the wind blowing and everything, you never know where the ball is going," Schoonover said. "So, when Meeko (Harrison) caught that ball over there, it was awesome. It kind of got me pumped up a little bit."
Kentucky added a run in the third, then two more in the fourth, on a home run by Harrison, to lead 9-1 through four innings.
Schoonover (6-3) came back out to try to close out a potential run-rule win, but she allowed a two-run homer to MSU's Mia Davidson, making it 9-3. After walking the next batter, Schoonover's day was done. She allowed three earned runs in four innings plus, giving up four hits and two walks while striking out six, one shy of her career high. She knew what was working for her on Sunday.
"My curve ball," she said, without hesitation. "(Lawson) has been really jabbing at me to spin it. To go after them and trust my spin. And that's what I did today."
Lawson likes how Schoonover continues to improve, even late in the season.
"Incredibly mature," Lawson said. "Each game and each day, she learns and she gets better and she has great outings. I just think she's really starting to figure things out. I feel good about where she's at right now."
With all of the distractions that come with the postseason, an outing like the one Schoonover had on Sunday in the Cats' 9-5 win could be beneficial for the team moving forward.