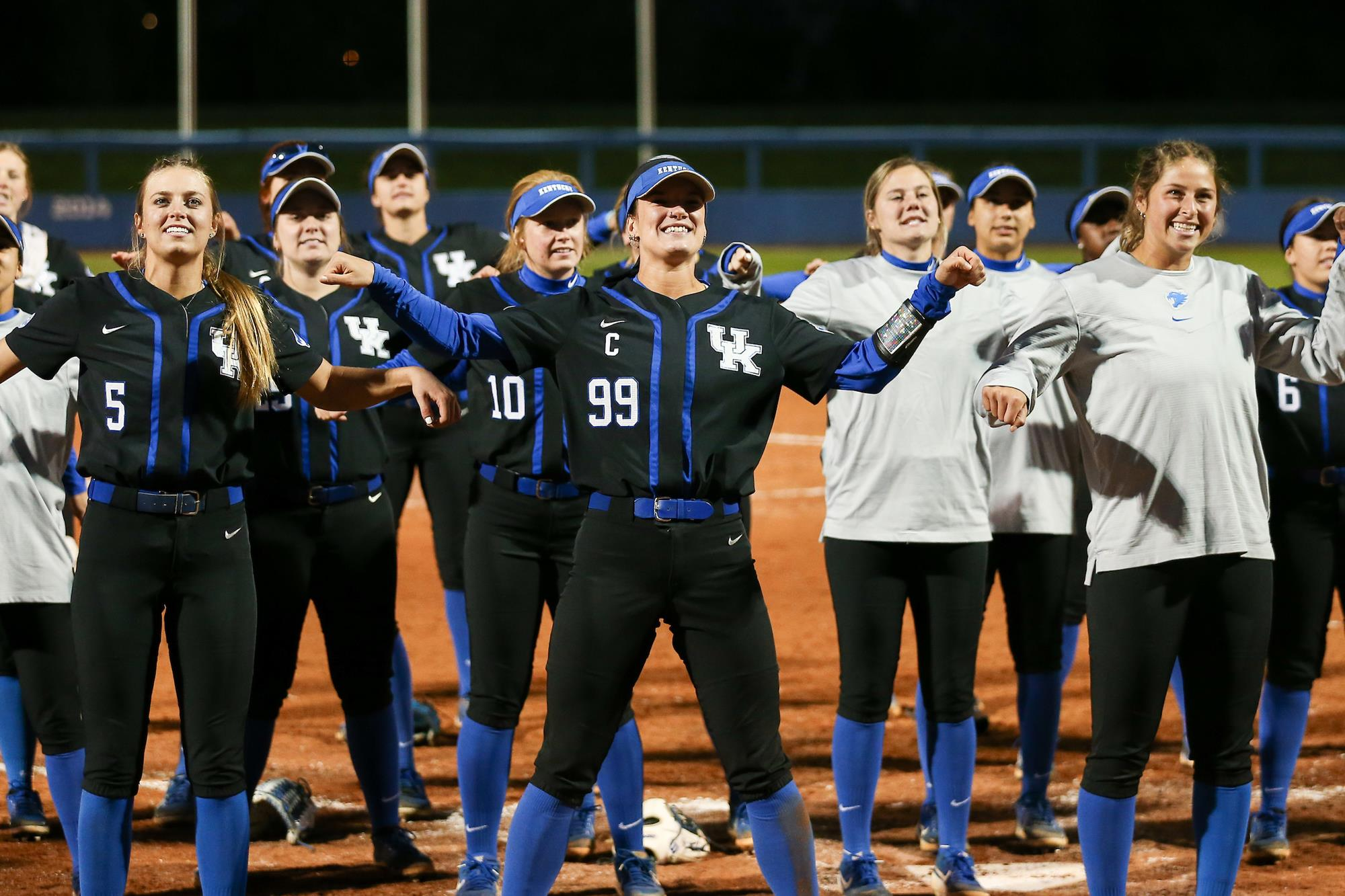 LEXINGTON, Ky. – The No. 11/14 Kentucky Softball team will close out its home slate of games this weekend as it hosts Mississippi State for a three-game Southeastern Conference series beginning Friday night and running through Sunday afternoon.
The graduating class of 2022 seniors will be honored in the annual Senior Day game Saturday afternoon at 2:45 p.m. ET ahead of the 3 o'clock first pitch on SEC Network with Eric Frede and former Tennessee All-American Madison Shipman on the call.
Both Friday and Sunday's games will be broadcasted live on SEC Network+, ESPN+ and the ESPN app with Dave Baker and Dorian Craft on the call from John Cropp Stadium.
Kentucky will be honoring seniors prior to the game Saturday in Renee Abernathy, Jaci Babbs, Emma Boitnott and Tatum Spangler. Kayla Kowalik and Kennedy Sullivan are both planning on returning for a fifth year in 2023, and will go through Senior Day ceremonies next season. Lauren Johnson went through Senior Day festivities in 2021 and will be honored prior to the game Saturday, as well, as she returned for a fifth year of eligibility in 2022.
Mississippi State is 29-19 on the season and sitting one game behind UK at 8-10 in SEC play this season. This is head coach Sam Ricketts' third year at the helm of the Bulldogs, however will be the first time she has coached against the Wildcats. The teams did not play in 2020 due to the COVID-shortened season, or in 2021 due to the SEC schedule rotation.
UK has won four of the last five series with the Bulldogs, including a three-game sweep in 2018, MSU's last visit to John Cropp Stadium.
Kentucky is 31-14 overall and 9-9 in the SEC with two series remaining on its schedule. UK is coming off its first three-game SEC sweep since 2019 at the hands of Mizzou.
For the latest on UK Softball, follow the Wildcats on Twitter and Instagram at @UKSoftball.