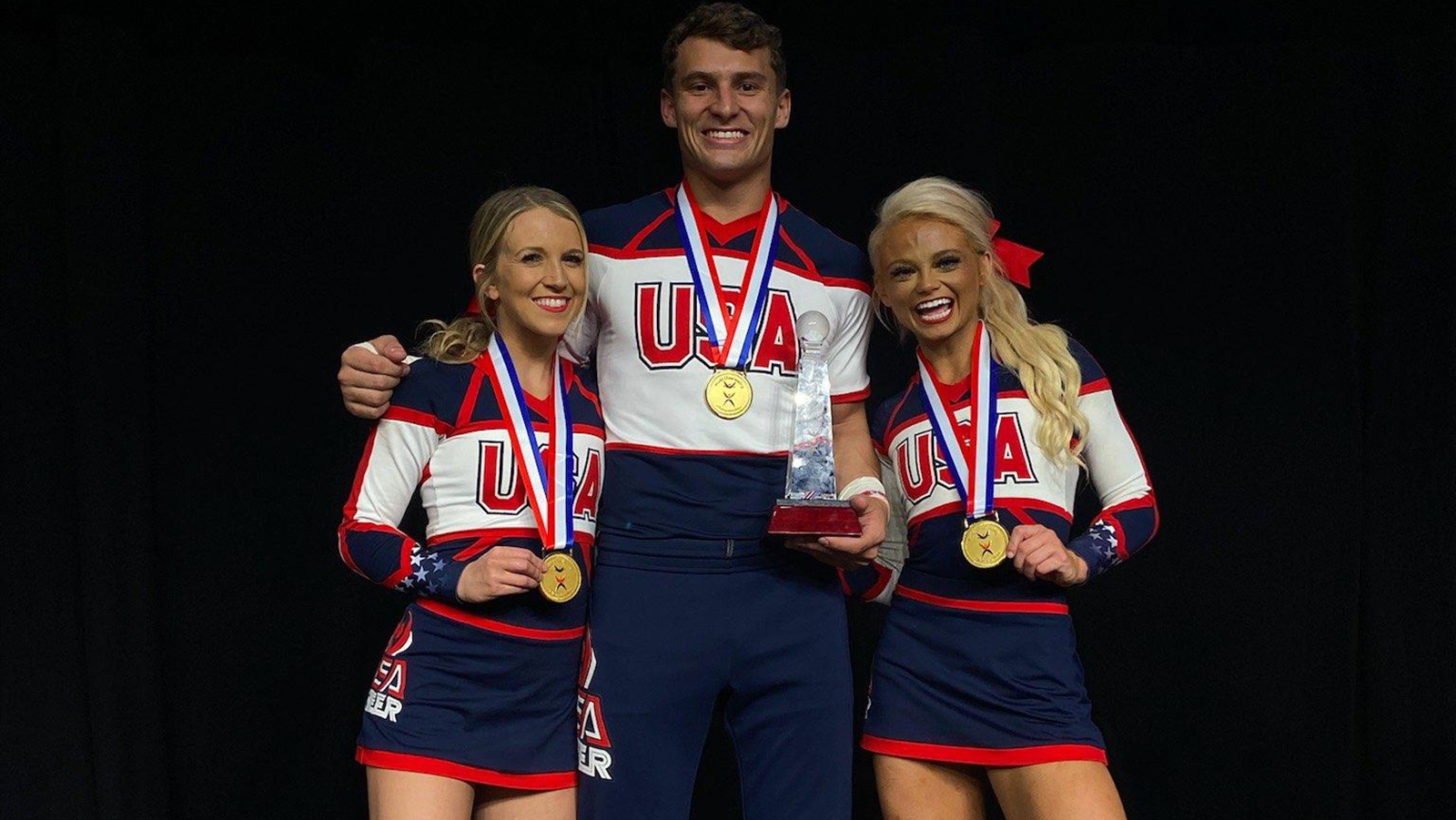 April 26, 2022 - 02:16 PM
Two Current UK Cheerleaders Win Gold at ICU World Championships
Photo: Hayden Story (center), Maddie Hayes (right), with former UK teammate Riley Aguiar (left), at the 2022 ICU World Cheerleading Championships
LEXINGTON, Ky. – Two current Kentucky cheerleaders earned gold medals as a part of Team USA at the International Cheer Union World Cheerleading Championships last weekend in Orlando.
Maddie Hayes and Hayden Story, who are current members of the UK Cheer squad, were selected to compete for the United States after trying out for the team in November. The duo, selected by USA Cheer, were on the USA team that topped teams from Canada, England, Finland, Germany, Mexico, Norway and Sweden.
Hayes is a native of Mansfield, Texas just completed her fourth season with the UK squad. Story, from Carson City, Nevada, has been with the UK program for three seasons. They are the first current Kentucky cheerleaders to earn the right to be a part of Team USA, which is a significant accomplishment according to UK head coach, and former Team USA cheerleader Ryan Martin O'Connor.
"I could not be more proud of both Hayden and Maddie for being the first current UK student-athletes to be part of Team USA," O'Connor said. "Balancing the work that it takes to be a part of Team USA and the work it takes to be a part of our team is really hard, yet both Hayden and Maddie were able to get it done. That says a lot about them as cheerleaders and as people."