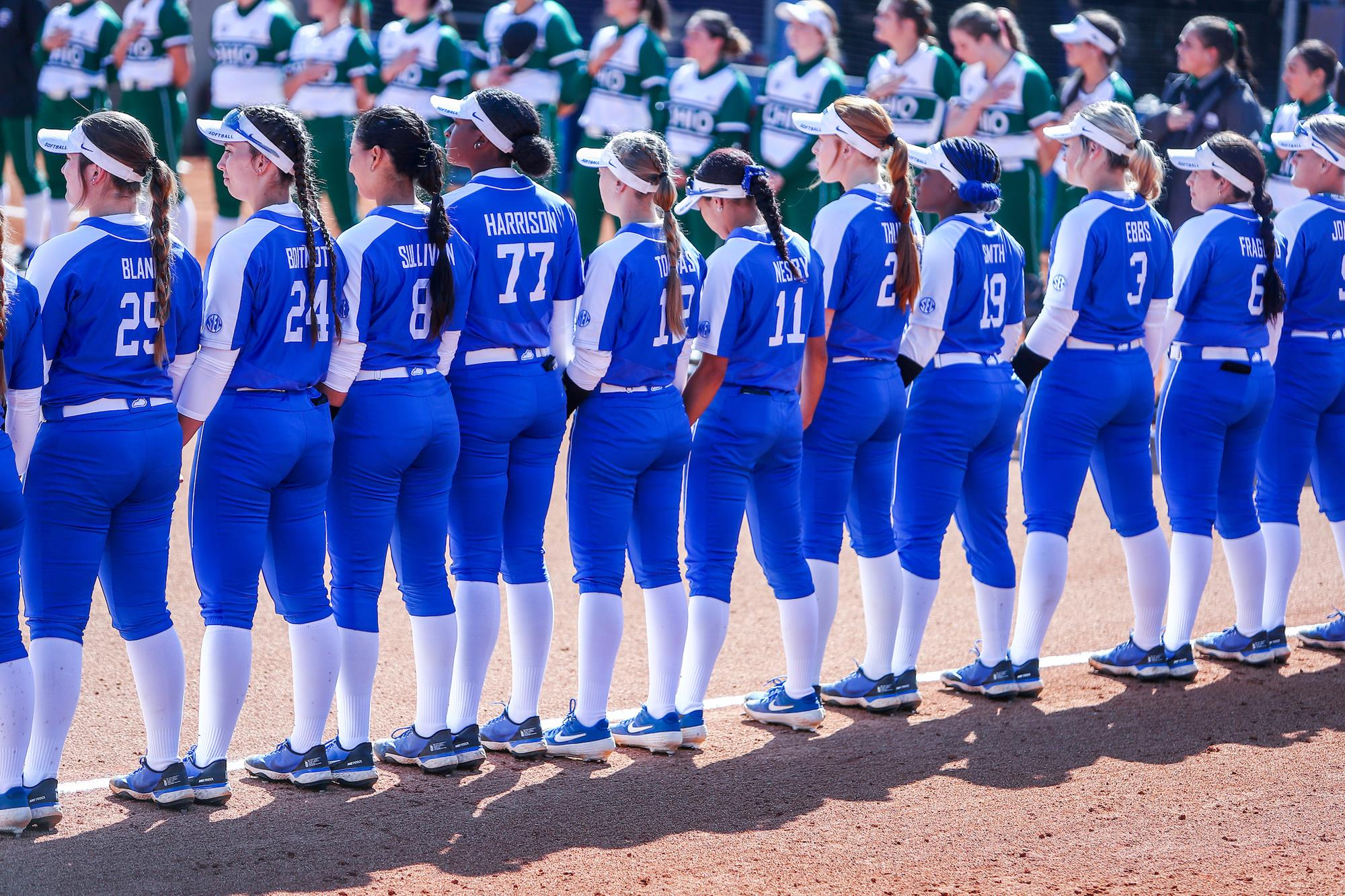 TUSCALOOSA, Ala. – The No. 8 Kentucky Softball team left seven runners on base and five in scoring position, as it dropped a 3-2 decision to No. 3 Alabama on Saturday afternoon in front of 3,940 fans at Rhoads Stadium in Tuscaloosa.
 
With the win, Alabama secures the series and will go for the sweep Sunday at 2:30 p.m. ET. The game will be shown live on the SEC Network+, ESPN3 and the ESPN app with Gray Robertson and Sydney Littlejohn-Watkins on the call from Rhoads.
 
Kentucky now has lost three games in a row for the first time since the 2019 season, and falls to 19-5 overall on the year and is 0-2 in Southeastern Conference play. Alabama improves to 24-3 on the year and is above .500 for the first time all year in league play at 3-2.
 
Miranda Stoddard went 2-for-3 at the plate with a single and a double as the only UK player with two hits in the game. Stoddard pitched admirably in the game, taking the loss allowing just three runs on five Alabama hits with no walks and no strikeouts. Lexi Kilfoyl earned the win to improve to 4-2 on the year and struck out a season-high seven batters in the game.
 
Key Play
The key play in the game was an Ashley Prange two-run home run in the bottom of the first inning to put Alabama up 2-1.
 
Key Player
Miranda Stoddard was the key player in the game, going 2-for-3 at the plate and pitching her fourth complete game of the season in the circle. Stoddard fell to 5-2 on the season with a tough-luck loss.
 
Key Stat
7. Kentucky left seven runners on base and struck out five times with runners in scoring position in the game.
 
Run Recap
Lauren Johnson hit a solo HR in the top of the first inning to right-center. UK 1, ALA 0
 
Ashely Prange hit a two-run HR in the bottom of the first to give Alabama its first lead of the day. ALA 2, UK 1
 
Alabama loaded the bases with no outs in the bottom of the fifth and got a run out of it on a sac fly to left field. ALA 3, UK 1
 
Emmy Blane had an RBI groundout to the left side with one out in the top of the sixth to pull UK to within a run. ALA 3, UK 2
 
In the seventh, UK put a runner on via a walk, but a bunt attempt ended the game. FINAL – Alabama 3, Kentucky 2
 
For the latest on UK Softball, follow the Wildcats on Twitter and Instagram at @UKSoftball.