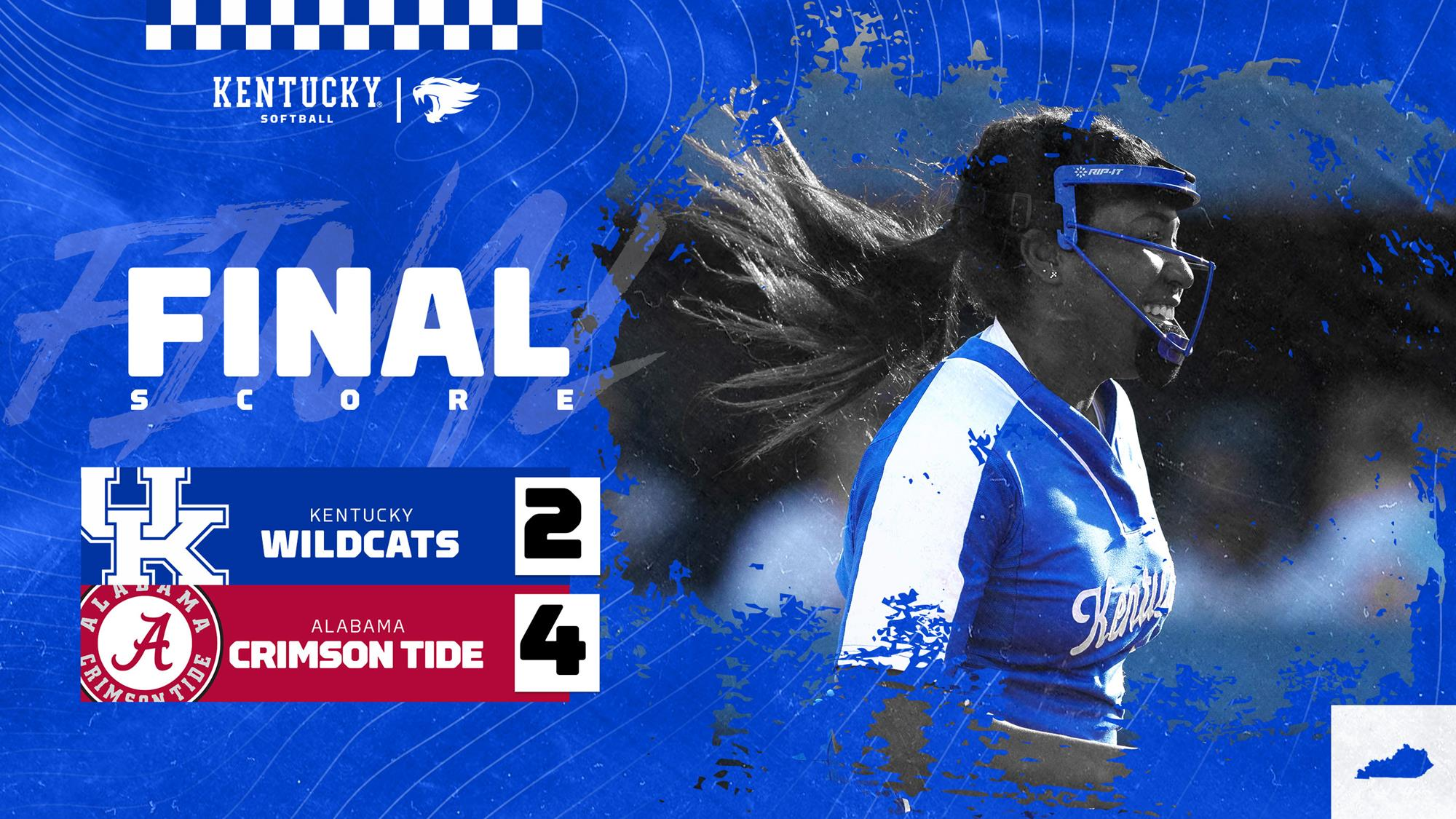 TUSCALOOSA, Ala. – The No. 3 Alabama Crimson Tide used a three-run fourth inning to overtake No. 8 Kentucky and win the opening game of the three-game series, 4-2 on Friday night at Rhoads Stadium in Tuscaloosa.
 
UK starting pitcher Alexia Lacatena pitched well in her SEC debut, allowing just six hits, surrendering three runs and walking none. She was tagged with the loss after the UK bullpen was unable to keep the Tide from scoring in the fifth after she was removed with an out in the fifth.
 
Kentucky and Alabama will play game two of the series Saturday at 3 p.m. ET. The game is sold out, and will be broadcasted live on the SEC Network+, ESPN3 and the ESPN app.
 
Key Play
The key play in the game was a one-out, two-RBI double off the bat of Ally Shipman in the bottom of the fifth inning to put the Tide ahead, after UK had taken the lead in the top of the third.
 
Key Player
Montana Fouts was the key player in the game for the Crimson Tide, as the Alabama pitcher retired the last 13 Kentucky batters in the game to close out the night.
 
Key Stat
4. The Alabama Crimson Tide got four hits in the bottom of the fifth inning, which ended up being the deciding play in the game. After getting the lead-off out, UK allowed four-straight hits and a HBP to put the go-ahead runners on base and Kentucky fell behind by a pair of runs.
 
Run Recap
A miscue in the UK outfield cost the Wildcats run in the first on a triple and a sacrifice fly. ALA 1, UK 0
 
Kentucky scored its two runs on one play. With runners at first and second and two outs, Erin Coffel logged her second hit of the game on a single into right. Rylea Smith scored from second and Lauren Johnson scored on an Alabama throwing error. UK 2, ALA 1
 
Alabama scored three time in the bottom of the fifth after a one-out single and three-consecutive batters reaching base. Ally Shipman then hit a two-RBI single through the left side to score the go-ahead runs. FINAL – Alabama 4, Kentucky 2
 
For the latest on UK Softball, follow the Wildcats on Twitter and Instagram at @UKSoftball.