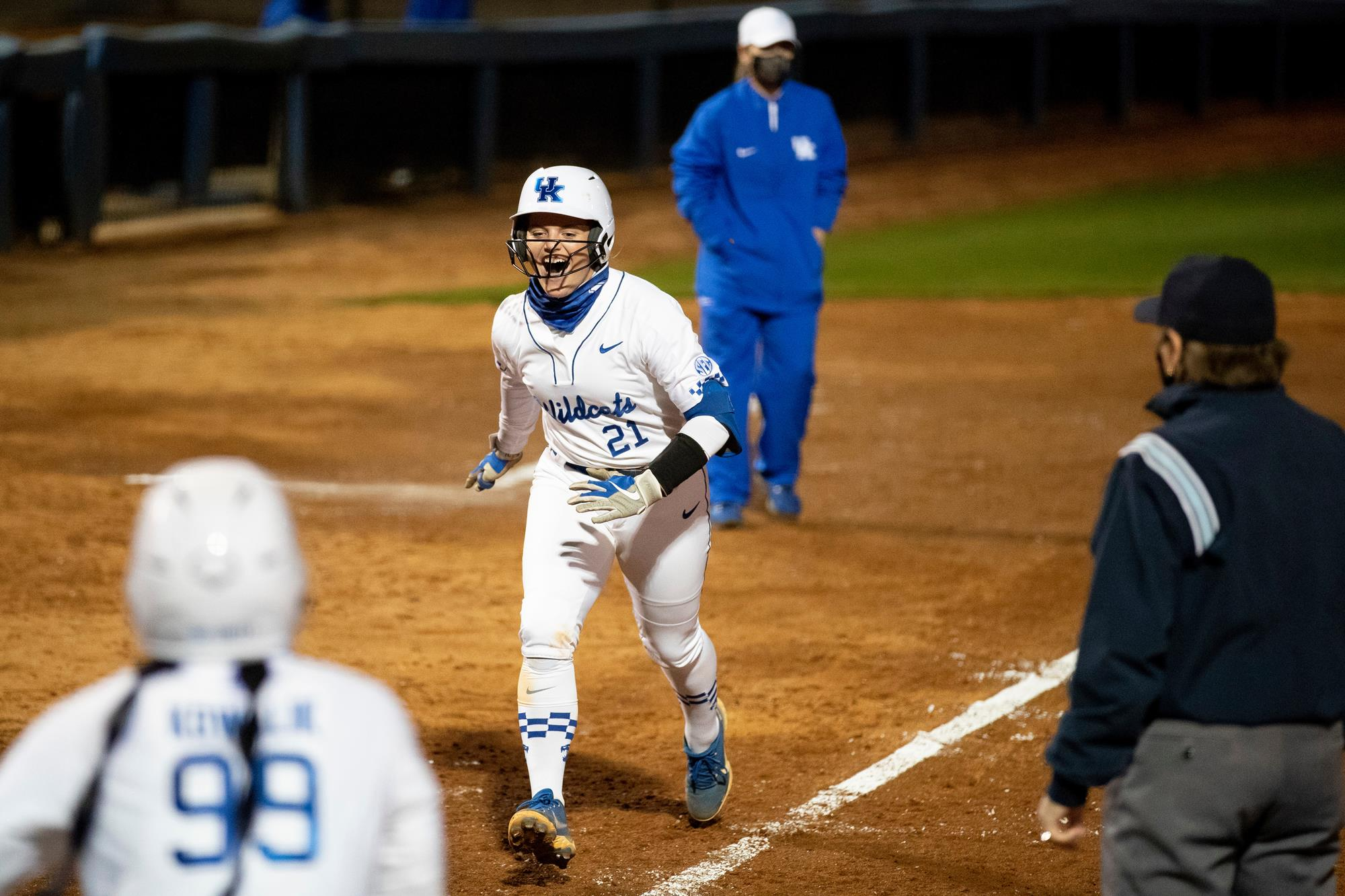 The theme of the 2022 Kentucky Softball infield is returning experience. The Wildcats will boast one of the most productive infields both offensively and defensively in the Southeastern Conference this season, and it begins at the shortstop position with Erin Coffel.
 
The sophomore, who was named NFCA All-Region and Preseason All-SEC this year will return for her second stint with Kentucky after hitting .337 leading Kentucky with 16 home runs are 56 runs batted in a year ago. This summer, Coffel participated in the 2022 U-18 World Cup and Pan-Am Games, where she was the United States' leading hitter and proved her offensive prowess.
 
Buckling down the left side of the infield is third baseman Miranda Stoddard, who got 55 starts in 57 of UK's games last season. Stoddard also will see time in the circle, as she returns from a sophomore season where she pitched in 19 games, and went 5-0 in the circle for UK. Stoddard fielded 103 balls last season, and recorded 48 putouts in addition to her .207 batting average.
 
Emmy Blane, who has been one of the most reliable second baseman to date in the SEC will look to return to her stomping grounds this season. Blane contributed almost exclusively on the defensive side of the ball last season, playing in 40 games, including most every SEC game of the year. The junior has been working hard on her offense and will play a big factor for UK in 2022. Other options at second base are plentiful for Rachel Lawson, as she can go to dependable options Erica Thulen alongside incoming freshman Margaret Tobias.
 
The major change for BBN will not be seeing Mallory Peyton at first base after a four-year stay the first 90 feet away from first base. Kennedy Sullivan, a UTL transfer in from Western Kentucky looks to be a factor along with Meeko Harrison.
 
Additional forces in the infield this season could include Meeko Harrison in her sophomore season, incoming freshman Maragret Tobias who impressed all fall, Tatum Spangler when not playing OF or pitching and Alexia Lacatena. Both Lacatena and returning sophomore Victoria Fragoso will look to get playing time at third base, as two of UK's three third baseman will also be in the Wildcat pitching rotation as the season nears its commencement.
 
For the latest on UK Softball, follow the Wildcats on Twitter and Instagram at @UKSoftball.